Thursday, April 30, 2009 10:55 PM ET |
By Scotty Gore
---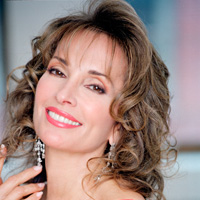 (SoapOperaNetwork.com) — In an era of economic dowturn, declining viewership, and a dying genre, daytime dramas are being forced to find innovative ways to stay afloat. Tonight, "Nightline" talks to two of ABC Daytime's biggest stars on what the news means for your favorite soaps.
While the struggles of the daytime soaps are nothing new to the genre's casts, crew and fans, it has largely been ignored by the mainstream media. Only recently has the tide begun to change. ABC, producer of longstanding daytime serials "All My Children," "General Hospital," and "One Life to Live," is shedding light on the issue with a candid discussion on its overnight news show "Nightline," along with an in-depth ABC News article describing the daytime dilema, along with highlighting the precarious predicament soaps have found themselves in.
Veteran soap characters such as Erica Kane, Victoira Lord Davidson, and Luke Spencer have been subjected to numerous plot twists and turns over the years, ranging from abortion, multiple personalities, and rape. But even those storylines are no match for factors outside of Pine Valley, Llanview, and Port Charles that are slowly influencing the behind-the-scenes operations of today's daytime dramas.
The main culprit is a faltering U.S. economy that has recently found itself in a free-for-all. With unemployment rates skyrocketing, increasing numbers of businesses filing for bankruptcy, and both corporate and household budgets slashed repeatedly, daytime dramas are by no means immune to the increasingly volatile financial market. And, while recession-type storylines have yet to find their way into the plots of many soap plots, the pinch has been felt behind-the-scenes, resulting in severe budget cuts, dwindling ad revenues, and competition from new sources of technology.
According to Julie Hanan Carruthers, Executive Producer for "All My Children" in a recent interview with ABC News, "It is hitting Pine Valley, we are not unique. The recession has affected everything and obliviously, you know, my big challenge is, how do you tighten a budget and not see it on the air." Frank Valentini, Hanan Carruthers "One Life to Live" counterpart, states that "I think the biggest for the media is it is so fragmented right now that people are either multi-tasking, surfing the Net, texting, talking on the phone all at once. So, I think to truly capture their attention for the 45 minutes a day, and not just those 45 minutes that day, but for the five days and the following weeks … once a story starts, it has to start with a bang and then go from there."
One thing is certain, the world of 2009 is more technologically advanced and offers viewers far more options that those available in 1981, when more than 30 million Americans tuned in to witness the wedding of "General Hospital's" Luke and Laura Spencer. Nearly thirty years later, that audience has shrunk considerably. In fact, "GH" reached a new low for the week of April 20th-24th, averaging less than 2.5 million viewers….however the sudser is far from being the exception to the rule. These days, soaps are extremely lucky to even surpass the 3 million mark in terms of viewers on any given week, even during the so-called sweeps periods when the daytime dramas pull out all the stops in an attempt to prop up already sagging ratings.
When asked about the large viewership soaps once had, Hanan Carruthers laments that "I don't know that we will see that in daytime anymore, those kinds of numbers. There is certainly that kind of committment. There is certainly the interest. But people are recording, or they are reading about it, or they are looking at it streaming online."
One way that soaps have attempted to lure viewers to their shows is through creative and innovative approaches. "One Life to Live" routinely books big-name musical guests (such as The Pussycat Dolls, Mary J. Blige, Snoop Dogg, and Nelly Furtado), and by occasionally putting together entire musical themed episodes such as "Prom Night: The Musica," "Babes Behind Bars," or the comical "Trading Places" episode. In addition, "OLTL," along with "All My Children" and "General Hospital," team up annually with Campbell's Soup for a partnership that promotes living a healthy lifestyle, while at the same time conveniently slipping product placements into each of the three soaps. Integrating cutting edge technology and special effects is yet another way soaps have used to entice viewers, as evident recently when "AMC" used CGI computer software to create a tornado and aftermath that rivaled the large Hollywood movie studios.  Futhermore, "General Hospital" and "The Young & The Restless" also hope to gain viewers by broadcasting episodes in high-definition. 
But that is not always a bad thing, according to Hanan Carruthers, who admits that "One of the things I love is actually using real products, because it validates and authenticates our fictitious Pine Valley. Our challenge, and my goal, is that when we do it, it happens in a very natural and organic way, so that we aren't going back to the days of holding up the soap box, actually doing a commercial in the middle of the show."
Even in these tough economic times, many veteran soap actors, such as "AMC's" Susan Lucci, have done their part to ensure that their livelihood continues to exist. Lucci, like most of her co-stars recently agreed to a pay cut in order to help her show live on. "Everyone has pitched in," Lucci recounts. "I've felt it in a couple of ways, there's some missing faces on the studio floor, and that's sad because we really are an ensemble here, from top to bottom, not just the company of actors but the crew, very much so." However, the news isn't all gloom. According to Hanan Carruthers, "It's actually, in an odd way, getting easier. The economic state of the world kind of made everyone here pull together."
"AMC" star Cameron Mathison exhibited the sense of company spirit and teamwork recently to ABC News reporters who toured the set. "This is a typical day here at 'AMC.' There are 47 scenes today. Anxiety!" The sentiment is echoed by Valentini who reminds us that "It helps reminds the audience that something is going on. We never have reruns, so you are never going to hear that there is the season premiere of 'One Life to Live,' we just continue going on. So it's good to have something fresh going on."
Storylines that stretch the boundaries of reality and logical thinking are commonplace, as soaps have long since encouraged viewers to check their common sense at the door and instead bring along their imaginations. Llanview's Asa Buchanan was married 14 times to 10 different women (although three of the marriages were later proven to be invalid), while town matriarch Victoria "Viki" Lord Davidson has been married seven times, has six other alternate personalities, and given birth to five children, two of whom she had didn't remember until they were adults. Over in Pine Valley, Erica Kane has been married ten times.
Mathison continues to be impressed by the number of hard core soap fans, who stay devoted to their favorite daytime dramas. "We are in their living rooms every single day, it's an ongoing story. It's not something you have to tune in every week to find out, it's right there for an hour every day in your living room, and if you're home that's a lot of your life, that's a lot of consistency." Along those same lines, Lucci points out that "In a bad economy, that's when the audience really wants to watch something that really helps. The escape is in some ways instructive, and is also really hopeful, exciting, and fun."
Even so, the daytime genre is a dying breed. Earlier this month, CBS canceled "Guiding Light" after an iconic 72-year run. Last November, veteran co-star Deidre Hall was among the casualties when NBC made the move to renew "Days of Our Lives" for a couple of more years, but only at a significantly smaller cost than in years past, resulting in severe budget cuts for the show. And even ABC has announced that it is discontinuing it's widely successful Super Soap Weekend fan event, in a cost cutting move.
Tonight, the ABC late night news program "Nightline" examines the current state of daytime television and looks at what the future may hold for the seven remaining soaps, including interviews with "All My Children" stars Susan Lucci and Cameron Mathison. "Nightline" airs weeknights on ABC from 11:35 pm – 12:06 am et.
To read the full ABC News article Tears in Soap City Starting to Look Real, click here.
"All My Children," "General Hospital, and "One Life to Live" air Weekdays on ABC. Weeknights on SOAPnet. Check local listings.
---
Discussion: 'Nightline' Talks Soaps and the Economy
---