Monday, April 6, 2009 2:40 AM ET | By Angela Rosa
---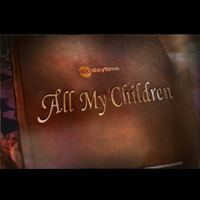 (SoapOperaNetwork.com) — The latest casting news for "All My Children."
David Canary returned as Adam Chandler on Friday, April 3, following a one month hiatus. Canary puts on a cute sweater and portrays Adam's rarely seen twin, Stuart Chandler, on Friday, April 10. Stuart is back to welcome his son, Scott Chandler, back to Pine Valley. Adam Mayfield will be playing Scott this time around. Mayfield first airs on Thursday, April 9.
Look for the Chandler men to take on David Hayward (Vincent Irizarry). Custody issues will die down as the men find something new to battle over: the development of artificial heart valves. Should Zach (Thorsten Kaye) and Kendall's (Alicia Minshew) heart-sick son, Ian, be flattered or very, very afraid?
Speaking of David, his wife Krystal (Bobbie Eakes) is keeping a major secret. The secret Mrs. Hayward thought was dead and buried rises on Tuesday, April 21. On that day, Brittany Allen premieres in the role of Marissa Tasker. Marissa shares a surprising tie to Krystal; a secret tie significant enough to cause David's loyal wife to succumb to blackmail and turn on him in the upcoming weeks. After an arresting entrance, look for Marissa to tangle with the younger Chandler men.
Liza Colby was last seen in January of 2005 played by Marcy Walker. Jamie Luner premieres in the role of the business woman turned legal eagle on Friday, April 17. Liza returns with a bang.
Eden Riegel returns as Bianca Montgomery on Friday, April 24. Bianca returns with daughters Miranda (Haley Evans) and Gabrielle. Riegel was back on the set to tape for just three days. Tamara Braun has also finished taping with "All My Children" ending her 6 month run as Bianca's ex-wife, Reese Williams. Riegel and Braun's characters last air on Wednesday, April 29.
Ronald Guttman recently taped an episode of "AMC;" that episode will air on Tuesday, April 28. Soap Opera Central's Dan Kroll is accurately reporting that Alexander Cambias Sr.'s visit will be conductive to rattling Tad Martin's (Michael E. Knight) cage. Could the elder Cambias' admission mean trouble for more than just Tad? Stay tuned.
"All My Children" air Weekdays on ABC. Weeknights on SOAPnet. Check local listings.
---