Friday, April 17, 2009 8:00 AM EST |
By Angela Rosa
---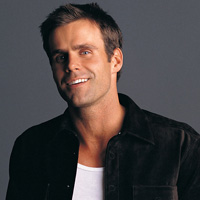 (SoapOperaNetwork.com) — Dangerous liasons.
THIS WEEK ON: ALL MY CHILDREN
On Monday, April 20, Jake meets Liza (Jamie Luner) at the casino to discuss Amanda's case. Liza confides in Jake that Colby wants nothing to do with her. Colby and Amanda discuss having difficult mothers. Erica charms the brains behind Scott's project, Dr. Chappell (Thomas Galantich). JR flips when Adam takes Scott's side. Brot learns that Taylor followed him to Florida. Erica gives Adam his pills after noticing him having a seizure. A smiling David is later seen holding Adam's medication. Erica gets Angie to help her with Adam. Jake and Amanda's connection grows stronger. Scott is furious with JR after learning he strong armed Dr. Chappell into accepting a buyout on Thursday, April 23.
The Inside Story: Close Calls
David spies a cryptic meeting between Adam and Krystal. Adam hands Krystal a slip of paper. Krystal later arrives at a massage parlor where she's reunited with a young woman named Marissa. Marissa shares the news of her parents' death with Krystal. Krystal insistence that Marissa quit her job at the parlor comes moments too late. The pair ends up caught in a surprise raid on the parlor. Marissa and Krystal continue getting acquainted in a jail cell. Krystal insists on covering Marissa's tuition for law school. An emotional Krystal heads back home hoping David will take her back and prepared to confess her big secret on Wednesday, April 22. Krystal is thrown for a loop when David greets her with a kiss and complete forgiveness. Hayward's wife is further thrown when Marissa suddenly arrives at Wildwind. Krystal reluctantly introduces David to Marissa. David believes Krystal reached out to Marissa because she needs someone to mother. JR and Scott are mesmerized when they meet Marissa.
A Closer Look: Hart-ache
Zach evades Liza's personal questions. Zach arrives at the hospital where he sees Kendall, Ryan and Ian looking very much like a family. Kendall notices lipstick on Zach's neck. Zach bluntly tells Kendall about his romp with a complete stranger. Kendall is hurt by Zach's coldness. Reese rubs it in after realizing what has Kendall so up in arms. Zach arrives to show Reese a new picture of Gabrielle that Bianca sent. A reeling Kendall heads to Ryan's desperate to feel loved by someone. Ryan holds Kendall back and ponders why she's so upset about Zach when they're getting divorced. Kendall storms out on Ryan. Ryan tells an understanding Erica that he's fed up with Kendall. Kendall reacts badly to Ryan's decision on Friday, April 24. Ryan tells Kendall he refuses to stick around while she's still hung up on Zach. Erica accuses Kendall of sabotaging her own happiness once again. Kendall follows Zach to the airport after overhearing him discussing travel arrangements.
A Bonus View: Running Start
Aidan tells Annie that they're going on the run. Annie is hesitant to leave Emma but knows it wouldn't be fair to have her live a life on the run. Jesse informs Ryan that Annie has escaped from Oak Haven again. Annie intercepts Emma on her way to school, wanting to see her one last time on Tuesday, April 21. Ryan goes off on Aidan who arrives at the penthouse under the pretense of wanting to help. Emma returns home much to Ryan's relief. Ryan tracks down Annie and Aidan and confronts them with a gun. Aidan orders Annie to run as he and Ryan struggle. Jesse arrests Aidan after he gives him false information on Annie's intended destination. Ryan's blood boils when Jesse informs him that Annie was seen boarding a flight headed to the Maldives, a country the U.S. has no extradition treaty with. Opal is shaken by a vision of a bloodied Annie.
All My Children News and Headlines:
SON ALERTS: WEEK OF APRIL 27, 2009
Monday: Kendall and Bianca reach an understanding. Tad gets some disturbing news. Adam confides in Erica.
Tuesday: Reese hopes that Bianca can find a way to forgive her. Zach's father warns Ryan there's a killer on the loose. Zach questions Kendall's motives.
Wednesday: Bianca and Reese make a decision about their future. Kendall tells Ryan he's the man she wants to be with. Adam lays out a challenge for Scott and JR.
Thursday: Amanda has a change of heart about her baby. Tad is on a mission to find out who really killed Dixie. Zach remembers the good times with Kendall.
Friday: Opal is plagued by ominous visions. David makes plans for Adam. Zach and Liza are equally matched.
"All My Children" airs Weekdays on ABC. Weeknights on SOAPnet. Check local listings.
---