Wednesday, March 25, 2009 2:11 AM EST | By Angela Rosa
---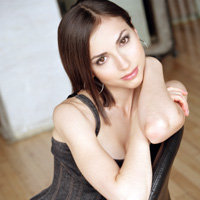 (SoapOperaNetwork.com) — The rumors are true.
In a surprising casting move, "All My Children" has cast Jamie Luner in the role of Liza Colby. All along, the speculation was that Luner would be a Chandler vixen recast but most expected the red-head to be a recast of Adam Chandler's (David Canary) daughter, Skye (most famously played by Robin Christopher), not a recast of Adam's fifty-ish ex-wife. Luner will be 38 in May.
In 1981, Liza was a high school student and her contemporaries (err…enemies) were Angie (Debbie Morgan), Jesse (Darnell Williams), Greg (Laurence Lau) and Jenny (Kim Delaney). Liza's list of romantic entanglements include current "AMC" male characters such as the aforementioned Adam (David Canary), who she married multiple times and had a daughter, Colby (Brianne Moncrief), with, and also Tad Martin (Michael E. Knight), a cad who at one time was juggling her and her mother, Jake Martin (now played by Ricky Paull Goldin) and Ryan Lavery (Cameron Mathison). Career wise, a more mature Liza would become the owner of television station WRCW, a co-CEO of Chandler Enterprises and one of the original major investors in Fusion. Through the magic of television, Liza will come back to town with a law degree. Although eager to revive her relationship with her daughter, word on the street is Liza will be back to her original troublemaking roots. According to the New York Daily News, Liza will "get involved with" Zach Slater (Thorsten Kaye).
"AMC" and "Santa Barbara" legend Marcy Walker, of course, most famously played the role of Liza Colby. She last aired in 2005. Luner's most substantial credits include a starring role as Cindy Lubbock on the short-lived ABC sitcom and "Growing Pains" spin-off "Just the Ten of Us" (1988-1990); the actress then went on to a leading role as vixen Peyton Richards on Aaron Spelling's mid-season replacement "Savannah" on the WB (1996-1997); following the cancellation of that drama, Spelling cast the actress on his hit prime-time soap opera FOX's "Melrose Place." Luner played vixen Lexi Sterling for the show's last two seasons (1997-1999) which were penned by current "AMC" headwriter Charles Pratt Jr. That role parlayed to the actress taking over the lead role, Agent Rachel Burke, on NBC's "Profiler" for its last season (1999-2000). The actress also has a slew of guest-star appearances and television movies to her name.
Although Luner has yet to tape, Soap Opera Digest reports that Liza's first air-date is Friday, April 17.
In other casting news, Eden Riegel will be busy back on the "AMC" set later today. You'll first see Bianca Montgomery back on-screen on Friday, April 24. Bianca will be bringing along her and brother-in-law Zach's daughter, Gabrielle, as well as first-born Miranda. Expect the return to wrap up quickly. As Soap Opera Network previously reported, both Tamara Braun and Riegel are expected to exit the soap together after playing Reese and Bianca's reunion.
"All My Children" air Weekdays on ABC. Weeknights on SOAPnet. Check local listings.
---