Friday, February 20, 2009 7:50 PM ET |
By Errol Lewis
---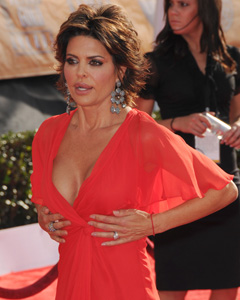 (SoapOperaNetwork.com) — Does she have nothing better to do with her time? She's already covering all the Awards for the TV Guide Network and danced her way off of "Dancing With the Stars," but Lisa Rinna figures she can fit in a Playboy cover to show off her configured body.
Rinna will grace the cover of Playboy's May Issue in which she lets it all hang out, including the flabby parts. The actress/host was ordered by photographer Deborah Anderson not to hit the gym and tone up for the project, but be her natural self.
"She said, 'I do not want you long and sinewy and angular and muscular. I want you soft,'" said Rinna when speaking with People magazine.
"This was really hard for me because being 45 years old and posing for Playboy, you want to amp it up."
Rinna's biggest fan is her husband and he thinks the photos are "Unbelievable!"
Playboy magazine is rumored to be up for sale after sluggish sales of the once hot property in recent months.
Prior to her hosting gigs on TV Guide Network, Lisa Rinna is best known for her role as Billie Reed on NBC's "Days of our Lives." She also starred in the FOX primetime hit "Melrose Place" as Taylor McBride. In 2004, she had a recurring role on UPN's "Veronica Mars," in which she played the murdered Lynn Echolls. 
---
Discussion: God Help Us: Lisa Rinna Graces Playboy
---