Thursday, February 19, 2009 7:30 PM ET |
By Errol Lewis
---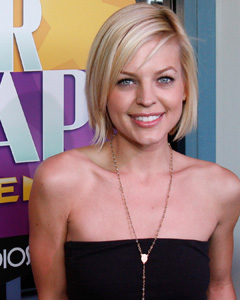 (SoapOperaNetwork.com) — Fantasies become realities?
THIS WEEK ON: GENERAL HOSPITAL
Maxie and Johnny are "dating," at least that's what appearances are for when the two attend the Campbell's Go Red Gala in Manhattan. Spinelli and Lulu know better, but it isn't easy. Lady Jane is back in Port Charles and boy does she have a shock for Jax and Carly. She's getting married! His name is Percy though. Lady Jane and Percy met while traveling abroad, but Jax is suspicious of their union and enlists Carly's assistance in proving it. Rebecca likes to play with brothers it seems as she enjoys spending time around one Lucky Spencer. As if Nikolas' obsession over her wasn't enough. Luke and Ethan go to jail, but Tracy only bails one of them out. Gee, wonder who? 
The Inside Story: On Our Way to Florida
Sonny and Jason: Friends Again? On Monday, February 23, look for Jason to inform Sonny that he can have his business back once Spinelli is free and clear. In return? Jason is back to being an enforcer and that means its time to vacation in Florida. Well in the mob world a vacation is code for "It's time for a killing." Sam and Jason head to Florida after Sonny gets a lead on Anthony's whereabouts. The cover? The duo pretend to be newlyweds at a tropical resort. The kicker? Anthony is still in Port Charles.  The target? Claudia.
A Closer Look: A World Without Maxie Jones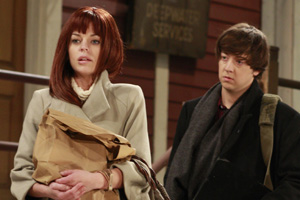 Can you imagine a world where Carly and Patrick are married? Robin's living the life of a lonely spinster still mourning Stone? Or how about Mac being a downright drunk and Johnny being the big mob boss of Port Charles? Me either, but that is exactly what happens in Maxie's dream in which she never received a not-so-dead BJ's heart. In the special episode airing Tuesday, February 24, Maxie falls asleep in Spinelli's bed and wonders what life would be like if she hadn't lived. Would things be for the better or for the worse?
What To Watch
Robin is frustrated with Patrick over their dinner plans without the baby on Monday, February 23.
Maxie is in an alternative universe on Tuesday, February 24.
Anthony holds Claudia's life in his hands when he holds her at gunpoint on Wednesday, February 25.
Sonny admits to Jason that he's worried about Claudia on Thursday, February 26.
Lulu and Spinelli are stunned when Johnny agrees to continue "seeing" Maxie on

Friday, February 27

.
General Hospital News and Headlines
SON Top 10: Who was the best of the best on "GH" during the week of February 16 – 20, 2009?  You decide! The SON Top 10 is back! Voting begins Friday's at 4:00 PM, ET.
SON ALERTS: WEEK OF MARCH 2, 2009
Monday: Jason faces a difficult dilemma. Sonny won't rest until he finds his wife safe and sound. Nikolas tries to get closer to Emily look-alike.
Tuesday: Johnny tries to persuade Claudia to stay away from Sonny, again. Jason confides in Sam. Emily look-alike sees Nikolas in a new light.
Wednesday: Nadine can't take it anymore and dumps Nikolas. Spinelli takes control of the situation. Lulu senses something is off with Ethan.
Thursday: Tracy is suspicious of Emily look-alike. Patrick is frustrated with Robin's latest behavior. Claudia has something up her sleeve. 
Friday: Claudia slips up in front of Sonny. Spinelli and Winifred…go on the run together (?). Luke warns Emily look-alike to stay away from Nikolas.
"General Hospital" airs Weekdays on ABC. Weeknights on SOAPnet. Check local listings.
---
Discussion: GH PreVUE: Week of February 23 Edition
---