Wednesday, January 21, 2009 1:18 AM EST |
By Angela Rosa
---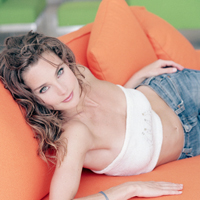 (SoapOperaNetwork.com) — SOAPnet takes Valentine's Day to heart with "All My Children's" Kendall Hart.
Pine Valley's own Sleeping Beauty, Kendall Hart Slater, played since 2002 by Alicia Minshew, wakes up from her nearly four month long coma on Friday, January 30. (The actress was on vacation). On Saturday, February 7, SOAPnet celebrates the sugar, the spice and everything nice about Erica Kane's (Susan Lucci) first born.
The "We Hart Kendall" marathon, which airs from 3 to 7 PM EST, coincides with SOAPnet's six-week long (January 7 – February 14) anti-establishment Valentines Day celebration entitled "Sugar Free Valentine's;" a celebration of Valentine's Day without the usual amount of goo.
The four "All My Children" episodes were specifically chosen to highlight the many fundamental sides that make up Ms. Hart: rebellious daughter of Erica Kane, loyal sister, generous friend, outrageous flirt and simply an all-around strong woman who's longing to be loved.
List of Episodes:
3 PM (Original Airing 1/9/02): Kendall meets, flirts and spars with her future lover, fiancé and baby daddy Ryan Lavery (Cameron Mathison). Ms. Hart also finds a few moments to exchange "pleasantries" with her mother, Erica Kane, who pays her a surprise visit that ends in an arrest.
4 PM (Original Airing 11/14/03): Kendall covers for her sister after a pushy Ryan finds Bianca's sonogram. No good (albeit crazy) deed goes unpunished as Kendall soon finds out after confronting her paranoid sister. Don't worry, the sisters make up as passionately as they fight!
5 PM (Original Airing 8/15/05): Kendall takes friendship to a whole new level when she offers to carry the baby of her arch enemy and best friend, Greenlee (Rebecca Budig), and the "deceased" man the aforementioned stole from her.
6 PM (Original Airing 12/15/05): Desperately in need of a vacation after all that drama, Kendall finds herself in paradise with her in-name-only husband, Zach Slater (Thorsten Kaye), for what might be Pine Valley's most romantic divorce ever.
"All My Children" air Weekdays on ABC. Weeknights on SOAPnet. Check local listings.
---
All My Children
Alicia Minshew
SOAPnet
We Hart Kendall