Friday, January 9, 2009 9:45 PM ET |
By Errol Lewis
---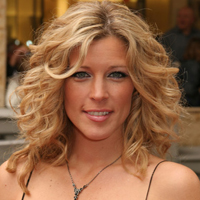 (SoapOperaNetwork.com) — Things in Port Charles appear too quiet as disaster is about to strike.
THIS WEEK ON: GENERAL HOSPITAL
Nadine sways things in her and Nikolas' favor during the Senate hearing. For her best efforts, the White House has a surprise for her. Lucky spends quality time with Elizabeth, Jake and Cameron. Jason is forced to choose between Spinelli and Sonny when Agent Rayner makes him an offer on Tuesday, January 13. Maxie tries to ease Spinelli's fears. Lucky and Elizabeth re-connect. Kate tears into Claudia after catching her searching Sonny's bedroom. Kate has her eyes and ears glued on Claudia and that pesky DVD. Lulu asks Carly for some money. Johnny doesn't get the job he wanted, but lies about it to Lulu. Claudia has a warning for Spinelli. Matt asks Maxie out on a date on Thursday, January 15. 
The Inside Story: To Carly with Love…
On Monday, January 12, Jax and Carly finally admit that they have purposely stalled their divorce. The two opt to spend quality time together to find out where things may lead. On Wednesday, January 14, Alexis isn't lead to believe otherwise when she questions Jax on his whereabouts the night before and if they included Carly. Carly once again butts heads with Claudia, but this time it's over Michael. Hoping to divert an upcoming Government raid, Jason asks Carly to mitigate a meeting between he and Sonny. Will Carly decide to continue making progress with Jax or will her friendship with Jason win over, again?
A Closer Look: Postpartum Depression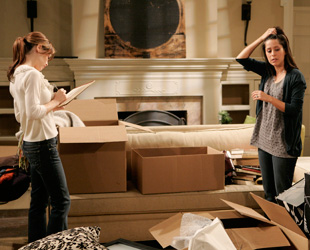 Over 12 years ago, Carly Roberts came to town and blew the town of Port Charles sky-high when they all learned that she was the daughter of Barbara Jean Spencer and a John from back in the day. She then tore apart two families when it was learned that she conceived a child with either A.J. Quartermaine or Tony Jones in 1997. Once the baby was born, however, Jason Morgan claimed the child was his – the baby was fathered by his brother A.J. Soon afterward, Carly left town believing she harmed her child. Upon her return months later, she refused to touch the baby. It was revealed that Carly was going through postpartum depression, but not everyone was convinced – in particular one Robin Scorpio. On Thursday, January 15, look for Robin to have an unexpected reaction to her newborn baby girl. Fearing she is doing something wrong, Robin asks Elizabeth to watch over Emma. Afterward, she finds Jason and questions him on what things were like when Carly suffered from postpartum depression. On Friday, January 16, Robin is offended by Patrick's medical suggestion.
What To Watch
Patrick makes an alarming discovery on Thursday, January 15.
Natalia Livingston debuts as Rebecca on Thursday, January 15.
Disaster strikes General Hospital on Thursday, January 15 and Friday, January 16 as Port Charles is hit with a "Twist in Time."
Nikolas confides to Alexis that he still misses Emily on Friday, January 16.
General Hospital News and Headlines
SON ALERTS: WEEK OF JANUARY 19, 2009
Monday: Sam informs Jason of her plans to infiltrate the Zacchara organization; Olivia neutralizes Nikolas' power play to stall Jax's hotel project; Matt insists that Maxie go out on a date with him.
Tuesday: Pre-empted due to Inauguration coverage.
Wednesday: Claudia successfully seduces Ric in order to find out what he's been up to; Carly urges Sonny to re-consider his battle against Jason; Anthony questions Sam's true motives.
Thursday: Ric explains Anthony's plan to Claudia; Spinelli's self-esteem is on the verge of crippling; Sonny is even more suspicious of Claudia after her latest actions.
Friday: Claudia confronts Anthony; Carly discusses the possibility that Robin may have postpartum depression with Patrick; Olivia has romantic advice for Sonny.
"General Hospital" airs Weekdays on ABC. Weeknights on SOAPnet. Check local listings.
---
Discussion: GH PreVUE: Week of January 12 Edition
---