Wednesday, January 21, 2009 5:00 PM EST |
By Angela Rosa
---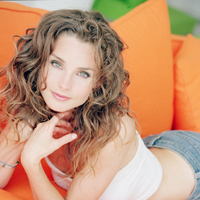 (SoapOperaNetwork.com) — Coming out of the dark.
THIS WEEK ON: ALL MY CHILDREN
Brot finds that a job at the hospital is the perfect fit for him. Jake confesses one of his biggest regrets to Taylor. JR reaches out to Amanda, who later goes to Ryan and Greenlee with "a bundle" of an offer. Jesse learns there are consequences to arresting your own wife on Wednesday, January 28. David rocks JR's confidence about being the father of Amanda's baby. Bad wedding omens and Erica's meddling may be the least of Bianca and Reese's problems; after Zach schools Mrs. Williams on the coolness of her daughter, on Friday, January 30, Reese schools Zach on the extent of her feelings for him – feelings Slater dismisses as just friendship.
The Inside Story: Captive Audience
Dr. Sinclair's venom towards Annie leaves Ryan unsettled. Ryan tells Greenlee about his encounter with the doctor. Aidan finds himself in a precarious position when Dr. Sinclair takes over his treatment. Annie's anxiety grows when Aidan disappears. Tad agrees to help Ryan and Greenlee find out what Dr. Sinclair is really up to. On Tuesday, January 27, Tad and Ryan put a plan into motion after digging into the doctor's past. Dr. Sinclair confronts Ryan and Greenlee after seeing through Tad's ruse. Later, the doctor is not pleased to learn that Aidan revealed nothing during the electroshock treatment. Aidan realizes Dr. Sinclair is on to him but assures Annie that he's not going anywhere. Dr. Sinclair pulls out all the stops to get Annie to confess to Richie's murder. Tad and Ryan's concerns mount. Dr. Sinclair injects Aidan with truth serum.
A Closer Look: Let it Burn
On Monday, January 26, Krystal rips into David after he surprises her with the divorce papers he filed on her and Tad's behalf. A fed up Tad walks away from Krystal. Krystal takes the divorce papers to Tad after David manages to convince her that his love for her is real but breaks down when Tad signs them. Tad's temper flares as he fights to get Krystal to see that David's been using the drugs to control her. Krystal can't fight her pull to David. Tad tears into Krystal for destroying their family as Kathy listens in.
What To Watch:
Greenlee and Bianca both find themselves at Kendall's bedside hoping for her to wake up and be with them again. Their prayers are answered on Friday, January 30. Kendall is reunited with her family. Bianca tells Kendall the truth about Gabrielle. Greenlee can't shake the feeling that something is off with Kendall.
All My Children News and Headlines:
SON Top 10: Who was the best of the best on "AMC" during the week of January 19 – 23, 2009? You decide! The SON Top 10 is back! Voting begins Friday's at 4:00 PM, EST.
SON ALERTS: WEEK OF FEBRUARY 2, 2009
Monday: Kendall struggles to absorb Bianca's bombshell. Tad is desperate to find a missing Kathy. Erica refuses to do David's dirty work.
Tuesday: Aidan gains more insight into Sinclair. David tells Krystal how she can repay him. Ryan tries to ease Greenlee's fears.
Wednesday: Kendall grows wary of Zach and Reese. Frankie comes through for Amanda. Greenlee has it out with Erica.
Thursday: Kendall wants Bianca and Reese to hit the road. Jesse, Tad and Jake team up to bring David down. David puts the screws to Amanda.
Friday: Greenlee is hit with another bad omen about her and Ryan. Aidan sets out to uncover Sinclair's tie to Richie. Krystal realizes that Jesse is setting David up.
"All My Children" airs Weekdays on ABC. Weeknights on SOAPnet. Check local listings.
---