Monday, December 15, 2008 12:11 AM ET |
By Errol Lewis
---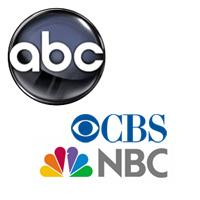 (SoapOperaNetwork.com) — The economy is a bust and we're in a recession. Advertisers are pulling ad dollars from network television and have instead decided to spend less and fire thousands. With daytime's audience trending down for more than a decade, 2008 will forever be remembered as the year the daypart finally received its reality check.
So, instead of bringing you a what's up and what's down ratings report, we at Soap Opera Network have decided to launch a new feature where we pit soap against soap in the Nielsen Ratings. No, not who is doing better on a week to week basis, but who is the best-of-the-best, only day-by-day.
Without further adieu…
What remains the strory of the year is how low CBS' "Guiding Light" can fall as it fights to survive and retain its title as broadcasting's longest running program. With numbers so low (a 1.4 HH rating on Thursday), it would make "Port Charles" look like a ratings winner. Sadly, "Port Charles" was cancelled in 2003 with higher ratings than this despite airing in the wee-hours of the night. While NBC's "Days of our Lives" loses 40% of its budget in the upcoming year and a loss of its two stars (Deidre Hall and Drake Hogestyn), three out of its five weekly episodes (Friday, Tuesday, and Monday) outranked every episode of ABC's "All My Children" and "One Life to Live." The highest episode was its Friday broadcast with 2.9 million viewers. For the week, "DAYS" averaged 2.7 million viewers. "DAYS" is also the only soap to increase viewers year-over-year, gaining 120,000 viewers from the same point last year. "The Young and the Restless" and "The Bold and the Beautiful" remain daytime's most watched programs as they hold the 1-5 and 6-10 positions. "Restless," however has lost the most audience year-over-year with a decline of 630,000 viewers. It's Women 18-49 ranking, however, remains on par with its year-ago and up a point week-to-week.
After losing the most viewers collectively year-over-year in the early months of '08, ABC has handed the title off to CBS (207,000 viewers vs 2.1 million  viewers). While the minor loss might not be so bad to one just seeing the numbers, it should  be noted that the network had already lost millions of viewers by mid-2007. More severe losses would have cost a show its cast and crew.
---
 Daytime Ratings:
Week of December 1, 2008
(in order of Households)
 Rank
 Network
Show

Households
(Rating/Share;
change vs last week/last year)

 Total Viewers
(in millions;
change vs last
week/last year)

Women 18-49
(Rating/Share;
change vs last week/last year)

 1
 CBS
Y&R
 3.6/13
(same/-.4)
 5,016,000 (-93,000/-630,000)
 1.7/11
(+.1/-.1)
 2
 CBS
B&B
 2.7/9
(+.1/-.2)
 3,597,000
(-225,000/-451,000)
 1.3/8
(+.1/-.2)
 3
 ABC
GH
 2.2/7
(same/-.1)
2,853,000
(-100,000/-115,000)
1.4/8
(+.1/same)
 4
 CBS
ATWT
 2.0/7
(+.1/-.3)
 2,694,000 (-121,000/-434,000)
 1.1/7
(+.1/-.1)
 5
 NBC
DAYS
2.0/7
(same/-.1)
 2,736,000 (+5,000/+120,000)
 (+.1/same)
 6
 ABC
OLTL
 2.0/7
(-.1/-.1)
2,618,000
(-142,000/-43,000)
 1.2/7
(same/-.1)
 7
 ABC
AMC
 1.9/7
(-.1/-.1)
2,541,000 (-217,000/-49,000)
 1.2/7
(same/+.1)
 8
 CBS
 GL
 1.5/5
(same/-.4)
 2,011,000 (-181,000/-569,000)
 0.9/5
(+.1/-.2)
Source: NTI Live+SD
---
 Soap Opera Episode Rankings:
Week of December 1, 2008
(in order of Total Viewers)
 Rank
Network

 Show

 Households

 Total Viewers
(in millions/rounded)
 Airdate
 1
 CBS
 The Young and the Restless

 3.8
 5,227 (5.2)
 Tuesday
 2
 CBS
 The Young and the Restless
 3.6
 5,080 (5.1)
 Thursday
3
 CBS
 The Young and the Restless
 3.7
5,010 (5.0)
 Friday
 4
 CBS
 The Young and the Restless
 3.5
 4,889 (4.9)
 Monday
 5
 CBS
 The Young and the Restless
3.5
 4,874 (4.9)
 Wednesday
 6
 CBS
 The Bold and the Beautiful

2.8

3,704 (3.7)
Friday

 7
 CBS
 The Bold and the Beautiful
 2.6
 3,602 (3.6)
Thursday
 8
 CBS
 The Bold and the Beautiful
 2.6
 3,593 (3.6)
 Monday
 9
 CBS
 The Bold and the Beautiful
 2.6
 3,563 (3.6)
Tuesday
 10
 CBS
 The Bold and the Beautiful
 2.6
3.523 (3.5)
Wednesday
11
 ABC
 General Hospital

 2.3
3,124 (3.1)

Tuesday

 12
 ABC
 General Hospital
 2.3
 3,035 (3.0)
Monday
 13
 NBC
 Days of our Lives

2.1

2,880 (2.9)

Friday

 14
 NBC
 Days of our Lives
2.1
 2,806 (2.8)
Tuesday
 15
CBS

 As The World Turns
 2.1
2,787 (2.8)

Wednesday

 16
ABC
General Hospital
2.2
2,768 (2.8)
  Friday
 17
 CBS
 As The World Turns
2.0
2,756 (2.8)
 Monday
 17
 ABC
 General Hospital
 2.2
 2,756 (2.8)
 Wednesday
 19
 NBC
 Days of our Lives
2.0
2,730 (2.7)
Monday
20

 ABC
 One Life to Live

 2.0
2,719 (2.7)

 Tuesday
 21
 ABC
 All My Children

 2.1
 2,714 (2.7)
 Monday
 22
 CBS
 As The World Turns
2.0
2,711 (2.7)
Tuesday
 23
 ABC
 All My Children
 2.0
 2,696 (2.7)
Tuesday
 24
 ABC
 One Life to Live
2.0
 2,687 (2.7)
Friday
 25
 CBS
 As The World Turns
 2.0
2,684 (2.7)
 Thursday
 26
 NBC
 Days of our Lives
 1.9
 2,633 (2.6)
Thursday
 27
 NBC
 Days of our Lives
 1.9
 2,630 (2.6)
Wednesday
 28
 ABC
 One Life to Live
 2.0
2,620 (2.6)
Wednesday
 29
 ABC
 One Life to Live
 2.0
2,602 (2.6)
 Monday
 30
 ABC
 General Hospital
 2.0
2,584 (2.6)
 Thursday
 31
 CBS
 As The World Turns
2.0
 2,533 (2.5)
Thursday
 32
 ABC
 All My Children
 1.9
2,494 (2.5)
Wednesday
 33
 ABC
 One Life to Live
 1.9
2,463 (2.5)
Thursday
 34
 ABC
 All My Children
 1.8
2,409 (2.4)
Friday
 35
 ABC
 All My Children
1.9
2,393 (2.4)
Thursday
 36
 CBS
 Guiding Light
1.5

2,147(2.1)
Monday

 37
 CBS
 Guiding Light
1.5
2,091 (2.1)
 Tuesday
 38
 CBS
 Guiding Light
 1.5
2,024 (2.0)
 Friday
 39
 CBS
 Guiding Light
 1.4
1,997 (2.0)
Wednesday
40
 CBS
 Guiding Light
 1.4
 1,839 (1.8)
 Thursday
 
 
 
 
 
 
 
 Legend:
 Most Watched Episode

 
 Least Watched Episode
Source: NTI Live+SD
For more ratings data:  Ratings for the week December 1-5, 2008