Wednesday, December 17, 2008 5:00 PM |
By Angela Rosa
---
(SoapOperaNetwork.com) – So this is Christmas.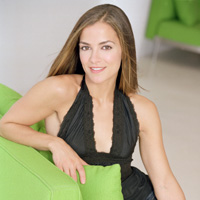 THIS WEEK ON: ALL MY CHILDREN
David gets an earful when Krystal realizes the doctor's been drugging her on
Monday, December 22
. Krystal's tirade comes to a fiery end. David rescues Krystal. Krystal accepts David's comfort. Little Adam and JR are happy to see Amanda who arrives at the Chandler Lodge at David's bequest. JR reels after misplacing Babe's "magic" shell. Amanda manipulates the situation and pushes JR right off the wagon. A guilt-ridden Amanda reports her progress to a delighted David.
Bianca surprises Reese with an engagement ring. Reese and Bianca's love for one another is evident. Taylor takes action after a troubling visit with Brot. Brot's legal troubles immediately disappear after Taylor has a chat with Zach. Brot continues to turn away from Taylor. Zach hopes for a miracle. Kendall's spirit rises from her body and follows Zach as he leaves her hospital room. Kendall watches over Zach and their family on
Tuesday, December 23
.
A Closer Look: The Big Bang
Emma is delighted when Santa (Greenlee) arrives at the penthouse. Ryan and Greenlee can't turn away from each other and finally make love. The lovers bliss is interrupted when Ryan receives an urgent call about Annie. Annie wakes up from her overdoes completely rational…or so it seems. Greenlee's guilt overwhelms her as she watches a video of Ryan, Annie and Emma in happier times. Ryan implores Greenlee to not give up on their future. Greenlee has a nightmare after making love to Ryan. Aidan realizes Annie is as delusional as ever. On
Friday, December 26
, the trapped detective panics as he watches Annie walk out of the sanitarium. Annie, who believes she's Emma, heads to Ryan's penthouse.
"AMC" will air encore presentations on Wednesday, December 24 (10/20/08) and Thursday, December 25 (10/21/08).
SON ALERTS: WEEK OF DECEMBER 29, 2008
Monday: Annie confronts Ryan and Greenlee. Krystal finds comfort in David's arms. JR defends Amanda from Adam's accusations. Tuesday: Ryan pops the question to Greenlee. Zach and Reese share a friendly kiss. Bianca gets an unexpected visitor. Wednesday: Encore Presentation of October 22 episode of "AMC." Thursday: Pre-emption. Friday: Opal takes a peek into Greenlee's future. Zach and Reese want to put their kiss behind them. Aidan makes a surprising discovery.
---