Monday, November 24, 2008 11:17 PM EST |
By Scotty Gore
---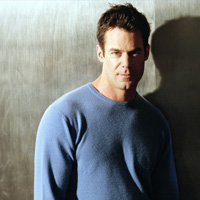 (SoapOperaNetwork.com) — Who's returning? Who's staying? Who's going? Who's coming?
Who's Returning?
Tuc Watkins returns to the cast of "One Life to Live." The 42-year-old actor returns to his old stopping ground in December as lovable conman David Vickers, a role Watkins has played on and off since 1994. When viewers last saw David in July he had divorced Addie Cramer and let ten million dollars slip through his fingers. Next month, fans will discover just what Mr. Vickers has been up to in the five months since he left Llanview. This go around it is expected that David Vickers, who has reportedly become a Buddhist Monk, will learn that he is the late Asa Buchanan's long lost son, much to the dismay of newfound brothers Clint and Bo. No word on the length of Watkins' latest stint on "OLTL."
Phil Carey will pay yet another otherworldly visit to Llanview as the spirit of deceased oil tycoon Asa Buchanan in early December, coinciding with Tuc Watkins' return as David Vickers.
Wortham Krimmer reprises his recurring role as Rev. Andrew Carpenter on December 10th and 11th. After presiding over the funeral for Starr's dead baby, Andrew will offer Marty Saybrooke some insight into her life before the accident.
Florencia Lozano brings Téa Delgado back to Llanview on December 5th when she vows to help Todd whether he likes it or not. After originating the role in 1997, Lozano left "OLTL" in 2000. She returned briefly in 2002. It is speculated that her latest stint in Llanview will last approximately five to six weeks.
Jeb Brown returns on December 3rd as Jessica Buchanan's shrink Dr. Bonner.
Who's Staying?
Melissa Archer recently inked a new contract with "OLTL" to remain in the role of Natalie Buchanan. Archer originated the role in 2001.
John Rue and January LaVoy return as Moe Stubbs and Noelle Ortiz on December 1st. The Bon Jour Cafe owner and his waitress fiancé will leave Paris, Texas behind as they pack up and move to Llanview, Pennsylvania. Look for Moe to secure employment with one of Llanview's leading ladies.
Although he recently wrapped up a five week stint on "OLTL," viewers can expect A. Martiez to resurface sometime in the near future as Langston Wilde's uncle Ray Montez.
Tia Hodge will be making several more appearances throughout the upcoming holiday season as "Mel."
Triplets Tess, Madeline and Molly Sullivan will continue to portray Jessica's daughter Chloe which, in reality is Starr's baby Hope. The triplets will also portray other babies in hospital nursery scenes.
Who's Going?
Andrea Evans leaves "OLTL" on November 25th when Tina Roberts bids Llanview farewell. Evans has cited her refusal to relocate from Los Angeles to New York City for the role as her reasoning for exiting the role. Evans returned to "OLTL" in June following an eighteen-year absence from the daytime drama. According to a statment released by "OLTL," "ABC and 'OLTL' were thrilled to have Andrea Evans reprise the role of Tina Lord after 18 years. Her return was made possible with the understanding that it would be short term as Ms. Evans life, family, and home are on the West Coast. 'OLTL' did not ask that she move across the country in order for her return to the show." As for the future, "OLTL" Executive Producer Frank Valentini states that the door is always open for Evans to return to the soap, and that "The role of Tina is a very important part of the 'OLTL' canvas and when there is an opportunity to have her (Tina and Andrea) return at a future date, the show would be happy to explore it."
Justis Bolding has been released from contract with "OLTL." Bolding joined the soap as Tina and Cord Roberts' daughter Sarah in 2007. The 25-year-old actress will last air as Sarah sometime in the coming months. No final airdate has yet been announced.
Christopher Cousins has left "OLTL" for the second time this year as conman Cain Rogan. He last aired in early November.
Who's Coming?
Stephanie Schmahl has taken over the role of Jessica Buchanan's toddler daughter Bree from twins Brooke and Kiley Liddell.
Llanview will be rocking in 2009 as the alternative band Puddle of Mudd performs at Ultra Violet. The group will perform their hit single "We Don't Have to Look Back Now."
"OLTL" pads its musical resume as yet another rock group visits Llanview. On January 21st, the
Plain White T's
make a stop in town, much to the delight of their number one fan Gigi Morasco (Farah Fath). The group will be promoting their latest album, "Big Bad World," which features the Grammy-nominated single "Hey There Delilah." The Plain White T's were recently featured in an episode of the hit Nickelodeon sitcom "iCarly," entitled "iRue the Day."
"OLTL" is currently in the process of casting the role of a 28-year-old male teacher, who is described as "cool," and loved by students but hated by parents.
"One Life to Live" airs Weekdays on ABC. Weeknights on SOAPnet. Check local listings.
---