Tuesday, November 18, 2008 5:38 PM EST |
By Angela Rosa
---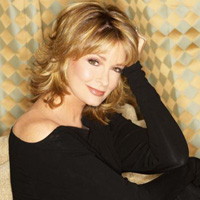 (SoapOperaNetwork.com) — The first cut is the deepest.
"Days of Our Lives" contract with NBC was due to expire in March of 2009, and negotiations between the long-running drama and NBC have never been easy. That noted, NBC recently agreed to renew the 43-year-old soap through September 2010 – with an option to pick it up for another year at that point; the renewal comes with a price. The price, as "
DAYS
" Executive Producer Ken Corday explains to
Soap Opera Digest
, is about a 40 percent cut in the daytime drama's budget, a budget that had already taken a hit in 2003 to enable a 5-year contract renewal. Slicing the show's budget nearly in half will of course mean a lot of backstage turmoil, and the turmoil started immediately.
One week after the news of the renewal came out,
SOD
confirmed that Drake Hogestyn and Deidre Hall, widely noted as daytime's most renowned diva after "All My Children's" Susan Lucci, are leaving the show. Hall has been with "DAYS" off and on, as Dr. Marlena Evans, since 1976. Hogestyn, who plays John Black, has been with the show since 1986. Like is the case with many "DAYS" actors, this is not Hogestyn's first firing from the NBC soap which has taken the concept of firings to more of a stunt tactic than a serious reality. Corday's straight-talk, this time around, seems to note a strong twinge of honesty as he shows his cards and tells the magazine that "there is never an end when a couple leaves happily … they're (Hogestyn and Hall's characters) not dead. Characters have left and come back [before]." Rumors are swirling that the popular and talented
Jay Kenneth Johnson
, who plays Philip Kiriakis, is out as well. True or not, Corday reports that the cast and the production are going to take more hits and predicts a rough winter ahead. Corday tells
SOD
that he would prefer to economically downsize (pay cuts) but if actors don't co-operate "that it will be a physical downsize or a recast." Describing "DAYS" economic state as having taken a dive down to "dismal," the beleaguered and ridiculed executive takes a harsh tone as he points out that "no one is above recasting." In the long-term, Corday predicts "'DAYS' will come out better."
The full interview with Ken Corday can be found in the December 2, 2008 issue of
Digest
with "DAYS" Hogestyn and Hall on the cover. "Days of Our Lives" airs Weekdays on NBC. Weeknights on SOAPnet. Check local listings.
---
Ken Corday
Deidre Hall
Drake Hogestyn