Sunday, November 23, 2008 1:30 AM |
By Angela Rosa
---
(SoapOperaNetwork.com) – Decision time.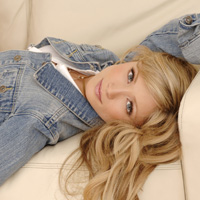 THIS WEEK ON: GUIDING LIGHT
Buzz can't believe what he sees when he gets to Beth's room after intercepting a delivery Coop was slated to make. Coop secretly listens in as Beth explains the situation to Buzz. Buzz warns Beth of the consequences if Alan finds out about her affair. Beth makes a decision about her future with Coop.
Frank, Buzz and Mallet prepare Thanksgiving dinner with a lot of alcohol in hand. Marina walks in on a drunken Mallet pouring out his heart.
Reva becomes frustrated with the doctor Jeffrey introduces her to, Colin McCabe, before he even gets a chance to explain the protective measures they can take with the baby while she's on chemo. Josh tells Reva that Shayne isn't coming home. Reflecting on her past with her other children, Reva makes a decision on the subject of undergoing chemo.
Christina's relief turns to agony when she realizes Remy has yet to turn in the annulment papers. Remy promises a dejected Christina that they find Mr. Perkins and get the annulment. Christina reminds Remy to keep his temper in check after they finally locate Mr. Perkins but winds up telling him off herself. Remy is impressed.
A Closer Look: Tactical Errors
Lizzie gets a motion to suppress evidence so the jacket cannot be used in court. Alan attempts to make Lizzie second guess her success. Doris refuses to put a persistent Lizzie on the stand until a private talk with Alan. Lizzie is ecstatic to learn that she'll be able to testify on Bill's behalf. Alan gets a pass into the courtroom after passing a bribe to the bailiff. Doris pulls out Bill's jacket in the middle of Lizzie's testimony. A mortified Lizzie leaves the courtroom after testifying. Doris assures Alan that he did the right thing by helping bring the jacket back into evidence. Lizzie visits Bill. Lizzie learns that Bill has been charged with kidnapping, fraud and assault, and faces upwards of 20 years in prison.
---