Wednesday, November 5, 2008 5:00 PM |
By Angela Rosa
---
(SoapOperaNetwork.com) — Wicked games.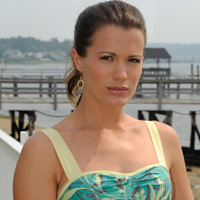 THIS WEEK ON: ALL MY CHILDREN
David and Tad clash over Krystal. Jesse presses Angie to be honest with him. Erica accepts Adam's invitation. David presents Amanda an offer she can't refuse in exchange for her doing his devious bidding. Jesse and Frankie clear the air. Bianca and Reese make a decision about their future. Reese offers Zach her assistance. Pete spills his heart out to Colby. Bianca questions why Reese wasn't truthful with her. Amanda's tactics please neither JR or David.
A Closer Look: Road Blocks

Ryan figures out where Annie is being held. Aidan violently restrains Ryan when he refuses to do things his way and stay put. Greenlee finds Ryan tied up. Aidan meets with Annie and the pair recount how they got to the place they are now. Annie takes Ryan on a dangerous wild goose chase for their daughter. Aidan goes on alert when Ryan shares his suspicions about Annie. Greenlee takes notice of Aidan's strange behavior. Ryan grows more suspect of Annie, who runs into a major roadblock in her game.
The Inside Story: Hide and Seek

Taylor continues to let her guard down around Jake who gives her a private physical therapy lesson. Jake and Taylor are ecstatic when she starts to regain some feelings in her legs. Frankie and Brot (J.R. Martinez) have an emotional confrontation. Jake and Taylor's bond grows as he pushes her to her limits. Brot's heart breaks as he spies Jake and Taylor's closeness. Frankie struggles with whether or not to tell Taylor the truth. Colby discovers an injured Brot. Jake plans a romantic surprise for Taylor.
What to Watch
Look for "All My Children" creator Agnes Nixon to make a special appearance as a helpful ghost from Pine Valley's past on the 10,000th episode of the ABC daytime drama on Wednesday, November 12.
SON ALERTS: WEEK OF NOVEMBER 17, 2008
Monday: Annie's scheme spins out of her control. Brot witnesses Jake and Taylor closeness. David and Amanda plot against JR.
Tuesday: Ryan and Annie are in a race against time in their search for Emma. Colby urges Brot to let Taylor know he's alive. Amanda invokes memories of Babe in her efforts to manipulate JR.
Wednesday: Ryan grows certain that Annie's been up to no good. Adam enlists Pete to spy on Erica for him. Colby offers to let Brot hide out at the mansion.
Thursday: Bianca reaches out to Reese's parents. Amanda's latest stunt pushes JR over the edge. Krystal turns to David for comfort.
Friday: Ryan confronts Annie with his suspicions. David refuses to let Amanda out of the deal they made. Greenlee clashes with Erica at Fusion.
---