Saturday, October 11, 2008 2:37 PM |
By Angela Rosa
---
(SoapOperaNetwork.com) — Captive audiences.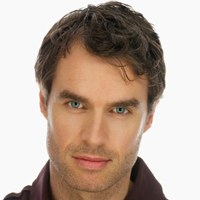 THIS WEEK ON: GUIDING LIGHT
Mallet and Marina take action after realizing they can't afford the house. Jeffrey's arrival at Towers proves to be a buzz kill for a frustrated Reva. Reva explains to Jeffrey that she needs to find a life of her own. Cassie and Cyrus vehemently deny they're dating when confronted by RJ. Olivia accuses Natalia of only caring about Gus' heart after Rick gives them bad news. Olivia storms off after Natalia gives her a piece of her mind. Olivia sees Natalia in a new light. Frank surprises Marina.
The Inside Story: Hot Under the Collar

The administrator at Mallet and Marina's new part-time job informs them that Cassie donated the entertainment system they suspect is stolen. Mallet and Marina then find Cyrus and Cassie breaking into a car but soon realize it belongs to Cassie. Cyrus' radar is raised after a talk with Marina. Cyrus gets to Cassie in time to prevent her from cracking. Mallet is upfront with Cyrus who is indignant about his accusation. The situation is ripe with sexual tension when Cyrus gives Cassie a private lesson on how to beat a polygraph test.
A Closer Look: Cruel Intentions

Dinah takes action after a disappointed Bill reveals that he was going to tell Lizzie that he loves her. Bill finds a ransom note in Lizzie's trashed room. Dinah kisses Grady after he shows her the improved second ransom note. Daisy gives Grady back his key. Grady snaps at Daisy to leave after Lizzie manages to make a loud noise. Grady stares at the key while Lizzie discusses love. Bill realizes Lizzie isn't faking her kidnapping. Dinah pretends to be shocked when Bill shows her the ransom note for Lizzie. Bill thanks Dinah for her friendship. Dinah adds two more zeros to the amount on Grady's ransom note, but explains to a delighted Grady that all she truly wants is her brother back. Bill calls Dinah after receiving the second ransom note.
---