Wednesday, October 1, 2008 5:00 PM |
By Angela Rosa
---
(SoapOperaNetwork.com) — Dealing with the consequences.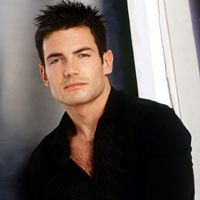 THIS WEEK ON: ALL MY CHILDREN
Taylor shuts down on Jake after things get too close for comfort. Somebody is having Taylor secretly investigated. Noting the tension between the Slater's, a concerned Ryan gives Kendall some advice. Ryan kisses Greenlee. Annie continues to insist that she's being stalked. Natalia beseeches Jesse to visit her mother. A furious Greenlee walks out on Aidan after learning he's been monitoring her. Erica reaches out to a reeling Adam.
The Inside Story: Battleground

Kendall is confronted by a groom who claims his fiancé became ill from Bella. Angie's test confirms the groom's angry accusation. A furious Kendall heads to Adam's mansion where she accuses him of sabotaging Bella. Kendall is appalled when Erica defends Adam. Once alone, Erica assures Kendall that she'll handle Adam; Adam meanwhile holds a press conference announcing that he's suing Fusion. Pete tells Colby the truth. Adam warns Colby that Pete will pay the price if she blabs. JR and Babe decide to leave the mansion…and move to California. Babe resigns from Fusion. Kendall gets very bad news concerning Fusion. Colby makes a plea to Pete.
A Closer Look: Entrapment

Zach seems receptive to Annie's request for his help in securing that she keeps Emma. Annie is confident that the psychiatrist Zach convinced her to meet will secure her custody of Emma, unaware that Zach has actually hired the doctor to gather information to use against her. The doctor assures Zach that he has enough information to make sure Annie loses custody of Emma. During their next session, an unhinged Annie digs her hole in even deeper when she makes a significant slip which a hidden Zach overhears. Zach informs Annie of just how much she stands to lose, her freedom included, if she continues to fight for Emma.
SON ALERTS: WEEK OF OCTOBER 13, 2008
Monday: Greenlee confides to Kendall that her marriage is over. Kendall learns Annie's secret. Jack finds out what Erica is really up to with Adam.
Tuesday: Greenlee can't deny her true feelings any longer. Erica and Carmen have it out over Jack. Zach warns Annie not to threaten him or his family.
Wednesday: Zach and Kendall are back on track. Annie shares her fears about being stalked with Ryan. Taylor gets the news she's been waiting to hear.
Thursday: JR is fed up with Adam's manipulations. Opal's premonition about an impending disaster starts to come true. Kendall urges Greenlee to stop fighting her true feelings.
Friday: Greenlee gives in to her feelings for Ryan. After cheating death, Zach makes a shocking discovery. Many lives are in peril as disaster strikes Pine Valley.
---