Wednesday, September 10, 2008 6:10 PM |
By Angela Rosa
---
(SoapOperaNetwork.com) — When the bough breaks.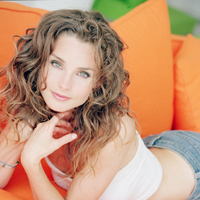 THIS WEEK ON: ALL MY CHILDREN
Amanda picks up on the tension between Jake and Taylor. Angie shares her concerns about Jesse with Tad, who is alarmed by Jesse's reaction to Angie answering his cell phone. Someone is watching Jesse. Erica arrives at the mansion with a beautiful dress as a present for Carmen but gets more than she bargained for when Jack arrives with a present of his own for the birthday girl. Dre says goodbye to Colby before joining his father on the campaign trail. Jesse demands that Angie and Tad stop butting into his business. JR surprises Babe with a marriage proposal on Thursday, September 18. The impending storm makes Erica jittery which allows Adam to get very close to his ex-wife. Tad asks Aidan to look into Jesse's phone records.
The Inside Story: Fragile Ground

News of Annie's miscarriage spreads. A loving Aidan sends Greenlee off to give Ryan the comfort he needs; while elsewhere, Zach prevents Kendall from going to Ryan. Kendall doesn't address the guilt she feels. Meanwhile, a guilt-stricken Annie admits to Ryan the lengths she went to in her attempt to make him love her again but leaves out that she killed Richie. On Monday, September 15, alone, Annie exorcises the demon of Richie from her mind. Ryan and Annie later break the news of the miscarriage to Emma together. Kendall admits to Greenlee that she believes Zach blames her for causing Annie's miscarriage. Greenlee has a chat with Zach. Ryan, Annie and Emma plant a tree in the park in memory of the baby. Zach questions if Kendall is happy in their marriage. Ryan pulls away from Annie but later begins to open up to Greenlee. Greenlee becomes angry when an emotional Ryan declares his love for her. Zach's frustration with Kendall grows. Aidan has a romantic surprise for Greenlee.
A Closer Look: The Game is On

Kendall and Greenlee decide to invest more of Fusion's money in Bella after seeing the pre-order figures for the perfume. JR grows increasingly suspicious of Adam. Kendall confronts Babe after getting a look at the message to her from Adam on her Blackberry. Babe works furiously to cover up her and JR's part in the matter. Erica agrees to help Kendall deal with Adam. Kendall informs a skeptical Greenlee about Adam's plans to take over Fusion; meanwhile, Adam accidentally doses Carmen with the "secret" ingredient in the Bella fragrance, Blast. A blasted Carmen jumps into the Chandler pool fully clothed; meanwhile, an anxious Pete takes matters into his own hands. Amanda tells Kendall and Greenlee that she saw Pete lurking on the docks, near the shipment of Bella, and Babe fills them in on all the time Pete's been spending with Adam. Wanting to keep an eye on him, Kendall and Greenlee hire Pete as an intern at Fusion. Erica works two agendas at once, as she flirts with Adam while proficiently making Jackson jealous. On Friday, September 19, Pete get more than he bargained for when he sets out to sabotage the Bella shipment in the middle of a storm.
SON ALERTS: WEEK OF SEPTEMBER 22, 2008
Monday: Erica can't ignore the affect Adam has on her. Zach and Kendall face the problems in their marriage. Pete undergoes a life changing experience.
Tuesday: JR is suspicious of the kinder Adam he sees before him. Greenlee ends up with a tainted bottle of Bella. Tad gets closer to uncovering Jesse's secret.
Wednesday: Greenlee makes a startling admission due to the tainted perfume. Zach and Kendall continue to grow further apart. Angie begins to see Randi in a new light.
Thursday: Ryan takes actions when he finds a gun in Annie's room. Jesse confesses his secret to Angie. Greenlee is conflicted over her feelings for Ryan.
Friday: Greenlee takes her anger out on Annie. Babe wonders what Adam and Pete are up to. Angie asks Tad to stop investigating Jesse.
---