Thursday, August 21, 2008 1:45 AM EDT |
By Scotty Gore
---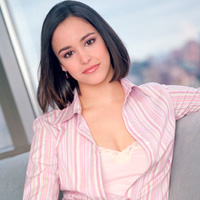 (SoapOperaNetwork.com) — It may still be the lazy days of summer, but "One Life to Live" is abuzz with activity in the casting department.
As summer readies to morph into autumn, "One Life to Live" prepares to make some changes in the casting department. Those changes include the return of a recently departed actress, the addition of a soap veteran, and a cameo appearance of a teenage girl "OLTL" consulted when penning Starr's pregnancy storyline.
"OLTL" fans can expect Rex and Gigi's budding romance to encounter a roadblock next month as Melissa Fumero reprises her role as Rex's estranged wife Adriana Cramer Balsom. According to a recent interview with her husband/ex co-star David Fumero (Cristian Vega), Ms. Fumero will be returning to Llanview for a handful of episodes in September to help tie up a few loose ends concerning Rex and Adriana's relationship. Fumero left "OLTL" in June shortly after Rex and Adriana were joined in holy matrimony; she joined the soap as the long-lost daughter of Dorian Lord in January of 2004. While no first airdate has been set, viewers can expect to see Adriana resurface in Llanview sometime in September, for a reported fifteen-episode stint.
While Melissa Fumero is only returning to Llanview for a few episodes, fans can expect to see more of her husband David Fumero in the coming months. Earlier this month Fumero inked a new contract with "OLTL" to keep his character Cristian Vega rooted in Llanview for the foreseeable future. Fumero has portrayed the younger Vega brother on and off since 1998.
Soap veteran A. Martinez joined the cast of "OLTL" on August 5th. The 59-year-old Martinez won a Daytime Emmy for his portrayal of Cruz Castillo on "Santa Barbara" (1984-1992). He also portrayed FBI Informant Roy DiLucca on "General Hospital" from 1999-2002. Between 2000 and 2002, Martinez also won three consecutive American Latino Media Arts (ALMA) Awards. Other television credits include appearances on the primetime dramas "Profiler, "LA Law," and "CSI," as well in the feature films "Powwow Highway" and "What's Cooking?." And in 2003, he released his first album, entitled "Fragrance and Thom".
When asked about his decision to join "OLTL," Martinez told Soap Opera Digest that "I have a lot of faith in 'OLTL's' storytelling," and that "I've been watching Bob Woods [Bo], like the rest of the country, my whole life!" Martinez, who will portray Langston Wilde (Brittany Underwood)'s uncle Ray Montez, is reported to first air on September 10th. His character is expected to be involved in Clint Buchanan's attempt to regain control of Buchanan Enterprises from Dorian Lord. It is speculated that the character of Ray Montez will soon be joined by his wife and daughter, since "OLTL" recently announced it was in the process of bringing a new Latino family to Llanview.
Despite reports to the contrary, Thom Christopher remains a part of the "OLTL" cast and will continue to air through at least September, as Carlo Hesser enacts his revenge against Cristian Vega.
Kevin Spirtas exits "OLTL" on August 28th when his character Jonas Chamberlin is humilated by new bride Talia Sahid and her lover Antonio Vega. The former "Days of Our Lives" actor made in "OLTL" debut in June.
In other casting news…
Scott Evans returns as Oliver Fish on September 2nd when John McBain enlists the rookie cop's aid in identifying Todd Manning's 'mystery woman.' Evans was last seen early this year when he joined the Cherryvale PD, which allowed Officer Talia Sahid to remain in Llanview.
Ashley Wilkens makes her acting debut August 20th on "OLTL" as an assistant at Starr's obstetrician's office. The 18-year-old Indianapolis native successfully found a caring family to adopt her baby after she became pregnant at the age of 16. Since then, Wilkens has worked closely with The National Campaign to Prevent Teen and Unplanned Pregnancy. Wilkens urges pregnant teen girls to consider adoption as an alternative, and has shared her touching story with People, "The Montel Williams Show," and Soap Opera Digest. Before crafting the storyline in which 16-year-old Starr Manning became pregnant following a one night roll in the hay with boyfriend Cole Thornhart, the "OLTL" writing crew consulted with Wilkens on how best to handle the storyline, which included Starr's decision to allow Marcie Walsh McBain to adopt her baby.
On that same date, Maureen Mueller first airs as Dr. Joplin, Starr's obstetrician.
Jack MacGruder reprises his recurring role as Simon Kenton, Asa Buchanan's P.I., on August 20th when Clint orders him to dig up dirt on Langston. MacGruder was last seen in Llanview doing Asa's dirty work in 2006.
Brian Victor Johnson portrays a young Asa Buchanan on August 22nd, while Robert S. Woods' (Bo Buchanan) real-life son Tanner Woods makes an appearance as a younger version of his father's character on August 26th.
Todd Manning gets a new bodyguard (portrayed by Shawn T. Andrew) beginning August 25th.
Lea DeLaria (Madam Delphina) was recently signed to a short-term contract by "OLTL."
Look for Tallulah Bean, the female Shit-zu who portrays the canine David Vickers, to continue to appear on screen through at least October, and perhaps longer.
DeWanda Wise, who recently premiered on "OLTL" as the woman whom Vincent Jones used to cheat on Layla Williamson, has been signed to a contract by the daytime drama.
Look for Erika Slezak (Viki Davidson) to return from her annual summer vacation in early October.
Look for more dayplayer roles in the coming weeks.
And "OLTL" is currently working to cast the role of "Lola," who may turn out to be Langston's cousin.
"One Life to Live" air Weekdays on ABC. Weeknights on SOAPnet. Check local listings.
---