Monday, August 25, 2008 1:28 PM EST |
By Errol Lewis
---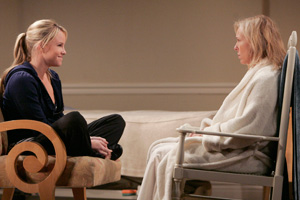 (SoapOperaNetwork.com) — Due to time constraints, GH PreVUE: Week of August 25 Edition will not be posted at this time. In its place, please note GH Today. GH PreVUE will return tomorrow.
TODAY ON: GENERAL HOSPITAL
Lucky takes Lulu back to Shadybrook after her breakdown at the police station. Lainey admits to Lucky that Lulu's condition is rapidly deteriorating. Lulu gets quite a surprise when she goes to Laura's room. Spinelli gets hit by a car while on his stakeout with Maxie and is rushed to the hospital. Maxie and Nadine are terrified over the thought of Matt treating Spinelli's injuries and learn Spinelli needs surgery. Spinelli puts his life in Maxie's hands, telling her to decide if Matt should operate on him or not. Claudia decides she needs Ric's help when Scott threatens to send Johnny to Pentonville but Ric is nowhere to be found. Alexis catches Claudia snooping around in her office. Kate becomes extremely superstitious after Sonny gets a few drops of blood on her reception dress. Sonny's wheels start spinning when Kate relates a story about her cousin Olivia, whom she hasn't seen in years. Sam's suspicions about Jerry being involved with Karpov are confirmed. Nadine lets her fantasies take over as she and Nikolas enjoy a waltz.
This episode marks Genie Francis' (Laura Spencer) return to "General Hospital" after a two-year absence.
"General Hospital" airs Weekdays on ABC. Weeknights on SOAPnet. Check local listings.
---