Monday, July 7, 2008 10:05 AM |
By Errol Lewis
---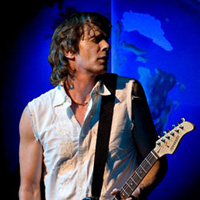 (SoapOperaNetwork.com) — Rick Springfield is returning to ABC's "General Hospital" as both Dr. Noah Drake and musician Eli Love.
Beginning Tuesday, July 8, Rick Springfield will reprise his role of Dr. Drake, who learns his son Patrick (played by Jason Thompson) is going to be the father to Robin Scorpio's (Kimberly McCullough) baby. Patrick and Robin are in a legal fight for the unborn baby due to Robin's inability to commit to Patrick or allowing him access to their child when it is born. After learning of the impending birth, Noah makes it known that he sides with Robin.
On Thursday, July 17, Eli Love returns to Port Charles hoping to rekindle his romance with Anna Devane (Finola Hughes), Robin's mother. However, learning that Anna will be a grand-mother, Eli has a change of heart as he believes a baby will cramp his style. Patrick sticks up for Anna.
Springfield is returning to the soap for the first time since 2007, when Eli ran off with Anna for a worldwide adventure after Noah stood in for Eli during an AIDS charity concert. The event was the first time the actor/musician performed on the soap opera.
Springfield's return to "GH" coincides with the release of his latest album, "Venus in Overdrive", which is set for release on July 29. The album features lead single What's Victoria's Secret, which can be purchased on Amazon.com.
---