Wednesday, July 30, 2008 5:00 PM |
By Angela Rosa
---
(SoapOperaNetwork.com) — Life changing decisions.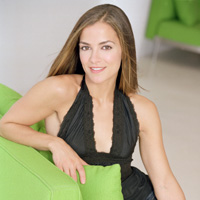 THIS WEEK ON: ALL MY CHILDREN
Frankie asks Randi out on a real date. Tad confronts Krystal on choosing to lie for Adam over trusting him. Colby attends an AA meeting with JR's prodding but continues to deny that she has a problem. Babe and Amanda are fed up with Kendall and Greenlee's work ethic. Kendall manages to smooth the waters with the ladies and convinces them to not abandon Fusion. Adam accuses Erica of just being concerned with getting Samuel into bed when she implores him to help out Dre. Carmen pays the price of defending her former cellmate's honor on Wednesday, August 6. Fletcher tells Frankie he'll leave Randi in peace, and alive, if Frankie buys her from him. Amanda mentions the prospect of a job at Fusion to Randi upon a chance encounter. Frankie is aloof with a confused Randi when he arrives for their date. Jake is intrigued by a woman he encounters while jogging.
The Inside Story: What Truths May Come

Tad, Krystal, Adam and Samuel converge at the police station where Jesse puts the pressure on the kids. Dre is moved by his father's affectionate declaration. Dre convinces the girls that they need to tell the truth and confesses to being the one who was driving Colby's car on Monday, August 4. Tad, Krystal, Adam and Samuel are affected after realizing why the kids tried to cover up their crime. Jesse arrests Dre and then also arrests Adam for interfering with the investigation. Jack, Samuel and Jesse speculate that Richie was already dead before the kids hit him with Colby's car but Adam's destruction of the aforementioned car makes proving that a very difficult task. Cassandra gives Jesse the cold shoulder as the Hubbard and Martin families gather for a barbeque. Tad and Jesse discuss Richie's death. Jesse later follows his pal who goes to check out Annie's car.
A Closer Look: Love and Marriage

Ryan gives Aidan the key that he and Kendall found, asking him to find out what it belongs to. Annie calls Zach when she's unable to reach Ryan and plays out being the victim of a car accident. Ryan arrives at the hospital just in time to see a sonogram of his and Annie's unborn child. A guilt-stricken Ryan tells Aidan to cease investigating his wife. An unstable Annie continues to play on Ryan's guilt. Zach tells Kendall that they should take a brief "vacation" with the Lavery's in order to find out what's really going on with Annie. Ryan, Annie, Zach and Kendall board their flight to Las Vegas. As part of her and Zach's mission to unearth some answers, Kendall tells Annie that she wants them to be friends again. Zach admits to Kendall that he thinks Annie knows more about Richie's death than she's saying.
Aidan and Greenlee enjoy the company of a sweet elderly couple they meet in Las Vegas. Ryan, meanwhile, can't stop thinking about his ex-wife during the ride to Vegas. Greenlee decides to take Babs and Foster's advice and example to heart and proposes to Aidan. Ryan, meanwhile, proposes that he and Annie renew their vows. Annie, Ryan, Zach and Kendall are on a collision course with Aidan and Greenlee on Friday, August 8, as the unsuspecting group heads to the same chapel where Greenlee and Aidan are becoming husband and wife.
SON ALERTS: WEEK OF AUGUST 11, 2008
Monday: Ryan's heart breaks as he watches Greenlee marry Aidan. Tad and Jesse have their doubts about Annie's innocence. Cassandra and Dre find comfort with each other.
Tuesday: Annie is haunted by the ghost of Richie. Carmen and Randi clearly share a past connection. Krystal tells Adam that she doesn't love him anymore.
Wednesday: JR sets his sights on taking over Fusion. Amanda reaches out to Randi as a friend. Jack comes to a conclusion about his and Erica's relationship.
Thursday: Zach thinks he and Kendall should focus on themselves and not everyone else. Samuel can't resist planting a kiss on Erica. Jake has his work cut out for him when he encounters his mystery woman.
Friday: Kendall questions Annie about the hidden key she found. Annie is taunted by visions of Richie. Kathy acts out against Krystal.
---