Brett Claywell

ALL THINGS RELATED
Friday, January 10, 2014 10:49 PM EDT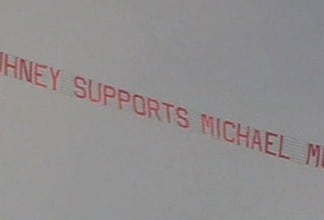 The banner fans pulled together $785 for in honor of their favorite actor, Michael Muhney, who was fired last month from "The Young and the Restless" amidst allegations he fondled the breasts of one of his co-stars, finally flew over the CBS Television City Studios on Thursday, January 9, which wasn't the actual intended studio, reports TMZ.
Tuesday, January 22, 2013 1:22 AM EDT
Scott Evans, who played Oliver Fish on "One Life to Live," has pleaded guilty to attempted cocaine possession. From 2008-10 Evans was one half of the show's popular, yet controversial gay couple nicknamed "Kish," which also featured Brett Claywell as Fish's love interest Kyle Lewis. However, according to TMZ, Evans isn't expected to serve any jail time.