(SoapOperaNetwork.com) — "General Hospital" Episode Recap – Wednesday, October 26, 2011.
IT HAPPENED TODAY…
Robin awakens with something on her forehead.
Carly reveals the truth about Jax to Jason, swearing him to secrecy even from Sam. Carly later shares a charged moment with Shawn.
Kate finishes what they started at Jake's – and kisses Sonny. They talk about motivations, and later, Kate makes lunch plans with Sonny.
On the Next General Hospital…
Johnny and Anthony have a heated discussion.
Drinks for Carly and Shawn.
Who's at Wyndemere?
(SoapOperaNetwork.com) — "One Life to Live" Episode Recap – Wednesday, October 26, 2011.
IT HAPPENED TODAY…
Tomas appears at Blair's house to try to win her back. She is not sure if she can go back to where they were, given that he was willing to go to jail for Todd. Tomas asks Blair again if she still loves Todd, and they're interrupted by Jack. Tomas later tells her she doesn't have to answer but he kisses her passionately before leaving.
Todd helps Viki get ready for Halloween and she asks him about what he'll do to get his life back together. Tina interrupts and it's clear she plans to stake a claim for Victor's fortune and newspaper, but she backs away, saying peace in the family is the most important thing. Todd later tells Viki he plans to get everything back that he lost – including Blair.
Meanwhile Jack goes to the cemetery and is horrified by what he sees and runs home.
Cutter finds Kim's friend and explains a few things to her about her own life. Meanwhile Shane, Rex and Aubrey discuss Shane's plans for Halloween costumes. Jack returns to the cemetery and witnesses Shane and Rex in a touching scene at Gigi's grave.
On the Next One Life to Live…
Marcie reminds John that Brody is violent.
Roxy talks to Natalie about John.
Starr butts heads with Rick.
(SoapOperaNetwork.com) — As part of the growing changes at ABC Daytime, the Disney/ABC Television Group has announced Mirian Arias as its new Vice President, Daytime Communications. Arias replaces Jori Petersen, who headed up the division for a number of years in the role of Vice President, Publicity, ABC Daytime and SOAPnet. Although Petersen has left ABC Daytime and SOAPnet, she remains part of the Disney/ABC Television Group as the acting head of the ABC Family Communications team.

RESPECTED COMMUNICATIONS EXECUTIVE MIRIAN ARIAS NAMED

VICE PRESIDENT, DAYTIME COMMUNICATIONS, DISNEY/ABC TELEVISION GROUP

Wednesday, October 26, 2011, Burbank, CA . . . Respected Communications executive Mirian Arias has been named as the new vice president, Daytime Communications, Disney/ABC Television Group (DATG), it was announced today by Kevin Brockman, executive vice president, Global Communications, DAT G, to whom she will report.

Working closely with Brian Frons, president, Daytime, DATG, Ms. Arias will be responsible for all communication efforts for DATG Daytime, SOAPnet and ABC Media Productions, including corporate, consumer, marketing and affiliate-related publicity.  She will also oversee all talent relation efforts for the division.

In making the announcement, Mr. Brockman said "Mirian's extensive background in consumer communications combined with her more recent experience heading up digital communications for Syfy and iVillage make her the perfect candidate for this role.  As important, Mirian is also regarded as a consummate strategist and an honorable and inclusive leader, all traits that will serve us well as we evolve our Daytime programming and corresponding communications initiatives."

Mr. Frons added, "Mirian is a strategic public relations executive with the proven ability to innovate, build partnerships and lead a team.   She has extensive experience liaising across business units to make the most of synergy opportunities, and I'm glad to have her leading our communications efforts."

"I am thrilled to join such an amazing team of creative and strategic communication leaders," said Ms. Arias.  "ABC has a long-standing history of creating many of the most celebrated, acclaimed and award-winning programs in daytime, and I look forward to being a part of the next evolution of the brand."

Ms. Arias joins DATG from NBCUniversal, where she worked since 2009.  Most recently, she served as vice president, Communications, iVillage, overseeing both external and internal communications for the essential digital women's brand.  During her tenure, she more than doubled iVillage's press penetration across broadcast, print, radio, digital and social media outreach.  She began her career at NBCU as director, Communications, Syfy, where she was responsible for publicity efforts for the networks highest rated original series, Warehouse 13, along with other successful programming like Stargate Universe and Scare Tactics.  In this role she also spearheaded publicity efforts for Syfy Digital, including tier digital sites Sci Fi Wire, Dvice and Fidget.

Prior to her stint at NBCU, Ms. Arias served as director of communications at Nickelodeon Networks where she was responsible for daily publicity on many of their hit programs including iCarly, True Jackson, VP, The Naked Brothers Band and Degrassi: The Next Generation.  She also spent five years at Oxygen Media, where she was responsible for the communication campaigns for shows including Oprah After The Show, Conversations from the Edge With Carrie Fisher and The Janice Dickinson Project.  She also served as international unit publicist for all Oxygen made-for-television movies including Romancing the Bride, Confessions of a Sociopathic Social Climber and Nadine in Date Land.

She began her career in communications at BWR Public Relations, where she handled publicity efforts for an array of film and television actors as well as corporate clients such as the Nantucket Film Festival, NIKE Entertainment and Source Enterprises.  Educated at Boston University, with a degree in Mass Communications and Public Relations, Ms. Arias is a member of WICT, EPPS, NAMIC and PRSA, and currently serves as a citizen teacher for Citizen Schools, a non-profit NYC inner-city school initiative.
(SoapOperaNetwork.com) — "One Life to Live" Episode Recap – Tuesday, October 25, 2011.
IT HAPPENED TODAY…
Rama startles Vimal at the cemetery. He confesses that he was visiting Victor's grave and cursing him for sharing the secret of Liam's paternity. Rama shares her own dirty secret with Vimal. The couple becomes stronger than ever by agreeing not to keep secrets from each other. At EOD, John's absence from the station makes them think twice about coming clean to the authorities.
Cutter panics about his discovery that Kim's friend is no longer at the hospital room. He discovers that she left for Llanview where she shows up on Viki's doorstep. Tina answers the door. Tina lets Jessica knows of the guest's arrival. Before long, Cutter comes face-to-face with Tina at Llanfair's front door.
Meanwhile, Aubrey comes to check on Rex after his encounter with Cutter. The bond between the two continues to grow as she tends to his wounds. At EOD, Rex decides to visit Gigi's grave as we discover someone else has made her way to the cemetery.
Michael and a very pregnant Marcie pay John a surprise visit. The two encourage John to reconcile with Natalie. John shuts the conversation down by informing them of Natalie's engagement to Brody. At EOD, John considers his options upon witnessing Brody and Natalie plan their forthcoming wedding.
On the Next One Life to Live…
Tomas asks Blair for a second chance.
Todd tells Viki he wants his life back.
Rex and Shane visit Gigi's grave.
(SoapOperaNetwork.com) — "General Hospital" Episode Recap – Tuesday, October 25, 2011.
IT HAPPENED TODAY…
Robin and Lisa fight. Maxie gets through to Matt, but he says it is too late Elizabeth lays near lifeless, and we see a ghostly illumination. Someone finds her. Johnny has different plans from his father Anthony.
Carly and Shawn draw away.
Sam posits to Jason that a baby may change their lives entirely. Later, Jason gets a call that Franco is in Canada. Are they safe?
On the Next General Hospital…
Carly reveals a secret to Jason.
Kate has unfinished business to complete.
Sonny makes plans.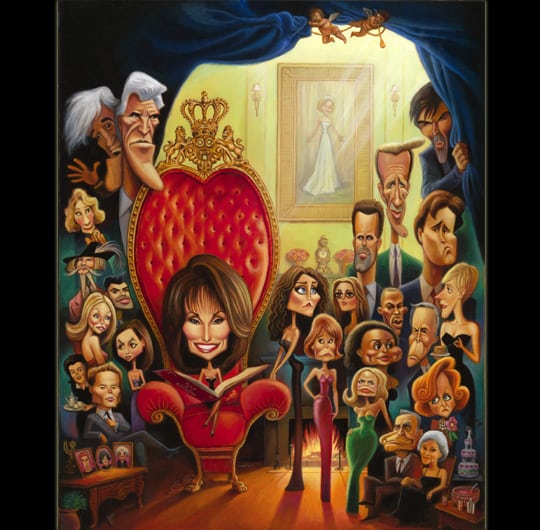 Photo: David O'Keefe Studios
(SoapOperaNetwork.com) — "All My Children" ended its television run on Friday, September 23, 2011, but pop-culture artist David O'Keefe has captured the essence of what made the soap opera special to millions of viewers for more than 41-years courtesy of his new painting "A Tribute to 'All My Children' – Pine Valley," which took two months from concept to fruition.
"'All My Children' has been a part of my family's life for so many years, I feel a real connection to all these people. I want to capture those precious memories by creating this tribute piece to honor the impact the show has had on our culture," said O'Keefe of the painting.
"This is a very historical and personal piece for David," said Wayne Curtiss, Managing Director of O'Keefe Studios. "We look forward to viewer feedback on the painting."
"David is one of the best kept secrets in the art world," said Craig A. Fleming CEO/President of Tired Walls Inc., based in Orlando Florida. "His transformative style not only brings new life to the images he paints but also reminds you of the pure genius in his work."
Ranging in price from $30 (plus $15 shipping) to $599 ($38 for shipping), "A Tribute to 'All My Children' – Pine Valley" details 41 elements for each of the soaps 41-years on television. Of course highlighted in the center of the painting is series star Susan Lucci, who portrayed icon Erica Kane for all 41-years of the ABC soap opera. Soap Opera Network has your exclusive breakdown of who's in it and what each point means.
41 ELEMENTS FOR 41 YEARS
1 Erica Kane
2 Agnes Nixon – the show's creator
3 Adam Chandler
4 Stuart Chandler
5 Marian Colby Chandler
6 Billy Clyde Tuggle
7 Mateo Santos
8 Hayley Chandler Santos
9 Bianca Montgomery
10 Naomi the maid (cameo by Rosie O'Donnell)
11 JR Chandler (reaching for the bottle)
12 Susan Lucci's illusive Daytime Emmy
13 Myrtle Fargate
14 Phoebe Tyler Wallingford
15 Mona Kane
16 gun (murders and shootings)
17 rope – symbolizing kidnapping
18 knife (stabbings)
19 AMC Photo Album
20 Kendall Hart
21 Brooke English
22 Liza Colby
23 Dr. Joe Martin
24 Ruth Martin
25 punch bowl and flask
26 wedding cake
27 Opal Gardner Cortlandt
28 Angie Baxter Hubbard
29 Greenlee Smythe
30 Jessie Hubbard
31 Palmer Cortland
32 poison pancakes that did Dixie in
33 Dixie Cooney Cortlandt Martin
34 1:00pm – Make sure the VCR is set
35 Ryan Lavery
36 Tad Martin
37Jack Montgomery
38 Dr. David Hayward
39 Cherubs- a staple of O'Keefe's paintings (inspired by Peter Paul Rubens)
40 "Janice" -O'Keefe has been hiding his wife's name in his works for 27 years. She also happens to be a longtime fan of AMC.
41 Queen's Throne – for Susan Lucci as Queen of the daytime soaps
Facts: Bianca Montgomery as portrayed in element #9 is Eden Riegel's version of the character. More element facts to come.
To purchase your very own copy of the painting, head on over to O'Keefe's website. If you have any questions or concerns about your order, you can call (813) 254-5056 Monday through Friday.
David O'Keffe Retrospect and Inspiration
David O'Keefe discusses his Tribute to Pine Valley and what it means to him.
A Tribute to Pine Valley: A Step by Step Detailing
David O'Keefe's creation, A Tribute to Pine Valley. This video not only takes you through David's inspiration, but also lets see the behind the scenes looks at the creation of this masterpiece. A must see for any fan of All My Children.
About David O'Keefe and David O'Keefe Studios
David O'Keefe was raised on Hollywood, sports and rock and roll music. David has an acute awareness for the images and personalities that have colored the lives of his generation. He just sees things differently – more intensely, edgier, somewhat more perspicuous than the average spectator. The pop culture icons that we idolize, glamorize and glorify, O'Keefe visualizes for us in all their humanness as well as their stardom.
His sardonic caricatures and humorous illustrations have appeared on the covers of Sports Illustrated, Sports Illustrated for Kids, Mad Magazine, The Village Voice and within the pages of TIME. His advertising clients include Coca-Cola, Waffle House, Fuji and SunCom Communications.
O'Keefe has won numerous awards from such organizations as The Society of Illustrators (NY and LA), American Illustration, Communication Arts, National Headliner Awards, Dimensional Illustrators and the Society of News Design.
Recent image releases include tribute to: Godfather I & II, Caddyshack, Animal House, Seinfeld, I Love Lucy and the Beatles.
(SoapOperaNetwork.com) — As previously reported, ABC soap opera "General Hospital" will lose its coveted 3:00 PM ET/2:00 PM CT/PT timeslot beginning in September 2012 when the network hands the hour back to its local affiliates. The move will leave ABC's daytime lineup with just three hours left to program with "The View" already secured in the 11:00 AM ET/10:00 AM CT/PT slot. New talk shows "The Chew" and "The Revolution" will go head-to-head with "General Hospital" when it comes to the almighty dollar (ie. which show brings in enough income relative to cost) in a battle for the remaining two hours (1:00 PM ET/12:00 PM CT/PT; 2:00 PM ET/1:00 PM CT/PT). In place of "GH" beginning in September 2012 will be the new Disney/ABC Domestic Television syndicated series "Katie," hosted by journalist Katie Couric, which was just cleared in over 60% of the country just six weeks after the sales period began.
Janice Marinelli, President, Disney/ABC Domestic Television announced via press release that "Katie" has been sold to a number of station broadcast groups including Allbritton Communications, Belo Corporation, Cox Media Group, Gannett Broadcasting, Hearst Television, LIN Broadcasting, McGraw-Hill, Scripps Howard Broadcasting and Young Broadcasting. The talk show was most recently picked up by ABC affiliates WFAA Dallas, WCVB Boston, WSB Atlanta, WJLA Washington DC, WXYZ Detroit, KNXV Phoenix, and WFTS Tampa along with NBC affiliate KING Seattle, among others.
"To have garnered such exceptional clearances in this short period of time is attributable to the enduring strength of the Katie Couric brand and her wide-ranging appeal as one of the brightest, most talented and most dynamic personalities in the business," commented Marinelli. "We are enormously pleased to partner with such a stellar group of stations across the country."
Upon announcing the shows development back in June, Disney/ABC Domestic Television also announced that ABC's Owned & Operated Stations Group encompassing New York's WABC, Los Angeles' KABC, Chicago's WLS, Philadelphia's WPVI, San Francisco/Oakland/San Jose"s KGO, Houston's KTRK, Durham/Raleigh/Fayetteville's WTVD and Fresno's KFSN would immediately begin carrying the show at launch.
(SoapOperaNetwork.com) — Yesterday afternoon, Soap Opera Digest reported that "General Hospital" has named breakdown writer Shelly Altman as its Co-Head Writer working alongside Head Writer Garin Wolf. Per the magazine's website Altman's new role is effective immediately.
In July, Soap Opera Network first reported on Altman's move to "General Hospital" after 11 years at ABC's "One Life to Live." At the time Altman was joined by Tracey Thomson on the breakdown team replacing Meg Bennett and David Goldschmid, who were both fired following the termination of Bennett's husband Robert Guza, Jr., who Wolf replaced back in May.
Before joining "One Life to Live" in 1999 as an Associate Head Writer, Altman worked at NBC's "Another World" from 1995-1999 in the same position. She received five Daytime Emmy Award nominations in the category of Outstanding Writing Team. Her last four nominations being at "OLTL" (2002, 2006, 2008 and 2009) and her first at "AW" (1996). Altman won the award in 2008 while at "OLTL" under the writing team headed up by Ron Carlivati and Dena Higley.
In July 2010, Altman wrote a blog for The Writers Guild of America East which can be viewed here.
As Soap Opera Network went to press, a "GH" representative was unavailable for comment.
(SoapOperaNetwork.com) — "One Life to Live" Episode Recap – Monday, October 24, 2011.
IT HAPPENED TODAY…
Rex is hopeful when Cutter proposes his deal. But then Cutter spells out his terms which ultimately leads to Rex beating Cutter to a pulp. Kim's friend searches for answers and makes a very shocking discovery about herself.
Just as Tomas is being sentenced, Todd makes a confession. The judge gives Todd a chance to explain himself. The A.D.A. calls Nora who arrives. The judge asks if Nora wants to bring charges against Todd. Nora sees that she has no choice but to let Todd go. But she issues a chilling warning to Téa.
Meanwhile, after Tomas is freed, Blair is still upset with him. He asks her if she's upset because he was willing to leave her and go to prison for a crime he didn't commit? Or is it because she still has feelings for Todd?
Clint and Viki discuss Clint's major move in letting Rex and Shane have his house. Clint reveals that he's been holding a grudge against Rex because he associates him with Mitch Laurence. He also resented Bo and Rex's relationship. But he's starting to see the error of his ways. Viki applauds the change in him, noting that she's starting to see the man she fell in love with and married. They share a close moment which is broken when freed Todd enters. Viki is thrilled that this is all behind Todd, telling him that he can regain everything that was his now that this sorry mess is over.
On the Next One Life to Live…
Rama and Vimal share secrets.
Kim's friend turns up at Llanfair.
Marcie and Michael pay John a visit.
(SoapOperaNetwork.com) — "General Hospital" Episode Recap – Monday, October 24, 2011.
IT HAPPENED TODAY…
Matt goes in search of Elizabeth. Elizabeth is saved by a mystery man.
Lisa has insane plans for Robin and Patrick.
Steve keeps Olivia company. But she gets dizzy.
Shawn catches Jason up to speed with the drug plant at the coffee warehouse as Carly and Sam find middle ground. Sam and Jason discuss having a baby. Carly and Shawn get close over his PTSD.
On the Next General Hospital…
Maxie gets through to Matt.
Jason gets an important phone call.
Spinelli finds someone.