Friday, March 22, 2013 10:19 PM EDT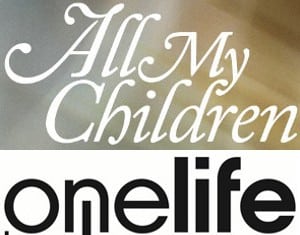 As the old saying goes, a happy employee is a productive employee. And that must be a mantra Prospect Park believes in. According to the actors who have signed on to the serial dramas, "All My Children" and "One Life to Live," the production company — headed by Jeff Kwatinetz and Richard Frank — has batted a thousand when it comes to being respectfully in charge. And the end result, as the performers preview, is pure magic.
Tuesday, January 1, 2013 3:23 PM EDT
Kamar de los Reyes left ABC's "One Life to Live" in 2009 after portraying the uber popular role of Antonio Vega off and on for nearly 14 years. When he joined the soap in 1995, the character was introduced as a former gang member recently released from prison after serving time for killing a man. As the eldest son of Carlotta Vega, Antonio was able to prove the crime was in fact an act of self defense with help from Nora Buchanan. In "Call of Duty: Black Ops II," which was released in November 2012, de los Reyes portrays Raul Menendez the terrorist behind a new world at war that is set in the year 2025. The game, also starring some of Hollywood's biggest stars including Sam Worthington, Michelle Rodriguez and Michael Keaton with appearances by former soap stars Eden Riegel ("All My Children") and Brianna Brown ("General Hospital"), grossed over $500 million on its first day of release. The team at Treyarch Invention made the game so real-life like that de los Reyes is now immortalized as a very recognizable video game character, despite the evil things the character induces.