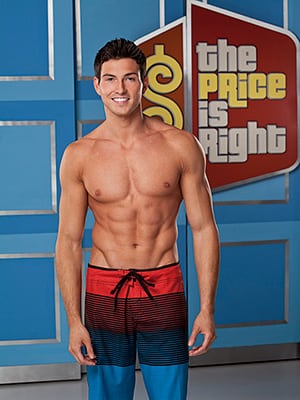 As we previously reported, The Online Network (TOLN) has tapped "The Price is Right" male model Robert Scott Wilson to join the production company's online revival of "All My Children" as a recast Pete Cortlandt.
The news, which was first broke by "AMC" co-star Jill Larson (Opal Cortlandt), who recently tweeted, "Are you following my 'son' "Petey?" @MrRobertScott #AMC."
Earlier this afternoon, Prospect Park confirmed the casting announcement by issuing an official press release regarding Wilson's joining the cast of "All My Children."
via press release:
THE ONLINE NETWORK ANNOUNCES THE ADDITION OF ROBERT SCOTT WILSON TO THE CAST OF BELOVED DRAMA, 'ALL MY CHILDREN'

Los Angeles – February 25, 2013 – The Online Network announced today that actor and Ford model Robert Scott Wilson will join the cast of the beloved serial drama "All My Children," set to debut later this spring. Wilson, a Boston native who made history in 2012 by winning "The Price is Right's" first-ever male model search, will join the series as Pete Cortlandt, Opal Cortlandt's youngest son.

He has appeared in the feature films "Bride Wars," "Surrogates," "Friends With Benefits" and "The Social Network" and has co-starred in television series including "The Secret Life of the American Teenager" and "The Middle." In addition, he has guest-starred as Colin Kirk in "Supah Ninjas," and appeared in episodes of "Entourage," " "Melissa and Joey," "Greek," "Suite Life: On Deck" and "Make It or Break It."

Wilson has been seen in numerous campaigns, as well as in music videos for Victoria Justice, Manika, Toni Braxton and David Guetta, featuring Fergie.

In an announcement earlier this year, Prospect Park's The Online Network revealed its plans to re-introduce the beloved franchise, through a groundbreaking content deal that will bring premium first-run, broadcast-quality programming to a mass market audience via the Internet. Brand new 30-minute episodes of "All My Children" will be launched each weekday and available to stream online via the free Hulu.com service and to subscribers of Hulu Plus making these venerable dramas available in a new format that suits the viewing habits of the digital generation. In addition, the iTunes Store will offer both series via iPhone, iPad, iPod Touch, Apple TV and Mac or PC.

Previously announced "All My Children" cast members include: Darnell Williams (Jesse Hubbard), Debbi Morgan (Dr. Angela Hubbard), Vincent Irizarry (Dr. David Hayward), Lindsay Hartley (Cara Martin), Jordi Vilasuso (Griffin Castillo), Jill Larson (Opal Cortlandt), Thorsten Kaye (Zach Slater), Julia Barr (Brooke English).

Additional casting details will be announced in the coming weeks.

About Prospect Park
Prospect Park is a media and production company founded in 2009 by entertainment industry veterans Jeffrey Kwatinetz and former Disney Studios head Rich Frank. Along with successful film and music divisions, the company's television group has numerous shows in development and breakout network hits airing including "Royal Pains" and "Wilfred."

More information about TOLN series will soon be available at www.TOLN.com and www.theonlinenetwork.com or follow The Online Network on Twitter (@toln ). For news and information about "All My Children," connect via Facebook or follow the series on Twitter at www.facebook.com/allmychildren or @allmychildren.
"All My Children" begins production today in Stamford, CT for a debut later this spring on Hulu and iTunes.