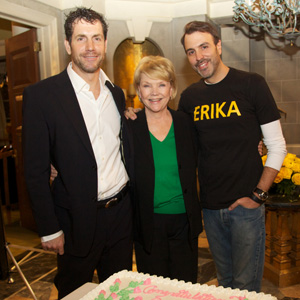 (SoapOperaNetwork.com) — As we reported yesterday, we likely have to thank our federal government for providing the funding necessary for Prospect Park to pick up "All My Children" and "One Life to Live," which were both canceled by ABC on Thursday, April 14. The announcement that ABC would be licensing the two iconic soaps to Prospect Park was made on Thursday, July 7, but according to sources the financial deal actually came together back in May, just in time for what is said to be the deadline period for the government to hand out grant money to companies looking to invest in New Media. We thought it was crazy too, but we checked and it is definitely true. What we know about this deal is that upon their completion on ABC, "All My Children" and "One Life to Live" will be migrated to an as-yet-to-be-named Hulu-esque internet video service that would allow both daily soap operas to continue their storytelling for millions of online users and "be delivered with the same quality and in the same format and length," as fans have come to expect for more than forty years, according to the joint press release issued from Disney/ABC and Prospect Park. Translation: One hour per day, five days a week, 52 weeks a year will remain within the realm of reality. What wasn't clear at the time was after both soaps complete their runs on ABC, they will also conclude on SOAPnet.
Insiders tell Soap Opera Network that even with the multi-year, multi-platform licensing deal with Prospect Park, the deal does not call for Disney/ABC to air either programs on their owned and operated networks, which includes SOAPnet, despite the channel now expected to remain on cable/satellite systems longer than originally thought due to some minor issues the Walt Disney Company had been having with the launch of its Disney Junior cable network. Additionally, when an ABC representative confirmed to Soaps in Depth back in late April that SOAPnet would "absolutely have programming" after "AMC" and "OLTL" ended their runs, they neglected to name which programming would be in place. Soap Opera Network has confirmed with the same representative that the programming in question will not include "All My Children" or "One Life to Live." In fact, after yesterday's announcement was released, the Disney/ABC Television Group made it clear that they are no longer in charge of the day-to-day operations of either of your favorite daytime soaps once their runs are completed on ABC and SOAPnet. If you want to know what's going to happen next on "All My Children" after it ends on Friday, September 23, don't call, write or email Brian Frons, President, Daytime, Disney/ABC Television Group. He is not in charge of that show and he will not be in charge of "One Life to Live" either after the series airs its final broadcast on Friday, January 20, 2012. Prospect Park, which at this time has no plans to release any further details surrounding the new venture beyond what was already reported, according to a representative, is in the early stages of what will surely be a drawn out discussion with the people that help make your favorite soaps as well as the unions these individuals belong to as neither union, the Screen Actors Guild (SAG) or the American Federation of Television and Radio Artists (AFTRA), was prepared for this new business model when they last negotiated their contracts with the Alliance of Motion Picture and Television Producers (AMPTP), which comprises The Walt Disney Company, among others. AFTRA is the primary union representing on-air talent for daytime soaps.
Now that "One Life" is continuing with a second one under Prospect Park, fans around the world are wondering how does this affect the storylines, how does this affect the cast, the crews, the writers and even the producers? Digging a little further, with last month's announcement that Ron Carlivati, who currently serves as "One Life to Live's" head writer, would be transitioning to "General Hospital" as a script writer later this year when the show completes its run on ABC, it really begs the question of what happens next? Not only for that soap, but for "All My Children" as well. "It's too early to know," said a ABC insider requesting anonymity. "The details are too fresh on everyone's minds for it to be determined who will be running these shows, or particularly writing them, after they finish their ABC runs." The same also holds true for who will be appearing on your favorite soaps as they transition to your computer screens as well, the insider informed us. In fact, according to "All My Children" star JR Martinez (Brot Monroe) in a twitter posting, "I will say this-my current contract was to terminate on August 31st. Now we must see who they want to keep & renegotiate with. Not sure…" It appears as though the termination Martinez is referring to holds true for all current contract cast members at "AMC," leaving Prospect Park to renegotiate with the cast and even the crews in order to properly transition the series to the web in the "same quality" fans have come to expect. But back to Carlivati. He along with "One Life" Executive Producer Frank Valentini signed new deals with ABC back in September of 2010. The terms of the agreements were not disclosed, but it was understood to last two years for Valentini and three years for Carlivati, so does that mean the two will remain with "One Life" under the guidance of Prospect Park? Or has ABC opted to keep the dynamic duo under its charge leaving new blood to step in and head write and produce the show with the "same quality and in the same format and length" as before? As our insider said before "It's too early to know." There is no word on what this development means for "All My Children" Executive Producer Julie Hanan Carruthers or Head Writer Lorraine Broderick.
However, one of the big questions left unanswered are where will the shows be produced? "All My Children" moved its production to the Andrita studios in Los Angeles, CA back in January of 2010 in a multi-year licensing deal. Will the show remain in that studio? It looks like it will as the cost factor would be too great for Prospect to move the series once more. However, things look a little less certain for "One Life to Live," which took over "AMC's" New York studio space housed in the ABC Television Center. With ABC no longer producing the series it is likely the series will be moved to another facility or moved to the West Coast right along with "AMC" in order for Prospect Park to better manage the daily operations of the drama series.