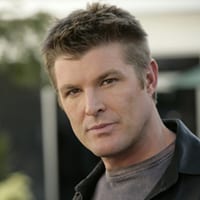 In a not so surprising development, SoapCentral.com is reporting that CBS' "The Bold and the Beautiful" has dropped veteran actor Winsor Harmon (Thorne Forrester) to recurring status.
Harmon, who joined the cast of the drama series in December 1996, has had relatively nothing to do on the soap since his character's relationship with Katherine Kelly Lang's Brooke Forrester fizzled some years back, which was expected as Brooke's world always revolved around Thorne's older brother Ridge Forrester (Ronn Moss) anyway.
Prior to joining the cast of "The Bold and the Beautiful," Harmon enjoyed a successful run on the ABC soap "All My Children" as Del Henry, Dixie Cooney's (Cady McClain) brother, from 1994-1995. The actor exited along-side Sarah Michelle Gellar, who originated the role of Kendall Hart, when she left the soap in order to pursue a career in primetime and movies. Gellar got her big break courtesy of a little show on The WB called "Buffy the Vampire Slayer."
A "B&B" representative had "no comment" when questioned for this article.
"The Bold and the Beautiful" airs Weekdays on CBS. Anytime on CBS.com.