Thursday, July 16, 2009 11:30 AM PT |
By Errol Lewis
---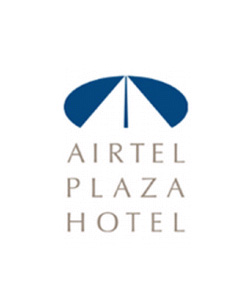 (SoapOperaNetwork.com) — So you've been coming to "General Hospital" Fan Club Weekend at the Sportsmen's Lodge for years and are leery of change. You're not sure what a new venue will be like and feel this may be your last year attending the biggest soap fan weekend in the world. I have a question to ask? What's to worry about?
Like many of you, I've been coming to the "GH" Fan Club Weekend for years. This will be my fourth year. When it was announced during the 2008 Fan gathering that it would be our last at the Sportsmen's due to the lodge's then impending closure, many of us thought the event itself was over. With the hard work and dedication of Debbie Morris, President, General Hospital Fan Club, and all the important individual's that work closely with her in planning these fan events, we got word in late 2008 that not only would the events continue, but they'd be taking place at a new location. Enter Airtel Plaza Hotel.
Airtel Plaza Hotel
The Airtel Plaza Hotel is located in Van Nuys, CA. It is about 20 minutes away from the Sportsmen's Lodge. At face value, there is nothing special about the hotel. But it is what's on the inside that counts. Interestingly, the Airtel Plaza Hotel is located right next door to the Van Nuys Airport, hence "Air"tel. The hotel is for private planes only, so don't go kicking yourself for booking your arrival at LAX or Burbank.
Front Desk Check-in
Checking into the Airtel is simple. Like many hotels you enter the lobby and head straight to the front desk to confirm your reservation. Unlike many hotels, the Airtel's staff doesn't pretend to care about your needs, they just do. They answer all of your questions, no matter how tedious they might seem. They give you straight answers, not the run around. When do they stop serving dinner? What time does the bar close? The pool? The gym? What's the nightly parking rates? Just some of the questions I asked when I checked into the hotel after 7:00 PM on Wednesday. For reference, the dinning room closes at 10:00 PM, the bar closes at about 1:00 AM (depending on the day of the week), the pool closes at 8:00 PM, the gym is open 24/7 and parking is $10 a night. One neat feature upon checking into the Airtel, at least during Fan Club Weekend, is the hotel has specially designed guest room keys to promote their appreciation that the events are being held at their hotel. The keys read "Airtel Plaza Hotel Welcomes 2009 'General Hospital' Fan Club Weekend July 16th – 20th."
Dining
Dining at the Airtel is expensive if you are used to the prices at Jerry's (there is no late night diner that I'm aware of at this time that you can go to as a hangout place). I had a meal with light portions for $17. While good, proportionally the cost does not compare to what you can get for the same price at an Applebee's, TGI Friday's or Dallas BBQ's, but this is a hotel after all. Nothing comes cheap. My waiter answered all my questions and provided me with a second helping of their tasty bread. Not sure what's in it, but something about it gives it a unique taste.The restaurant itself feels like you are in another world (pardon the pun). The setting is almost the equivalent of a private club if they dimmed the lights a little more. Though, it is better off the way it is as you can take in the scenery.
Pool
While I have yet to actually get in the pool, from what I have seen there isn't much to see. The pool is really tiny. If you are looking to swim laps, the pool is angled in such a way that it makes things difficult. Unless you want a cool down, I wouldn't recommend this as part of your To-Do List.
Hotel Room
Some of you may have a different room setting to go by, but my room compromises of a King Size bed with a couch, cable TV (including HBO), a complimentary fridge with a sink to wash dishes, room for a cot (if desired) that doesn't force your roomate to walk around your sleeping form, and a bathroom that is broken into two sections. All together, the hotel room is grander than a studio apartment that could run you thousands a month, not including assorted building and maintenence fees. The bed is very comfortable. In fact, if I were not writing this piece, I'd probably still be enjoying said comfort.
Expectations
All in all, the Airtel has so far exceeded my expectations. There are still a few days left of my stay here, but I forsee nothing of note that could change my view on this hotel. For those of you coming for the weekend's events and are staying outside of the Airtel, you do not know what you are missing.
Kickoff Party
Tonight is the kickoff party for the "General Hospital" Fan Club Weekend, but while I won't be attending the event, i'm sure those of you who will, will have lots of stories to tell. Have fun, drink up, but keep the hangover elsewhere. We want you returning to your home's safe and sound and again next year.
---
Discussion: Kicking off a 'GH' Fan Club Weekend

---
General Hospital
GH
Airtel Plaza Hotel
Airtel
General Hospital Fan Club Weekend
GHFCW