Tuesday, June 16, 2009 10:32 PM ET |
By Errol Lewis
---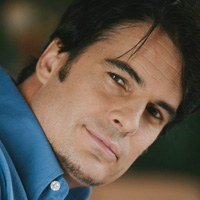 (SoapOperaNetwork.com) — Where were you when daytime's best kept secret was revealed on the Friday, May 15 episode of "The Young and the Restless?" If you were not watching the CBS soap, it's time to get out from under your rock as Genoa City is about to be brought to its knees.
On the Friday, July 3 episode of "Y&R," actor Thom Bierdz marks his grand return to the drama series as Phillip Chancellor III, son of Jill Foster Abbott (Jess Walton) and the late Phillip Chancellor II, at least that's what it appears to be. According to sources, on that day's episode viewers can expect to see a stunned Jill to be confronted by her past and a distressed Nina (Tricia Cast) not believing what's before her eyes.
Is he Phillip III or Langley?
When Cane (Daniel Goddard) was on the phone during a flashback sequence dating back to when he hit town in 2007, Bierdz's was revealed to be a character named "Langley." But who is that? All we know is that Langley was tending bar in a mysterious location and appeared to be working with Cane in conning Genoa City's elite.
Since his departure from "The Young and the Restless," Bierdz has found his niche in artwork, which ironically plays a significant role in one of the soaps' current storylines. Does that mean Phillip or Langley will be playing a role in the mystery? "I can't answer that, but I can tell you that I have some beautiful male nudes on my website, www.thombierdz.com. [Laughs]," Bierdz's said in a recent interview with soap specialist Michael Fairman for Advocate.com.
Before discussion of a return began, Bierdz admitted that he would have agreed to return to "Y&R" in an interview that took place years ago if the show could incorporate his being an openly gay man and his passion for artwork into its storylines. "I did say that a couple of years ago. I really don't know the twists and turns this character is going to take. I'm hoping with a progressive head writer and co-executive producer like 'Y&R's' Maria Arena Bell that all kinds of opportunities are explored here. I think it's all really encouraging and exciting."
Rumors began circulating in late April that Phillip's son with Nina, Phillip IV, will join his mother in Genoa City as a gay man. Former "Guiding Light" star John Driscoll has signed on to portray Phillip IV, but a first airdate has yet to be revealed.
Before Bierdz's return in May, the actor last made an appearance on the soap as the "ghost" of Phillip in July 2004. Bierdz's was the fourth actor to portray the role since the character hit Genoa City in 1981. He portrayed the role from 1986 to 1989. In 1994 and again in 1995, Bierdz appeared on the popular CBS primetime drama "Murder, She Wrote." He's also appeared in such dramas as "Matlock" and "Melrose Place."
---
Discussion: Thom Bierdz Rocks Genoa City
---
The Young and the Restless
Daniel Goddard
Thom Bierdz
Jess Walton
Tricia Cast