Sunday, May 3, 2009 11:57 PM ET |
By Venus Stone
---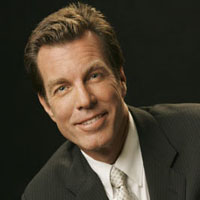 (SoapOperaNetwork.com) — One woman; three possible fathers…
THIS WEEK ON: THE YOUNG AND THE RESTLESS
Jill's behavior gets her tossed into a closet during Kay and Murphy's wedding, Monday May 4. Paul begins to ponder the familiarity of Mary Jane. On Tuesday, May 5, Victor give Nick an offer that could put him in further odds with Phyllis. That same day, Jill finds herself back at the Chancellor Mansion.
The Inside Story: One Father Too Many
Sharon, realizing something is amiss with her, finds herself with a pregnancy test in her hand ready to take it to see if she possibly could be pregnant. When the results come in, she is floored to discover that she is in fact pregnant. She soon becomes overwhelmed by everything that is coming at her at once and begins to wonder what is the best thing for her to do. Sharon soon heads to the Genoa City Athletics Club when she sees Jack coming downstairs from the suites area. Realizing that Jack spent the night with someone, Sharon becomes upset and unable to contain the news she's just received, she blurts everything out to her mother. Doris under the impression that Sharon is talking about Jack or Nick being the possible father, doesn't realize that she's slept with Billy too. When Sharon admits that news to her, Doris doesn't hide her disappointment in her daughter. Sharon later finds herself debating on who to approach about her pregnancy and she instantly heads to Restless Style to find Nick. Unfortunately when she arrives, Phyllis instantly blocks her attempts to talk to him, therefore Sharon leaves to find her next possible 'father' to talk things out. When she shows up at his office, Jack can tell that something is troubling her and he immediately tries to console her when she tells him about her pregnancy. Thinking that Jack would immediately question her, Sharon is stunned when he shows sheer happiness at the news. Jack soon offers to be fully involved in the baby's life, even if the baby could be Nick's. Sharon is skeptical and asks if he's sure if he could raise a baby that might not be his. Jack reassures her he can. Shortly after Sharon departs Billy arrives and sees how distracted Jack has become and questions what's going on. Jack, still in awe, announces to his brother that Sharon is pregnant. Not giving it away, Billy silently begins to panic and later departs. Soon after, he finds Sharon and tells her that if he's the father, he's going to step up and let it be known. Meanwhile, Nick, who is at the park with Summer, is surprised to see Sharon there. She's about to tell him about her pregnancy when she's interrupted by Summer's fall off the swing. Nick, followed by Sharon, takes the little girl to the hospital when Phyllis shortly arrives. When Sharon sees the closeness between Nick and Phyllis over Summer, she realizes that she can't tell Nick and decides to go back to Jack and accept his offer of being there for her and the baby; no questions asked.
A Closer Look: Strange Behavior

Ashley, still acting strangely, approaches Nikki at Katherine and Murphy's wedding to tell her that she knows that she wasn't the one that put Sabrina's dress out for her to put on. Nikki, wondering what's going on with Ashley, later tells Jack that he should keep an eye on his sister because her state of mind isn't well, especially if it could be due to her living in Sabrina's shadow. Meanwhile Jack confronts Victor about his sister and the two of themngs get into it, while Ashley has a confrontation with Estella, accusing her of putting things to remind her of Sabrina. Unfortunately for Ashley tthings aren't going well for her when she has to be rushed to the hospital.
What To Watch
Victor is stunned when Neil is offered a position through Katherine
Amber and Chloe soon bond over their dislike for Mac
Jill schemes with the likes of Gloria and Jeffrey
The Young and the Restless News and Headlines
Jerry Douglas comes back as the ghost of 'John Abbott' on Tuesday, May 5
Camryn Grimes returns as 'Cassie Newman' Wednesday, May 6
James Handy plays the 'Governor' on Friday, May 8, who is approached by Katherine with a big request
As previously mentioned on SON, Tom Casiello has joined the writing team of Y&R. His first scenes began airing April 20 and April 28 ,and will continue on May 12 and May 19.
Nia Peeples returns on Thursday, May 14 as 'Karen Winters' to settle things with Neil
SON Top 10: Who was the best of the best on "Y&R" during the week of April 27 – May 1, 2009? You decide! The SON Top 10 is back! Voting begins Friday's at 4:00 PM, EST.
SON ALERTS: WEEK OF MAY 11, 2009
Paul gets on bended knee for Nikki.
The Feds want to do business with Daniel.
Billy can't get Mac out of his head.
Could there be trouble in the scheming of Jill, Gloria and Jeffrey?
"The Young and the Restless" airs Weekdays on CBS. Weeknights on SOAPnet. Check local listings .
---
You may not reproduce content without written permission from author.

© 2009 Soap Opera Network. All rights reserved.
Discussion: Y&R PreVUE: Week of May 4 Edition
---