Sunday, April 26, 2009 12:41 AM ET |
By Venus Stone
---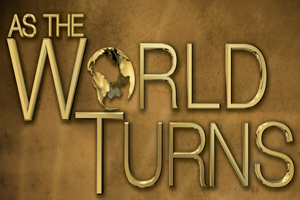 (SoapOperaNetwork.com) — Framed…
THIS WEEK ON: AS THE WORLD TURNS
Lucinda has a warning for Damien, Thursday, April 30. Vienna and Henry come to odds about keeping Katie and Brad in the dark about the baby.
The Inside Story: Framed to Take the Fall

When Carly learns that Parker bought a sports car with the trust money that Craig gave him, she and Jack both hit the roof. Parker, however sweet talks her into taking a ride with him in the car and offers to take her to work. When Carly gets there, Craig is there to buy her out of her their Midnight Sun vodka partnership. Jack, after receiving a call, heads to the docks to investigate the murder of Cesar. He soon discovers that guns were being shipped in the Midnight Sun crates and heads over to arrest Craig and Carly. Down at the police station both Carly and Craig discover that neither one is responsible for the smuggling. During questioning Craig tells Jack that Carly has no idea what is going on and she is later released. Craig, however, is not so lucky and is placed in a holding cell by Margo, who calls Lucy to tell her to keep an eye on Johnny. Lucy becomes uneasy about what is going on and is ready to tell everything but Dusty tells her that she must keep quiet long enough for him to get custody of Johnny. In the meantime, Jack heads over to Carly's to get her to dig dirt from Craig about the gun smuggling.
A Closer Look: Saving the Day
As Noah lays bleeding from his gunshot wound, Luke tries to get Zoe to get medicine to aid him. she reluctantly agrees to go and heads to the hospital to steal supplies. Lily, in the meantime is being pushed by Zac to withdraw the foundation money and place it into a Swiss bank account. When Lily alerts Holden about the situation Zac is scared off. Casey, who wants to help find Noah and Luke with Jade is pursuaded by Alison to stop before someone gets hurt. He however ignores her request and goes off in search for his friends. While gone, Alison spots Zoe and remembers her. Trying to contact the police Zoe spots her and pushes and locks her into a closet. Casey later finds her and they discover receipts from the storage area. They quickly alert Margo on the matter. When Zoe returns to the storage unit, she tries to talk Luke into giving her a true Grimaldi heir. Luke refuses and soon Noah gathers enough strength to attack Zoe. Zac, who is outside holding Damian at gunpoint hears her screams and prepares to go see what's going on. Damian soon jumps Zac and they wrestle with the gun; Damian getting the upper hand. Margo, meanwhile shows up and takes Zoe and Zac away in cuffs. While at the police station Zoe and Zac finger Damian as being the master mind behind their scheme, to which Holden instantly believes. Luke, however, defends his father and tells Margo that he is innocent. Once Damian is released Holden thanks him but points out it might be wise to leave Oakdale. Noah, realizing the importance of family, stresses that Luke should try to get to know his biological father. Luke later finds Damian preparing to leave and asks him to stay in Oakdale for awhile.
What To Watch
Liberty stays true to her word to the dismay of Parker
Alison tries to play nice with Jade
As the World Turns News and Headlines
Ed Fry returns to the show as 'Larry McDermott' Alison's wayward father, Monday, May 25
Evan Alex Cole comes to the show as 'Hunter', Thursday, April 30. 'Hunter' will be partners with Emily for the Intruder
Ewa da Cruz ('Vienna'), Trent Dawson ('Henry') and Billy Magnussen ('Casey') will be attending the 11th Annual Southwest Florida SoapFest, an event that returns the best of daytime television's soap opera stars to Marco Island, May 2 and May 3 to raise money for local children's charities. Those interested in ticket and sponsorship information go online to SopaFest or call 239-394-4559
'As the World Turns' fans have an opportunity to bring out their charitable side in them by joining Kelley Menighan Hensley, Jon Hensley, Michael Park and Martha Byrne at the Inaugural Angels for Hope Gala Friday. May 29. The event begins from 7 PM to 11 PM at the Estate at Florentine Gardens, located at 97 Rivervale Road in River Vale, NJ. Angels of Hope is the first major fundraiser event that is held on behalf of St. Jude Children's Research Hospital in Bergen County. Those in attendence will have the opportunity to enjoy a night of fine dining, cocktails, music and dancing along with a silent auction. Tickets are $200.00 each with limited seating. Please visit Angels for Hope or call (212) 239-3239 to reserve.
SON Top 10: Who was the best of the best on "ATWT" during the week of April 20 – April 24, 2009? You decide! The SON Top 10 is back! Voting begins Friday's at 4:00 PM, EST.
SON ALERTS: WEEK OF MAY 4, 2009
Holden continues to fill out of place with Damian in town
Hunter becomes smitten with Alison
"As the World Turns" airs Weekdays on CBS. Check local listings.
---
---
You may not reproduce content without written permission from author.

© 2009 Soap Opera Network. All rights reserved.
Discussion: ATWT PreVUE: Week of April 27 Edition
---