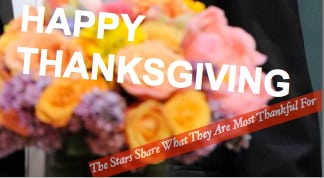 Thanksgiving is fast approaching, meaning many people throughout the country are reflecting on what they're most thankful for. And guess what? Several of your favorite "The Bold and the Beautiful" and "The Young and the Restless" stars have been doing the same, and they've shared the details with Soap Opera Network! Read on for the scoop and then join in on the fun by leaving a comment below telling us what you're most thankful for this holiday season!
Watch out world, because SORAS has struck again! Actress/model Ashlyn Pearce is taking over the role of Alexandria Forrester, daughter of "The Bold and the Beautiful's" Thorne (Winsor Harmon) — and the character is a little older than you might remember!
Born in 2004 to Thorne and Darla (Schae Harrison), little Alexandria (or Aly, for short) has mostly been seen solely during the holidays and for special events, but Pearce will soon be changing that.
You can expect to see three familiar male faces pop in on "The Bold and the Beautiful" this week:
Winsor Harmon returns as "Thorne" on Wednesday, March 13. He was last seen January 15.
Todd McKee reprises his role as "Jake" on Thursday, March 14 and Friday, March 15. He was last seen on July 12, 2012.
After two weeks off, Zack Conroy is back as "Oliver" on the Friday, March 15 episode.
"The Bold and the Beautiful" patriarch Eric Forrester (John McCook) lost his other half, matriarch Stephanie Forrester (Susan Flannery), just four months ago. This week, Eric goes full steam ahead with new flame Dr. Taylor Hayes (Hunter Tylo), who is being brought into the Forrester Fold! MSN Entertainment's Deanna Barnert caught up with McCook who couldn't be more excited!