Topic: What the Buck?
Thursday, August 2, 2012 @ 9:04 PM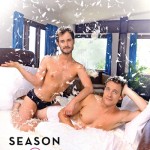 On Friday, July 27, we reported that CBS' "The Young and the Restless" would be holding a Paley Center for Media panel as the daytime soap gears up to celebrate its 10,000th show. We are also happy to report that "Husbands," an online series following the lives of a young same-sex couple through all their trials and tribulations will make history as the first online series to be hosted by The Paley Center for Media in Beverly Hills, California.