We Love Soaps

ALL THINGS RELATED
Monday, August 20, 2012 2:35 PM EDT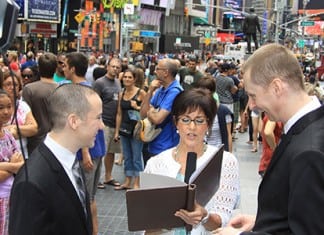 On Saturday, August 18, We Love Soaps Editorial Director Roger Newcomb married Feature Editor in front of the famous Red TKTS Steps in Times Square. The wedding was officiated by Colleen Zenk (ex-Barbara Ryan, "As The World Turns").
Sunday, April 8, 2012 1:33 PM EDT
After weeks of speculation, Soap Opera Network can now report that actress Florencia Lozano will be reprising her role as Téa Delgado from "One Life to Live" on ABC's "General Hospital" in the coming weeks. The news was broken by website We Love Soaps.