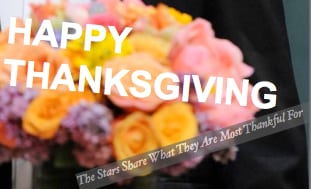 The rest of the country may have been preparing for Thanksgiving by sending out dinner invites, planning menus, buying turkeys, selecting table settings and betting on the day's big game, but Soap Opera Network has been getting ready for the celebratory day in a different way: Reaching out to several of your favorite "Days of our Lives" stars and getting the scoop on what they're most thankful for! Read on for their answers and then join in on the fun by leaving a comment below telling us what you're most grateful for this holiday season!
When Ted Corday and Betty Corday watched "Days of our Lives'" NBC debut on November 8, 1965, they couldn't have known that the soap opera they created would garner so much success. Now, 48 years later, the show not only is coming off of an Outstanding Drama Series win from the National Academy of Television Arts and Sciences, it's comprised of a talented and close-knit cast who all have very special memories regarding their time with the popular show. Soap Opera Network spoke with a few said castmembers, and in celebration of the show's 48th anniversary, they were all too happy to share some of their favorite moments from the early days and beyond!
Deidre Hall (Marlena Evans)
"Oh my god, Wayne Northrop [ex- Alex North, Roman Brady] and I [used to pull pranks on each other all of the time]. It was merciless! Merciless! Nothing was sacred. At one point, he was sleeping in my foster child's bed, so before my take, I said to my prop man, 'Give me a bucket of warm water.' And before he had to jump into bed, I poured it all over like the kid who wet the bed. He jumped into bed, and I had finished my part of the scene, and I began to run. He didn't even finish the take! He hit that bed, came off that bed and came after me. The race was on, and I got thrown in the shower! I mean, it was crazy, crazy, crazy. But it's a show filled with moments, and that's what you remember with daytime. It's been really wonderful, being a part of so many magical moments."
As previously reported, Jack Wagner ("The Bold and the Beautiful," "General Hospital," "Melrose Place"), Wally Kurth ("Days of our Lives," "GH") and Eddie Cibrian ("The Young and the Restless," "Sunset Beach") will all be appearing on upcoming episodes of TV Land's "Hot in Cleveland."
Jack Wagner ("The Bold and the Beautiful," "General Hospital," "Melrose Place"), who was tentatively scheduled to appear in the Wednesday, July 3 episode of TV Land's "Hot In Cleveland," will instead appear in the Wednesday, July 31 episode, a TV Land representative has confirmed to Soap Opera Network. The actor will reprise his role as Dr. Aaron Everett, who was last seen in Season 2, Episode 4 entitled "Sisterhood of the Travelling SPANX." Specific storyline details for Wagner's upcoming appearance were unavailable at press time.
It's not every day that you'll see daytime stars going rebel and giving the bird, but that's all about to change. In support of The Friend Movement, a grassroots anti-bullying organization, several sudser stars have posed for provocative photos in which they give the camera — and bullying — the middle finger.
Beginning tonight at 7:00 PM ET/PT, SOAPnet presents a "General Hospital" marathon dubbed "Quartermania," which will provide fans with five hours of classic episodes of the ABC Daytime drama series and the crazy antics of the Quartermaine family. In attendance will be some of your favorite soap stars from "GH" past including Jacob Young as Lucky Spencer, Natalia Livingston as Emily Quartermaine, Wally Kurth as Ned Ashton, Robyn Richards as Maxie Jones and Linda Dano as Rea Cummings, with fan refreshers made available for upcoming returnees Lynn Herring as Lucy Coe and Robin Christopher as Skye Quartermaine.