Sometimes you can't be two places at once. Thankfully, there are people willing to lend a hand. Professional photographer and sometimes writer Thomas Montalto was on hand for the annual Absolute Eden Riegel fan event last month and helped Soap Opera Network cover the event with pictures (see below) and even an interview. Unfortunately, just after this interview took place we would learn that Riegel was being let go from her contract role as Heather Stevens on "The Young and the Restless" before the actress was even told! Twitter broke the story to the actress before she was told by her bosses. In light of the actress completing filming at the CBS soap on Thursday, September 29, Soap Opera Network presents to you one of Riegel's last interviews before she marks her grand exit from Genoa City in the coming weeks.
by Thomas Montalto
During my last trip out west I was able to cover the "Absolutely Eden" fan event for Eden Riegel held at Maggiano's at The Grove in Los Angeles. The setting was very intimate. It was like I was joining Eden, who was accompanied by her mother Lenore Riegel, at a family dinner where everyone sat around a big table and chatted. "It went very well, I think everyone had a really great time," Riegel said after the event. "Phyllis and Mary Beth always organize amazing events. We had a lot of very fun conversations and the food was amazing."
If you have been following Eden on Twitter (@edenriegel), you know she recently became a mom for the first time. "It's a huge adjustment. Life will never be the same again. It has been a lot of sleepless nights and stress. From the very second he was born, I was just so worried for him all the time, but he's doing so great. The joy is much bigger than I imagined."
It is so obvious from her tweets and after talking with her how much she loves experiencing motherhood and savoring every minute. "I am really loving it, I am really really loving it. I feel very lucky. My little guy is so special. I do feel very very lucky that I get to keep him. It's just so weird, they let you go home with him from the hospital and he is just mine for the rest of his life. I feel so fortunate and so blessed."
"I spent a couple of months being just a mommy and that was great and I loved it. It was a tough transition to go 'oh gosh I have to leave him and spend time away from him' and that made me very nervous," she said about her recent return to "The Young and the Restless," where she currently portrays Heather Stevens, a hard ass attorney. "It is nice to have a little time for myself and to do a job that makes me feel capable and to do work that I am proud of. Also to see other grown ups and talk about grown up things and get my hair done and things like that. Then when I go home to Jack, I feel all filled up and I have so much to give to him."
She also previewed upon her return Heather would be back at the District Attorney's office involved in the prosecution of a very high level case involving very important people in Genoa City. She'll also finds herself battling feelings for someone from her past and having to make a decision on how good of an idea it would be to go down that road again.
As you know, Heather was not Eden's first role on daytime. It has been over ten years since Eden was cast as Bianca on "All My Children", the on screen daughter of Susan Lucci. It was no small role either. Bianca would have to deal with being Erica Kane's daughter and coming out in the spotlight and facing her mothers issues. After Eden decided to move on to "Y&R," "All My Children" recast the role of Bianca. Christina Bennett Lind would have some mighty big shoes to fill as Eden's popularity was enormous as she brilliantly portrayed Bianca for the better part of ten years, which involved many groundbreaking storylines.
Although Bianca may no longer be hers to portray, she definitely has kept up with her and has kept a connection to the character and truly admires where Lind has taken the character. "I love her portrayal and I think she is extremely, extremely talented," said Riegel of Lind's portrayel of Bianca. "I'm very proud of her, I feel like the character is hers now and she's doing amazing work. I actually saw the episode where Bianca and Marissa finally make love and I thought it was so beautiful. It actually brought me to tears. I just felt so proud and happy for Bianca, I think they are doing a great job."
With "All My Children's" broadcast television run coming to an end soon, Eden did mention she was sad she could not be there to help celebrate the end. "I regret that I could not be part of this big farewell and a lot of my old friends have come back to the show again in the final period of time. I of course would love to be a part of it, but at the same time I'm watching it as a fan and enjoying it in that capacity. It is bittersweet."
"I am excited that the shows will continue and I think it would be the best for everyone because the fans keep wanting to see more and I think the shows are great and shouldn't die because there is so much life left in them," she said of "All My Children" and "One Life to Live" moving on to the internet after their runs on broadcast television comes to an end. "There is so much competition on TV now and as long as the shows can continue in any capacity, it is good for everyone. The actors will have work and the fans will get the stories that they love."
Eden shared some more exciting news about husband Andrew Miller when she talked about his new series "The Secret Circle," where he is the executive producer, which joins the The CW lineup this fall. Miller is pictured far left, with the "Secret" cast. "I really hope everybody watches it, it's a great show," she said of the series. The premiere date is September 15 and it will air at 9:00pm. So, be sure to tune in to help support Eden's husband out!
For more information about Eden's fan club, Absolute Eden, be sure to check out the website http://www.AbsoluteEden.com. You can also follow the fan club on twitter as well at, @AbsoluteEden.
Check out Mr. Montalto's new website aptly named StupidLittleBlog.com.
(SoapOperaNetwork.com) — Earlier today, Soap Opera Digest shocked the soap world when it reported that after five years on "Days of our Lives," actor James Scott (EJ DiMera) would soon be vacating Salem after a contract dispute with show producers Corday Productions and Sony Pictures Television hit a snag, now hours later like sands through the hourglass, Scott's "DAYS" have changed.
In a statement released by "Days of our Lives," Scott says "It has always been my wish to continue working with 'Days of our Lives,' and in light of recent reassurances given, I am optimistic of my future here at Days!" That reassurance seems to have been helped along by "DAYS" co-executive producer Greg Meng, who co-head writer Marlene McPherson noted on her Twitter page had informed her that despite Digest's claims, "they are [still] in negotiations."
Prior to joining the cast of "Days of our Lives" in 2006, Scott had portrayed the role of Ethan Cambias on ABC's "All My Children."
(SoapOperaNetwork.com) — Llanview comings and goings for the month of October.
Thought you'd seen the last of Llanview's craziest physic, but were hoping that you'd be wrong? If so, then you are in luck. Lea DeLaria reprises her role of Madame Delphina on Monday, October 10 when she encounters someone who is feeling a little guilty over something they've done as well as someone that asks her to repeat something in particular that she did for him once in the past.
Wendy Moniz is back as Llanview's new mayor Kathleen Finn on Monday, October 3, and again on  Thursday, October 20 when she shows the Llanview Police Department some tough love.
David A. Gregory (Ford) has listed his October airdates on his Facebook page as being the 5, 6, 18, 19, 25, 27, and 31. That is 7 out of 21 episodes airing during the month.
Christopher L. Graves will play a Paparazzi on Friday, October 21. Also in that episode will be Nic Robuck (James), according to IMDb.
Expect to see a little more of Barbara Rhoades (Irene Manning) as the calendar changes from September to October. But will that be the last fans will be seeing of her, or will Irene's reign of terror continue? Tune in to find out!
Don't look for Kathy Brier (Marcie) or Chris Stack (Michael) to come back to Llanview for a little while longer. Brier tells a fan on Facebook that their return won't happen until "Toward the end of October."
It's Halloween time in Llanview. Sean Ringgold (Shaun) posted this picture on his Facebook page last Friday, along with the comments "Hey Guys I'm in the Studio about to shoot some Halloween scenes . Can anyone guess what I will be ? I'm sure some people will have jokes for this question but what The heck :- )"
If your wondering about when some of your favorite (or not) recurring characters will be getting a little more airtime, no need to fear. Several actors, including Ilene Kristen (Roxy), Kim Zimmer (Echo), Nick Choksi (Vimal), Shenaz Treasury (Rama), Austin Williams (Shane), and Austin Peck (Rick) will all appear on screen at one point or another again in the coming weeks.
Are Farah Fath (Gigi) and John-Paul Lavoisier (Rex) about to leave "OLTL" behind? Fath tweeted on September 21 that "I'll study twitter slang tomorrow, i gotta go to bed now, 'OLTL' at the crack…" And, when asked about how much longer she would be in New York City (where "OLTL" is taped), she responded with "Only for 2 more months."
What fun place to work. Kristen Alderson (Starr) tweeted on Monday that she was "Working with silly folks today!"
And talk about a long day on the set. "OLTL" make-up artist Julia Davis tweeted on September 22 that "They have extended our out time. No cooking tonight. This calls for takeout," and that she was "Finally headed home after 13 hours on set. Thanks a Good Night to Llanview… In need of some zzzzz."
(SoapOperaNetwork.com) — After 41 years on television (41 on ABC and 11 on ABC and SOAPnet), "All My Children" has closed its final chapter in broadcast television history with an ending that may please many or anger a lot, but its ending did one thing that was impossible for a soap to accomplish just a few short years ago – tracking the reactions of viewers as it came to a close.
Thanks to the power of social networking service Twitter, "All My Children" and Erica Kane (portrayed by Susan Lucci) found themselves both trending across the United States shortly after the last episode of the drama series aired today on the ABC Television Network for the final time. Also trending was the word "Erica" in some cities across the country.
For a soap opera that was deemed irrelevant by its network after research data found daytime viewers wanted more talk shows, the end of the drama series and its connection to relevant aspects of everyday life such as Twitter only shows that research can be miscalculated and misleading. All it takes is some time and effort and something old can become new again. A good example of this is Ford, which discontinued its flagship Taurus brand a few short years ago due to lack of sales only to re-design the product and find sales as good as ever.
What follows are just a few examples of the cities across the United States that were talking about the soap after its final scene aired: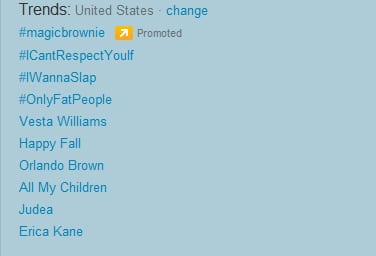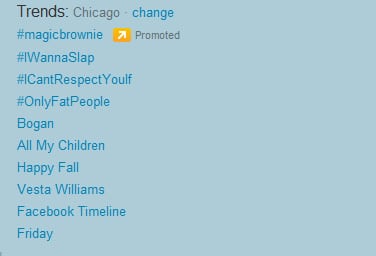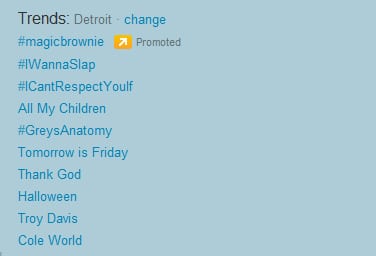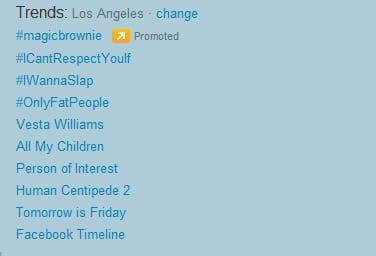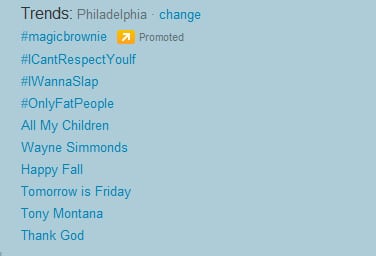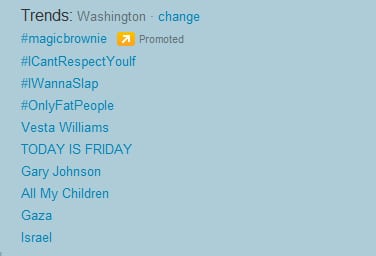 (SoapOperaNetwork.com) — "One Life to Live" issues casting calls for a pair of new minor characters.
The first script is for the recurring role of Dr. Fascinella. The script is a recycled version of the script for Dr. Pryor, which was released back in March. As you may recall, that script revolved around Bo (Robert S. Woods) and Nora (Hillary B. Smith)Buchanan finding out that their son Matthew (Eddie Alderson) was suffering from severe brain trauma. So who do you think is in need of medical assistance this time around?
The second script is for the dayplayer role of a Receptionist. The scene opens with "Ted" tells a receptionist at an office in Brazil that he has been called in to take care of a bed bug infestation. Horrified and disgusted, the woman tells him that he must be mistaken. However Ted, who claims to be from Winnipeg, tells her that he received a complaint from a woman who encountered the pests while staying at the facility recently. When he asks to speak with the doctor in charge, she tells him that Dr. Fascinella is unavailable because he is with a patient. Ted says that is okay, because the bed bug infestation was confined mainly to the reception area. As the woman screams and runs off, Ted steals some files from his desk. As the scene ends, he states that the infestation must have been a false alarm. Remember that "OLTL" often tries to throw viewers off by changing character names in these scripts.
In other news…
David A. Gregory (Ford) responded to a fan on his Facebook page asking him when "OLTL's" last television tape date was, saying "we don't know yet." He also answers a question about why everyone in Llanview refers to his character only by his last name, commenting "When I first came on the show in 2009, the character was known only as Ford. When they brought the character back at the end of the year, they gave him a first name. Most people in Llandview know him as Ford. His family knows him as Robert/Bobby. My theory is he hates Bobby because it reminds him of his bad childhood and it sounds like a little kid's name. 'Ford' is more mysterious, adult, and masculine." And he previews Wednesday's (September 21) episode of "One Life," teasing that "Wed. on OLTL: All 3 Ford boys are back at one of their favorite places…"
Farah Fath (Gigi) tweeted Monday that it was "Back to OLTL tomorrow..cant wait for JP [John-Paul Lavoisier] to get here Wed."
And Kristen Alderson (Starr) tweeted on Monday "SO MUCH FUN at work today!!! Hahaha" And then later with, "Can't stop thinking about how fun my "job"was today.Thank u all for your support! I wouldn't be able to do what I LOVE if it weren't for u."
(SoapOperaNetwork.com) — The latest cast changes and other odds and ends for "One Life to Live."
Is Tonja Walker on her back to Llanview as Alex Olanov. While it has yet to be confirmed if she is referencing "OLTL," the actress posted the following message on her Facebook fan club page "I am coming baaaackkkk! I don't know anything else!" Walker last appeared as Alex back in April.
Steph Garcia next airs as a Diner Waitress on Thursday, November 3.
Paul Hickert will play Kentucky Cop #2 on Monday, October 17.
According to IMDb, one of Nic Robuck's (James Ford) October airdates will be the 21st.
For those of you wondering the name of the actress who played Victor's (Trevor St. John) secretary Tracy recently, here is your answer. The young lady was Alyssa Rose, daughter of New York Mets announcer Howie Rose. She also appeared on the show back on July 6 as a "patient representative," which marked her debut as a television actress.
Although first airdates remain unknown for Kathy Brier (Marcie) and Chris Stack (Michael), Brier tweeted on August 30 that she was "@ OLTL in the Hair & Make-up Room…I will be going back for a bit…and yes I am really preggers!," along with this picture of herself in the make-up chair. Look for both Brier and Stack to return to Llanview with Marcie and Michael's little son Gabriel Thomas. Also, ABC SID reports that Brier's pregnancy will be written into the show.
The magazine also reports that Tina (Andrea Evans) and Cord (John Loprieno) will stick around Llanview for awhile when they return on September 26 and 28, respectively. In fact, Head Writer Ron Carlivati tells the mag. that he has a big fall storyline planned involving the two of them.
Look for some more dayplayer characters in the coming weeks, including a lawyer and a mystery man.
Christopher Stadulis played an Agent on Monday, August 22.
Get ready for a music video to go along with Starr's (Kristen Alderson) new single. Alderson tweeted earlier this week that "A new song & a music video to go along w/it for the show! Are u dying w/excitement yet?l ol that's all I can say with out getting in trouble. Such a blast in the recording studio with @oltlmusic today. I can't wait for you guys to hear the new Starr/Baz [Barret Helms] song!"
On a related note, "OLTL" Music Director Paul S. Glass tweets that "Mixing right now Kristen….sounds incredible! Definitely a blast!! Thanks!" He also said on September 5 that "the Viki/Dorian [Erika Slezak/Robin Strasser] montage was 'Moments' by Josh Auer. We had Josh do special version but the original is available on iTunes." And he responds to fan who asks the name of a song Jessica sang while on the run way back when Erin Torpey was still in the role by tweeting "Wow..that goes way back! That song is 'I Will Be the Flame' by a singer/songwriter Sarah Symons." Check out Glass' Twitter page for more comments and thoughts on Starr and Baz's single.
David A. Gregory (Ford) tries to clear up some confusion surrounding "One Life's" transition to Prospect Park by posting a message on his Facebook page: "Hey everyone. Just wanted to let you know that, as of now, I have no new news about who else is heading to the online show, when the online production begins, where it films etc. Not sure when our last tape date for TV is, although I'm told it's just before Thanksgiving. Hope this helps. Sorry I cannot answer all questions."
Is Andrew Trischitta (Jack) making the moving with "OLTL" to online-only distribution? On September 8, the actor responded to a fan who asked if he was interesting in continuing with the show after it leaves ABC by tweeting "I would love to do so."
And Robin Strasser (ex-Dorian) also chimed in, tweeting on September 5 that "NO, haven't been asked to participate in prospective Prospect Park 'OLTL.' NOR in 'OLTL's' last final months. Diss-appointing? yes-Surprising-no." And then earlier this evening, after learning that "OLTL" Executive Producer Frank Valentini would be continuing on with the show after it moves to Prospect Park, Strasser added "NO WAY! JUST HEARD: Frank Valentini signed EP Prospect Park 'OLTL?' Smart move that, wonder if there's a chance they'LL call me? prolly SLIM 2 none : ("
(SoapOperaNetwork.com) — If you watched yesterday's (August 30) episode of "One Life to Live" you likely heard Kristen Alderson's (Starr) singing during the montage at the end of the episode where Victor Lord, Jr. (Trevor St. John) was gunned down by an unknown assailant. And if you liked the song you are in luck, it will soon be available for fans to download.
The catchy tune, which includes the show's name as part of the lyrics, was recently recorded at the "OLTL" studios by Alderson on August 4, after it was "written" by her character Starr and her soon-to-be former co-star Barret Helms (Baz).
Alderson thanked her fans for their support following the episode, tweeting, "I'm so glad everyone liked Starr's 'One Life To Live' song that aired today! All of your compliments mean the world. <3″ She went on to say that the show's Music Director Paul S. Glass "is working on getting the song available for download for you guys asap. xoxoxo"
The actress also complimented Glass on the song, tweeting "Thank you @oltlmusic !! You and Dave are the BEST. The song fit so perfectly with the episode. =)" Glass responded in kind saying "Thanks! I loved how it worked out and so glad at the response! You were awesome!"
This was not the first time music from "One Life to Live" has been made commercially available for fans.  Back on Valentine's Day, "The Sound of a Kiss" is the third "OLTL" album to be released on iTunes, and featured songs performed by Alderson and several of her "OLTL" co-stars. The show released "Prom Night: The Musical" in 2007 and "Starr X'd Lovers: The Musical" in 2010. "One Life to Live" also released the CD "One Life, Many Voices" to help with Hurricane Katrina and Rita clean-up efforts in 2006. And different songs by various artists featured in past episodes have also been made available by "OLTL" on iTunes.
In case you missed the part of Tuesday's episode featuring the song, you can watch it here starting at the six minute mark.
(SoapOperaNetwork.com) — Saundra Santiago becomes the latest "One Life to Live" seldom used recurring cast member to finally getting some much needed screen time when her onscreen persona, Carlotta Vega, interacts with a familiar face at the family diner, and a few other new and familiar faces pop up in Llanview.
On Thursday, September 8, Carlotta returns when Cristian (David Fumero) seeks a little motherly advice about his future. As we previously reported, Fumero is leaving "One Life" before the show wraps production in November. Santiago taped her scenes on July 14.
In other news, Helmar Augustus Cooper may be returning as Louie, the homeless man who pulled Todd Manning (Roger Howarth) out of the river last month. At the very least, look for the drifter and part-time police informant to be a hot topic of conversation around the LPD water cooler the week of September 5.
Patrick Allen Cole returns as Rodi's bartender/manager Jeff (now AKA Adam) on Wednesday, September 21.
Nick Choksi (Vimal) has posted on Facebook that "On Thursday's [September 1] episode of 'One Life To Live,' everything seems to be hunky dory in the Patel household, but a secret will lead to a suspicion which will lead to…inevitable mayhem. I also get to square off with the man who cuckolded me…for about a second…which is the most i can handle. ABC @ 2pm."
Edixon Caridad appears as a Guard in several episodes in mid and later September.
Look for Victor's secretary at the Sun to continue to appear on screen during the next few weeks.
Barret Helms (Baz) tweets to a fan that the reason he is leaving "One Life to Live" so early is a result of "Baaad timing."
For those asking about the song playing during Viki and Dorian's farewell montage during Thursday's episode was "Moments" by Josh Auer. That was not the first time the song as been used by the show, however, and was heard most recently in this promo from May 12, featuring John and Natalie.
And a walk on role on "One Life to Live" was among the items auctioned off at the Miracle House 11th Annual "Cocktails By the Bay" charity event in Sag Harbor, New York earlier this month. Miracle House "provides temporary housing, meals and advocacy to caregivers and patients coming to the city for critical medical treatment," according to its website. Click here to learn more.
(SoapOperaNetwork.com) – Susan Lucci has taken to Twitter by announcing that she is heading into her final week of taping at ABC's "All My Children," although she doesn't make it clear whether or not she will be moving on to the Prospect Park version of the soap when it debuts in January 2012.
Heading towards my last week of All My Children..very emotional time yet excited to see David Canary & Julia Barr again! – Susan Lucci
Wednesday, August 31 is the last day that cast and crew of "All My Children" will be employed by the network, leaving Prospect Park to sign deals with the soon-to-be unemployed talent in order to properly re-launch the show in the coming months. There is no official word on who is staying, although we already know that Debbi Morgan (Angie Hubbard) and Jacob Young (JR Chandler) will not be part of the soap when Prospect Park takes over as each are heading to "The Young and the Restless" and "The Bold and the Beautiful," respectively.
(SoapOperaNetwork.com) — Less than a week after first breaking the news that Barret Helms had wrapped up filming on "One Life to Live," Soap Opera Network can now confirm the actor's final airdate as Tomas Delgado's (Ted King) long-lost son Baz Moreau.
Helms will last appear as Baz on Tuesday, September 20, exactly three months to the day after he first appeared on the show back on July 20. The actor, who finished taping last month, tweeted on July 21 that he had "just finished one of the craziest 13 week periods of my life!!"
As previously reported, 13 weeks is the length of time since beginning a contract that a soap can drop an actor no matter the initial length of said contract. The actor is not given the same courtesy (they must stay for the full duration).
Fans shouldn't expect Baz to go out on a quiet note however, as he prepares to leave Llanview to return to Paris to be with his mother. In a tweet on August 22, Helms assured fans that he has "one more really good stint coming up!"
Keep your eyes peeled for an upcoming Soap Opera Network interview with Helms along with his former "One Life" co-star Nafessa Williams (ex-Deanna Forbes), where the two discuss their experience on the soap and its cancellation and how the series going online may not be such a bad thing for fans.