Topic: Tristan Rogers
Wednesday, May 8, 2013 @ 5:39 PM
News that "The Young and the Restless'" Jeanne Cooper (Katherine Chancellor) passed away this morning has rocked the entertainment community, and the beloved actress' colleagues have responded with an outpour of memories, loving words and final farewells via Twitter. Soap Opera Network has rounded up all of the sentiments written so far, which include kind words from her "Y&R" co-stars and beyond.
Sunday, January 15, 2012 @ 7:00 PM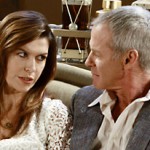 On the heels of a cancellation announcement and a failed online venture, it was announced that successful former Executive Producer, Frank Valentini, and former Head Writer, Ron Carlivati, of "One Life to Live" were hired for the same positions at a struggling "General Hospital." Rattling many "GH" fans, in recent days, has been the announcement that at least several major "OLTL" stars will be showing up in Port Charles as their Llanview alter egos. Carlivati insists to insiders that "GH" fans need not worry as he has no intention of turning their soap into "OLTL." To that end, the show-runners have also announced the return of three of "GH's" most legendary performers and characters – Finola Hughes, Tristan Rogers and Emma Samms as Anna, Robert and Holly – for extended runs on the last-standing ABC daytime drama.