Topic:
The Young and the Restless
(SoapOperaNetwork.com) — "The Young and the Restless" Episode Recap – Thursday, October 13, 2011.
IT HAPPENED TODAY…
Lily, still puzzled by Cane's abrupt departure from the apartment, calls him on his cell phone. She wanted to know if he was alright. Meanwhile, Cane shared his disappointment in the police not being able to break his codes. Ronan pointed out that it would be hard to do, but Cane vowed not to give up until he brought his father down. Ronan and Cane continued to talk about digging up Colin's dirty deeds, but Ronan had to leave. As Cane sat down on a park bench, Lily suddenly arrived, wondering why he was at the park and not at work.
Genevieve and Jack went to Gloworm , where they came across Jill and Colin. Jill told Jack about Genevieve locking Colin in the wine cellar, but before Genevieve could answer him on it, Gloria showed up with a large cake in the image of a safe. Colin assumed that Genevieve was behind it, but she told him someone else must know about his little secrets. Jack didn't understand what was going and wanted to know about the wine cellar. Genevieve blatantly lied, but Jack focused on what Jill shared. An annoyed Jill blurted out that Colin asked her to go to Australia.
Devon and Neil were at Crimson Lights when a reporter cornered him, wanting to get a scoop on being the son of Tucker McCall. Devon pointedly told the reporter that he had no comment. When the reporter continued to press, Neil stood up and told him to get lost. Devon shared how he wanted the likes of Tucker, Katherine and Harmony to just leave him alone. When Neil questioned on Harmony, Devon told him that it was what Yolanda went by now. Neil couldn't believe she was back in Genoa City. Meanwhile, Tucker approached Devon's front door, looking for him. Harmony let him in. He asked where Devon was, but she told him that he was out. Harmony questioned if he knew who she was. He told her he didn't. She told a stunned Tucker that she was Devon's mother. She went on to tell about their past together and how after learning she was pregnant, having someone give her money to 'have it taken care of'.
Neil advised Devon to take things head on, regarding Harmony and Tucker. Devon took his words to heart, but swiftly changed the topic to his joy with his music. The two of them left to head to the hospital. Meanwhile, Tucker wanted to know who gave her money. She told him that his road manager, Ruben, who stated talking to him, gave the money. The two soon started to play the blame game where Devon was concerned. After cooling off a bit, Tucker wanted to know what the two of them should do now.
Cane swiftly told a suspicious Lily that he wasn't needed at work. They talked about getting together to do something when his cell phone ring.. When he refused to take the call, Lily once again asked Cane what was going on. He told her that the call could wait; he wanted to spend time with her and the twins. She point blank shared that she believed that he was hiding things from her again.
At Gloworm, Ronan showed up, seeing Jill, Colin, Jack and Genevieve together. Gloria quickly went over to tell him what was going on, pointing out that Colin had made plans to leave for Australia with Jill. Back at the table, Colin pointed out that there was nothing wrong with his taking Jill to Australia with him. Genevieve snipped that they should leave and never come back. Jill cut a huge slice of cake for Genevieve and taunted her with it. A frustrated Genevieve demanded a word with Colin. Alone, Genevieve told him that she was the one that held the key to unlocking the codes that the police had. An angry Colin manhandled her, which Jack saw. Ronan saw it too, and after things cooled down, and Jack and Genevieve left, Ronan pointed out that he would be watching Colin.
Tucker told Harmony that he wanted to do whatever he could for his son. Harmony wanted him to leave Devon alone; to let Devon come to him in his own time. Just at that moment, Devon and Neil showed up. Tucker wanted to talk to him but Devon didn't want to. Neil swiftly escorted Harmony out, giving the two some time to talk. Alone together, he wanted her to explain herself. Neil listed her past deeds after she stated she was there for Devon. Harmony told him that despite her mistakes, she truly cared about Devon and Neil. Back at Devon's, Tucker tried to apology for his lack of being there. He quickly tried to put the blame of his not knowing about him on Harmony. Devon called him out, asking if he even recognized Harmony. He then asked how come it took Katherine and Paul months to find out who he was, when Tucker couldn't find him in the 20 some years upon knowing about him.
Colin still wanted an answer from Jill about leaving for Australia. She told him that she wouldn't go. She pointed out the last time he asked her to go, he wanted to steal the twins. Colin admitted he wanted to go back home for good, but with her.
Genevieve praised Jack for his standing up to Colin to defend her. Jack wanted to know how she ever wound up with Colin. She admitted she was young but now, thanks to Jack, she is a new person again. The two soon started to kiss one another, taking the session over to the couches where they got passionate.
After hearing Tucker's apology for not being there for him, Devon told him that while he accepted his apology, there was nothing he could do to change things. Tucker wanted a chance, but Devon wanted him gone. Meanwhile, Neil wanted to know the true reason for Harmony being back in Genoa City, besides wanting to be there for Devon. When Harmony left, she bumped into Lily, who was entering. Lily wanted to know why she was there. Neil told Lily that she has a new name and was making a new life. When Lily asked if he believed her, Neil told her no.
Jill had to leave to take care of an emergency at Fenmore's. When she left, Gloria eyed him, making him aware that she was up to something. Colin wasn't aware, however, that Ronan set up to wire tap to listen in on all Colin's conversations. Ronan shared the news with Cane. A call came through and they both listened as Colin stated that Gloria and Genevieve have to be dealt with.
Tucker wanted to continue talking to Devon, but he wanted nothing to do with him. Tucker walked out of Devon's house, crushed that his son wanted nothing to do with him.
On the Next The Young and the Restless…
Tucker wants Harmony out of town
The paternity results are in on Sofia's baby
Lily catches Cane calling Colin
(SoapOperaNetwork.com) — "The Young and the Restless" Episode Recap – Wednesday, October 12, 2011.
IT HAPPENED TODAY…
Kevin went to visit Billy at the trailer. He showed him pictures he took of Delia on his phone. Billy was happy to see that she was doing well. Kevin learned that Billy not only snuck out of the trailer to see Katherine and Delia, but also was spotted in the process by Cane. Billy also confessed to sneaking tdo Victoria's and then later calling her on the emergency cell phone. Kevin began to question Billy; wondering if he truly wanted to be caught. Billy assured Kevin that he wasn't about to ruin things for Delia or anyone else.
Victor went to Victoria's house and spotted the divorce papers on the table. He wanted to know if she was finally moving forward, but Victoria told him she wasn't sure. She shared receiving a phone call from someone that didn't say anything on the other end. She admitted that she hoped it would have been Billy. Victor did his best to try to talk his daughter into signing the divorce papers and move on with her life.
At Gloworm, Gloria pressed Jack for information regarding Genevieve. Just then, Jill, arrived and shooed Gloria away. Jill started to talk highly of her working with Genevieve. When she continued to praise their working 'relationship', Jack became wary, realizing what he was up to. Jack bristled slightly when Jill questioned if Tucker was going back on his word regarding Jack gaining control of Jabot. Jack departed to go see Genevieve; Jill quickly made a phone call to Colin to meet up.
Victor showed up at Billy's and asked him if he tried to contact Victoria. Billy told Victor that he was imagining thing. Victor pointed out that Victoria had no idea that Billy was back in town. He swiftly left the trailer. Billy headed to take a shower. The minute he was gone, Victor snuck back into the trailer and started searching the place. He hit pay dirt when he found the cell phone Billy used to call Victoria. When Billy came out of the shower, he saw Victor with the phone. Victor threatened to toss him back in prison if he didn't do as he was told. After confiscating Billy's laptop and cell phone, Victor smugly showed Billy the divorce papers. Billy didn't believe him. Victor told him to ask Michael about it if he had his doubts.
Cane met up with Ronan. He was concerned that Colin may have someone at the police station as a potential spy. Ronan told Cane that no one was on the inside; things were safe. Ronan informed Cane that Genevieve was seen at the airport. Cane instantly worried that Colin might go after her. Meanwhile, Genevieve was in fact back in Genoa City. While at home, Colin snuck up on her, wrapping his hand around her throat. Colin accused her of taking what belonged to him. Genevieve taunted him on how brilliant her plan was in locking him up. Colin became nervous when Genevieve told him that her maid saw Cane giving his ledger to Ronan.
Cane was the next to pay Genevieve a visit. She feigned surprise when Cane spilled how he blew the safe. He went on to tell his mother that his giving the ledger to Ronan would be one way to get rid of Colin for good. When Cane asked his mother for help on the codes to the ledger, Genevieve told him she didn't know anything about them. Before leaving, Cane requested that she keep quiet about their conversation.
After departing Genevieve's, Colin made a phone call to Cane to meet up. Cane eventually showed up at the park and he didn't hide that he was going to do whatever it took to bring his father down. Colin tried to play the pity card when he admitted that he felt bad for the deaths of Samantha and Caleb. Cane coolly told Colin to stay away from his family.
Jack made his way to Genevieve's, welcoming her back home. He congratulated her on a wonderful job on the business trip. She wanted to celebrate with him but when the mention of Jack getting Jabot from Tucker came up Jack admitted that he didn't believe that Tucker would follow through. He told her about the press conference that Tucker held to announce Devon being his son. He shared that Tucker let it slip that he was interested in those who wanted to offer up the purchase of Jabot. Genevieve offered up soothing words mixed with seduction. Their moment was ruined though when a crash, courtesy of the maid, made Genevieve want to get out of the house. She suggested that Jack and she head to Gloworm.
Gloria was busy at Gloworm when she saw Ronan, who arrived to have something to eat. She was upset that no one on the police force was taking her kidnapping seriously. Meanwhile, Colin showed up to meet Jill for dinner. He spotted Gloria talking to Ronan and became slightly nervous. Gloria was telling Ronan that Colin had a lot of secrets. Ronan, however, cut the conversation short when he received a telephone call.
Cane went to visit Lily and the twins. She thanked him for being there for her lately. The two of them discussed what to have the twins dress up for Halloween. The two of them were enjoying their time together when he received a telephone call. He suddenly told Lily he had to go, which concerned Lily. Cane soon met up with Ronan, who called him to tell him that the codes were unbreakable. Cane grew upset when he learned that there was no evidence that could be used against Colin.
When Jill arrived, Colin told her that he went to Genevieve's to see her. He shared that he was glad to be divorcing her; it was one of the smartest moves he had ever made. At the table, Colin wanted to ask Jill something; he wanted her to go to Australia with him.
On the Next The Young and the Restless…
Colin threatens Genevieve
Lily questions if Cane is keeping things from her
Tucker comes face-to-face with Harmony
(SoapOperaNetwork.com) — "The Young and the Restless" Episode Recap – Tuesday, October 11, 2011.
IT HAPPENED TODAY…
Colin and Jill were determined to have a life together. She helped him pack up his belongings to take back to the Chancellor mansion. Jack showed up and commented on Colin's getting out of the wine cellar. He then focused on Katherine's condition. Jill told Jack that she was stable. When Colin left Jack and Jill alone, they both began discussions about Jabot. Jill wanted to make sure she had a position there: Jack said he'd think it over.
Murphy and Brock tried in vain to get Katherine to stay at the hospital, but she was determined to leave. The doctor gave Katherine a list of medications she needed to have. She was glad to head back home. When they got to the house, they were unaware that Jill and Colin were drinking champagne on the couch. When they heard her come in, Colin quickly went into the kitchen. Katherine was greeted by Jill, but soon focused on business. Instructed everyone to leave, Katherine called her attorney. Alone together, Jill told Colin that it might be best if they held off of living together.
Abby continued to berate Tucker for not caring enough to search for Devon. Both Ashley and Tucker grew tired of Abby's hateful words. Ashley reminded her that Tucker was the one that saved her from a murder charge. Tucker got word about Sofia being at the hospital. He headed out to see how she was doing. Meanwhile, at the hospital, Malcolm wanted Neil there with them for the birth of the baby. Soon, Sofia delivered a baby boy. She named him Moses, after her late father.
Devon wasn't pleased to see his mother. He assumed she was there now because she was looking for a handout from Tucker. Harmony told Devon that she was doing well but wanted to be there for him. Harmony told Devon about how things came to be between her and Tucker. She told Devon that she was afraid that Tucker would instantly reject him the way she was rejected. Devon no longer wanted his mother there, instructing her to leave. He tried to give her cash but she refused. Abby arrived telling Devon about Tucker's press conference. As Harmony left, she looked on her cell phone about information on the press conference.
Tucker made his way to the hospital to see Sofia. While there, he peeked in Katherine's room. He saw that she wasn't there, but soon learned that she was discharged. He then headed to Sofia's room, where he showered her with baby gifts. Neil and Malcolm left the two of them alone. Sofia gushed how they both had sons now. After Tucker left, the nurse came in to take a sample for the DNA.
The press conference was underway. With Ashley by his side, Tucker started to share the news about Devon being his biological son. He briefly discussed his encounter with Devon's mother, and the fact that he and Devon only learned of their relationship the previous day. Tucker swiftly blocked a reporter when he asked if he felt responsible for Katherine's stroke. He swiftly shared that Katherine was at home taking care of herself. Meanwhile, Jack, who was watching the press conference from his computer was peeved when Tucker mentioned the possibility of accepting offers for Jabot.
Devon watched the press conference with Abby. He scoffed at how Tucker was talking on how great of a man Devon turned out to be. When Abby pointed out that Tucker was his father, devon told Abby that the only man that is his father is Neil. The telephone rang and Devon answered it to receive supportive words from Roxy. When Abby noticed the paparazzi outside, she helped him slip by through the back door.
When the press conference wrapped up, Ashley expressed how proud she was of Tucker. Jack arrived, and cornered Ashley. He wanted her to make sure that Tucker didn't go back on the deal they made. Ashley reassured her brother. Meanwhile, as Tucker and Ashley departed, he passed by right by Harmony, not even realizing who she was.
On the Next The Young and the Restless…
Victor wants to know if Billy tried to call Victoria
Gloria fills Ronan in on Colin
Colin has a chilling encounter with Genevieve
(SoapOperaNetwork.com) — "The Young and the Restless" Episode Recap – Monday, October 10, 2011.
IT HAPPENED TODAY…
Ashley tried to do her best to comfort a numb Tucker, after learning the news that Devon is his son. He shared that he had wished he would have found him sooner. The two continued to talk, and Ashley shared her feelings about Katherine purposely keeping Tucker and everyone else in the dark about Devon's paternity. Meanwhile, at Crimson Lights, Cane and Malcolm overheard Eden reading a portion of the Restless Style article about Devon's new family ties. Malcolm was furious at the lack of trust he had with Phyllis; while Cane awaited for Daniel's arrival, asking the young man to be there for Lily.
Nick was upset with Phyllis for writing the article. Phyllis told Nick that it was information that was huge for everyone to know, therefore it was their job to break big stories. Nick believed Phyllis went behind his back as an attempt to start a fight with him. He stated that when things seemed to get good between them, she'd do something to ruin it. Phyllis snapped at Nick when he brought up Avery in their discussion. He gave Phyllis a warning: be prepared for many confrontations for what she had done. When he departed, Malcolm showed up, lashing out at Phyllis for putting something that was in confidence out there for all to see.
At a diner, Yolanda, who wanted to be known as Harmony, was stunned to see the article on a customer's laptop. She asked her boss if she could take off to tend to her son, but he refused. Meanwhile, Devon, who was still in shock, received advice from Neil not to pass criticism on either Yolanda or Tucker. Devon pointed out to Neil that the only family he knows is him, Lily and Sofia. They soon received a phone call from Katherine, asking Devon to see her at the hospital. Neil told Devon to be careful when dealing with her.
Things weren't good between Sofia and Neil, who still couldn't believe her dedication to Tucker. Sofia hit a nerve when she said she wanted to help Devon to get to know his father. Neil was dead set against it. He said that she only cared about Tucker, while his main priority was to care for Devon. As he left to go search for his missing cell phone, Sofia went into labor.
Devon was at the hospital when he ran into Abby, who was outside by Katherine's hospital room. When Abby commented on Katherine's condition, she was floored when Devon called Katherine his grandmother. He filled her in on how Katherine learned and withheld the truth about who his father was from everyone. As for Tucker, he continued to doubt that Devon would embrace him as a father. Ashley did her best to comfort him, sharing that if Devon got to know him the way she has, he will grow to love and become close to him.
Standing outside by Katherine's hospital room, Devon recalled his excitement to the job offer Katherine gave him, but recalled Tucker's warning about her. When he entered his room, her kind words fell on deaf ears. Devon was angry that she used the truth as a way to get back at Tucker. Katherine told her grandson that she didn't want Tucker to use him. As the two talked, Cane, who was there to see Katherine as well, listened in on a portion of their conversation. Katherine wanted to make things right; Devon said do right by apologizing to Neil first of all. Before leaving, Devon told Kay that he wanted nothing from her. A heartbroken Katherine came face-to-face with Cane, who offered to be there for her.
Abby took great delight in trashing Tucker, calling him a pathetic excuse of a father. She continued to trash talk him, saying that while he wanted to live the life of a rock star, he left Devon in the care of a druggie mother. Ashley quickly came to Tucker's defense, telling Abby that she won't allow her to talk to him that way. A determined Abby wouldn't let up, telling her mother that Tucker ruins everyone that comes in his path. Just then, Tucker received word from his PR manager that he and Devon all all over the Restless Style article Phyllis put out. Tucker immediately worried about Devon's emotions.
Neil showed up with his resignation for Katherine. She wanted to talk with him about things but he didn't want to. She sobbed, saying that Neil was a wonderful friend to her. Neil pointed out that they 'used to be friends'. He walked out of the room, leaving Katherine even more upset.
Devon went home, still numb by all that was happening to him. He soon heard someone by his door and was stunned to be face-to-face with his mother.
Cane saw Lily at the coffeehouse and began to see how she was doing. She expressed her gratitude to him for being a good support to her. While Lily was expressing her gratitude, Daniel, on the other hand, was ripping into his mother for her actions regarding Devon. He stated all she cared about was herself. Phyllis pointed out that she cared about him. He scoffed at her, pointing out how she set out to get what she wanted: Lucy, Nick and to out-do the magazine competition. He snapped that he hoped she was happy. She stormed off.
Neil learned from Malcolm that Sofia went into labor. He was surprised, since the baby wasn't due for another month.
Ricky had a brief run in with Eden. After he helped her from dropping her laptop, the two gave one another a quick once over. When Ricky met with Avery at the Athletic Club, then busied themselves with the search for possible jury members. He asked her if they could take a break but she wanted to keep working; that was until Nick showed up. He asked if they were doing work on Sharon' case, but Ricky quipped that Avery was all about work. Avery soon changed her mind on the break, in an effort to talk to Nick. As the two talked, she accidentally knocked over a glass of water, splashing Nick's jacket. When she tried to dry him off, she bumped over another glass of water. Avery apologized and went to get napkins to help Nick. While she was gone, Phyllis arrived, only seeing Nick. She was set to go over to him but stopped in her tracks when she saw a giggly Avery dabbing Nick dry.
On the Next The Young and the Restless…
Katherine leaves the hospital early
Devon comes face-to-face with his mother
Jack wants to settle Jabot business with Tucker
(SoapOperaNetwork.com) — Ratings Report for the Week of October 3-7, 2011
NOTE: Please do not copy and paste the entire ratings.  Thank you.
Numbers are based on Live+Same Day ratings
(Compared to Last Week/Compared to Last Year)
Total Viewers
1. Y&R 4,209,000 (-55,000/-765,000) <—– new low *
2. B&B 2,864,000 (+55,000/-256,000)
3. DAYS 2,450,000 (-121,000/+112,000)
4. OLTL 2,418,000 (-298,000/-141,000)
5. GH 2,249,000 (-348,000/-322,000)
* Previous low: 4,249,000 (September 12-16, 2011)
Households
1. Y&R 3.1/11 (-.1/-.4) <—– new low *
2. B&B 2.1/7 (same/-.1)
3. OLTL 1.8/6 (-.1/-.1)
3. DAYS 1.8/6 (-.1/+.1)
5. GH 1.7/5 (-.2/-.2) <—– ties low
* Previous low: 3.2/11 (September 26-30, 2011)
Women 18-49 Viewers
1. Y&R 808,000 (-57,000/-205,000) <—– new low *
2. DAYS 646,000 (-25,000/-21,000)
3. B&B 598,000 (+45,000/-68,000)
4. GH 573,000 (-173,000/-255,000) <—– new low **
5. OLTL 561,000 (-112,000/-153,000)
* Previous low: 831,000 (August 29 – September 2, 2011)
** Previous low: 614,000 (July 4-8, 2011)
Women 18-49 Rating
1. Y&R 1.3/9 (-.1/-.2) <—– ties low
2. DAYS 1.0/7 (same/same)
3. B&B 0.9/6 (same/-.1)
3. OLTL 0.9/6 (-.2/-.2)
3. GH 0.9/6 (-.3/-.4) <—– ties low
Girls 12-17 Viewers
1. OLTL 39,000 (-1,000/+20,000)
2. Y&R 36,000 (-7,000/+.1,000)
3. B&B 21,000 (-6,000/+4,000)
3. GH 21,000 (-9,000/same)
5. DAYS 20,000 (-4,000/-1,000)
Women 18-34 Rating
1. DAYS 0.6/4 (-.1/same)
1. Y&R 0.6/4 (-.1/-.2)
3. B&B 0.5/3 (+.1/same)
3. OLTL 0.5/3 (-.1/-.1)
5. GH 0.4/3 (-.2/-.4) <—– new low *
* Previous low: 0.5/3 (July 4-8, 2011)
Men 18+ Viewers
1. Y&R 969,000 (-5,000/-169,000)
2. B&B 643,000 (+51,000/+14,000)
3. DAYS 542,000 (-43,000/+65,000)
4. OLTL 491,000 (-68,000/+57,000)
5. GH 453,000 (-39,000/-15,000)
————————————-
Day-To-Day Ratings – HH/Total Viewers
B&B
Monday: 2.1/2,858,000
Tuesday: 2.1/2,813,000
Wednesday: 2.1/2,930,000
Thursday: 2.2/2,905,000
Friday: 2.1/2,810,000
DAYS
Monday: 2.0/2,629,000
Tuesday: 1.9/2,565,000
Wednesday: 1.7/2,258,000
Thursday: 1.8/2,436,000
Friday: 1.7/2,362,000
GH
Monday: 1.8/2,367,000
Tuesday: 1.7/2,247,000
Wednesday: 1.8/2,347,000
Thursday: 1.7/2,128,000
Friday: 1.7/2,173,000
OLTL
Monday: 1.9/2,535,000
Tuesday: 1.7/2,314,000
Wednesday: 1.9/2,647,000
Thursday: 1.7/2,246,000
Friday: 1.7/2,346,000
Y&R
Monday: 3.1/4,024,000
Tuesday: 3.1/3,958,000
Wednesday: 3.2/4,572,000
Thursday: 3.3/4,419,000
Friday: 3.1/4,121,000
————————————-
For the SEASON September 19, 2011 through October 9, 2011
Households
1. Y&R 3.3
2. B&B 2.2
3. OLTL 2.0
4. GH 1.9
4. DAYS 1.9
Women 18-49 Rating
1. Y&R 1.4
2. GH 1.1
2. DAYS 1.1
4. OLTL 1.0
5. B&B 0.9
(SoapOperaNetwork.com) — Daytime veteran actor Sean Kanan began his daytime career in 1993 as AJ Quartermaine on "General Hospital;" a role the handsome 44-year old actor played until 1997. After a short stint on NBC's "Sunset Beach," in 2000 the actor landed on the most popular American daytime drama in the world which is CBS' "The Bold and the Beautiful." His bad boy character, Deacon Sharpe, memorably began an affair with and impregnated "B&B's" top siren Brooke Logan (Katherine Kelly Lang) while married to her daughter Bridget (then played by 3-time Daytime Emmy winner Jennifer Finnigan). His "B&B" stint ended in 2005, but Kanan has continued in the role on America's number one daytime drama CBS' "The Young and the Restless" since 2009. In Genoa City, Deacon's carried on affairs with some of the most prominent women including queen bee Nikki Newman (Melody Thomas Scott). Soap Opera Network recently caught up with the actor for an interview pertaining to his lifestyle book "The Modern Gentleman: Cooking and Entertaining with Sean Kanan," which was released on September 13. Kanan also discussed his career and his thoughts on the current state of daytime television.
Can you summarize the main theme and lessons of "The Modern Gentleman: Cooking and Entertaining with Sean Kanan"?
"The Modern Gentleman: Cooking and Entertaining with Sean Kanan" is a hybrid combining the best parts of a "how to" cook book and a self help/pop psychology guide for men to become better men. I teach you how to use food as a metaphor to connect with other people. I also decipher what it means to be a gentleman in today's confusing landscape of mixed social signals. Many woman lament that they always fall for the bad boys. I will show you how to exude the "best" qualities of a bad boy all the while remaining a true modern gentleman. The book also offers woman a front row seat in the theater of the male psyche. This ain't your mama's cookbook.
What inspired you to write "The Modern Gentleman"?
I love to entertain and cook for my friends. For years everyone has told me that I should open a restaurant. Writing a book seemed like a better way to reach and affect more people. At the end of the day my most basic desire is to affect a positive change in as many people as possible. My other inspiration for the book centered around the frustration I see among men who have been largely depicted by Hollywood and Madison Avenue as a group of bumbling, overgrown and inept children. Obviously this is not reality. Men have simply never had a mentor, someone to teach them all of the things that women wish they knew. I am also very involved with the Anti Defamation League (ADL). I speak out frequently about bullying and cyberbullying. As a young boy I was bullied. Later I played iconic bully, Mike Barnes, Karate's bad boy in the Karate Kid III. I was searching for a nexus between my work with the ADL and the information in my book. My girlfriend, Michele, pointed out that young boys taught to be gentleman do not generally grow up to become bullies. On the contrary, they evolve into well adjusted and tolerant men who view all women as someone's daughter or sister. Consequently they treat them with respect.
On the subject of your daytime career, you've starred on "General Hospital" as AJ Quartermaine, and on "The Bold and the Beautiful" and "The Young and the Restless" as Deacon Sharpe. Can you give us some of your fondest memories from each show both as an actor and for each character?
My early days on "GH" were bitter sweet. I was involved in some very socially poignant story lines as well as a great many emotionally challenging scenes. I was honored to have this opportunity professionally. I was also dealing with some very serious inner-personal challenges that made my tenure in Port Charles very, very difficult at times. Ultimately albeit years later those days served to make me the man I am today. My early days playing Deacon Sharpe were really magical. They were so fulfilling on many different levels. I had finally found "The Part". This is the role every actor prays for that will draw the attention of the outside world and speak to his or her soul. Deacon Sharpe was in those days my, "The Part". I was extremely connected to my fellow actors, producers and the fantastic crew which supported me so well. I miss those days but I gotta say I am also loving these days.
With all the cancellations and potential online resurrections, what are your thoughts and feelings on the current state of daytime? What are your hopes for the future of daytime?
It all boils down to ratings and production costs. If a show sustains the ratings that allow the network to sell commercial time for a profit then that show has a good shot of remaining on the air. I am fortunate to be a part of the number one rated, daytime drama. My heart goes out to all of my fellow actors and the crew and production members who have lost their jobs. There is a very human face on these cancellations. Concurrently I really dislike when I hear people say "I hate that character. They should fire so and so." That so and so has a family to feed and children to raise. Careless and insensitive comments like this result in human beings losing their livelihood. Words become actions. I talk about this in my book. Remaining accountable for the things we say is the mark of a mature adult and the hallmark of a modern gentleman.
You competed in the third season of the Italian version of "Dancing with the Stars." Describe the experience. Are you ready for the American version?
My participation in "Ballando con le Stelle" was a life-changing experience. I lived in a foreign country under the best circumstances. I learned to dance with the best dancers in the world and, oh, by the way, I was living in Rome!! I drew a lot of inspiration from my book from my days in Italy. I would love the opportunity to dust of my dance shoes and join the American show.
Kanan is currently doing book signings for "The Modern Gentleman: Cooking and Entertaining with Sean Kanan." Follow the actor at his official site to find out the latest locations, dates and times for these signings. You can purchase this thoughtful advice and recipe book at book stores such as Barnes & Nobles and online at Amazon.com.
A special thank you goes out to both Kanan, of course, for taking some to share his thoughts with our SON family – and to Turk Entertainment for setting up this interview between the actor and SON.
Update (10:00 PM EST): The actor has just added three more dates for book signings for "The Modern Gentleman: Cooking and Entertaining with Sean Kanan." The book that just sold out at Amazon.com (it has been re-ordered) will be available at the signings and cooking demonstrations this coming weekend. Sean's book is also coming to Bed, Bath & Beyond locations soon. The locations, dates and times for the upcoming appearances are as follows…
Saturday, October 16th, New Castle, PA
5:00 pm – 7:00 pm
Chuck Tanner's Restaurant
2305 Wilmington Rd.
New Castle, PA
724-658-5900
Sunday, October 16th, Pittsburgh, PA
11:30 am
Giant Eagle Store
South Hills Market District
Village Square Mall
7000 Oxford Drive, Bethel Park
Cooking Demonstration and Book Signing
Sunday, October 16th
6:00 pm
Giant Eagle Store
Shadyside Market District
5550 Centre Avenue, Shadyside
Cooking Demonstration and Book Signing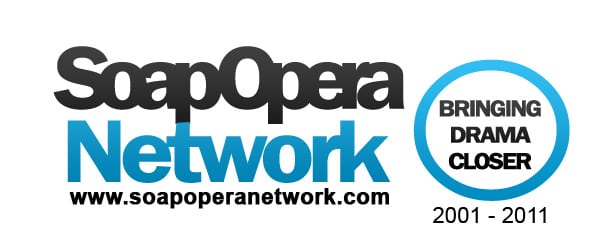 (SoapOperaNetwork.com) — October 8, 2011 marks the tenth anniversary of Soap Opera Network, an online magazine celebrating the world of soaps past, present and future.
Soap Opera Network began as an online message board on the then popular ezBoard (now called Yuki) platform by two individuals that wanted to start a more industry based discussion forum for fans of the soap opera genre with the idea that not only could one discuss the comings, the goings or the general news of the day, but have the opportunity to learn more about the names, the faces and the minds of the people that help make daily dramatic serials happen year in and year out. At launch, soap operas "All My Children, "As The World Turns," "The Bold and the Beautiful," "Days of our Lives," "General Hospital," "Guiding Light," "One Life to Live," "Passions," "Port Charles," and "The Young and the Restless" were on the schedules of television networks ABC, CBS and NBC.
In November 2002, Soap Opera Network left ezBoard and became its own .com service.
Thanks to elaborate databases such as a ratings archive (how soaps rated over the years), episode count archive (who appeared in episodes of a soap opera each and every month and year), its end credit archive (who wrote, directed or produced each episode), including a listing of episode writers and directors along with profile pieces on more than 80% of the writers, producers and directors, Soap Opera Network has cornered the market on information surrounding the inner workings of the soap opera format.
Over the course of its ten years, Soap Opera Network has interviewed a number of daytime's biggest stars and behind the scenes personnel including Susan Lucci, Erika Slezak, Melody Thomas Scott, Maurice Benard, Steve Burton, Sarah Brown, Hillary B. Smith, Robert S. Woods, Ilene Kristen, Ken Corday, Cameron Mathison, Cady McClain, Eden Riegel, Judith Light, Bradley P. Bell, Brian Frons, Maria Arena Bell, Sherri Shepherd, Daniel Goddard, Greg Meng, Marlene McPherson, Darrell Ray Thomas, Nancy Curlee, Melissa Archer, Kristen Alderson, Julie Pinson, Ron Carlivati, Frank Valentini, Linda Dano and many more.
Current Soap Opera Network staff is as follows:
Xavier Toups, Co-Founder
Errol Lewis, Editor in Chief; General Hospital Editor; Days of our Lives Editor
Angela Rosa, Managing Editor; All My Children Editor
Scotty Gore, Managing Editor; One Life to Live Editor
Venus Stone-Cutter, The Young and the Restless Editor
Gehrig Burnett Jr., The Bold and the Beautiful Editor
(SoapOperaNetwork.com) — Early this afternoon, Entertainment Weekly broke the news that daytime's number one drama, "The Young and the Restless," has put another former "All My Children" star on contract to join Genoa City's ranks. This happens just several weeks after wooing the ABC Daytime drama's acclaimed and long-time casting director, Judy Blye Wilson. The CBS drama and Wilson have snatched up one of Wilson's most popular Pine Valley finds, Melissa Claire Egan. Beginning on November 11, Egan will debut in the contract role of mystery woman Chelsea.
Egan debuted in the role of Annie McDermott on "AMC" in July 2006. This 30-year old actress would earn a Daytime Emmy nomination for Supporting Actress in 2009 as Annie turned from an all around good girl to Pine Valley's most psychotic femme fatale. The character was responsible for killing her brother, Richie (Billy Miller), her future lover's aunt, Di Henry (initially played by Kelly Giddish), and the attempted murders of Erica Kane (Susan Lucci) and Greenlee Smyth (Rebecca Budig). At the end of her initial four-year contract in 2010, the actress agreed to a 6-month extension at "AMC's" request and stopped airing regularly on the soap by February 2011. Egan returned for a short stint during the summer to help say goodbye to the network run of the soap that gave her her big break.
Before hiring Wilson and Egan, "Y&R" had already built up a long history of picking up former "AMC" actors fresh off their Pine Valley stints including Peter Bergman (Jack), Stacy Haiduk (ex-Patty), Amelia Heinle (Victoria) and Debbi Morgan who debuted as Devon's (Bryton McClure) biological mother, Harmony, earlier today. The cast currently boasts three Blye finds including Miller (Billy), Jeff Branson (Ronan) and the recently fired Eden Riegel (Heather).
Look for Chelsea to play into Billy's storyline reuniting former co-stars and good pals Egan and Miller.
NOTE: Please do not copy and paste the entire ratings.  Thank you.
(SoapOperaNetwork.com) — Ratings Report for the Week of September 26-30, 2011
Numbers are based on Live+Same Day ratings
(Compared to Last Week/Compared to Last Year)
Total Viewers
1. Y&R 4,264,000 (-84,000/-671,000)
2. B&B 2,809,000 (-34,000/-348,000)
3. OLTL 2,716,000 (-62,000/+413,000)
4. GH 2,597,000 (+55,000/+151,000)
5. DAYS 2,571,000 (+260,000/+163,000)
Households
1. Y&R 3.2/11 (-.1/-.3) <—– ties low
2. B&B 2.1/7 (-.1/-.1)
3. DAYS 1.9/6 (+.2/+.1)
3. GH 1.9/6 (same/+.1)
3. OLTL 1.9/6 (-.1/+.2)
Women 18-49 Viewers
1. Y&R 865,000 (-5,000/-127,000)
2. GH 746,000 (+77,000/-105,000)
3. OLTL 673,000 (+12,000/+16,000)
4. DAYS 671,000 (+81,000/-7,000)
5. B&B 553,000 (+4,000/-61,000)
Women 18-49 Rating
1. Y&R 1.4/9 (same/-.1)
2. GH 1.2/7 (+.2/-.1)
3. OLTL 1.1/7 (+.1/+.1)
4. DAYS 1.0/7 (+.1/same)
5. B&B 0.9/5 (same/same)
Girls 12-17 Viewers
1. Y&R 43,000 (+11,000/+10,000)
2. OLTL 40,000 (-25,000/+31,000)
3. GH 30,000 (+1,000/+15,000)
4. B&B 27,000 (+15,000/-3,000)
5. DAYS 24,000 (+12,000/+6,000)
Women 18-34 Rating
1. Y&R 0.7/5 (same/-.1)
1. DAYS 0.7/4 (+.1/same)
3. GH 0.6/4 (same/-.3)
3. OLTL 0.6/4 (same/+.1)
5. B&B 0.4/2 (same/-.1)
Men 18+ Viewers
1. Y&R 974,000 (-94,000/-142,000)
2. B&B 592,000 (-80,000/-36,000)
3. DAYS 585,000 (+51,000/+19,000)
4. OLTL 559,000 (+5,000/+159,000)
5. GH 492,000 (+4,000/+64,000)
————————————-
Day-To-Day Ratings – HH/Total Viewers
B&B
Monday: 2.2/2,937,000
Tuesday: 2.2/2,896,000
Wednesday: 2.3/2,913,000
Thursday: 2.1/2,839,000
Friday: 2.0/2,459,000
DAYS
Monday: 2.0/2,667,000
Tuesday: 1.9/2,452,000
Wednesday: 1.9/2,630,000
Thursday: 1.8/2,579,000
Friday: 1.9/2,529,000
GH
Monday: 2.0/2,787,000
Tuesday: 2.0/2,560,000
Wednesday: 1.9/2,691,000
Thursday: 1.9/2,553,000
Friday: 1.8/2,394,000
OLTL
Monday: 2.0/2,837,000
Tuesday: 2.0/2,680,000
Wednesday: 2.0/2,692,000
Thursday: 1.9/2,795,000
Friday: 1.9/2,578,000
Y&R
Monday: 3.3/4,519,000
Tuesday: 3.4/4,528,000
Wednesday: 3.5/4,479,000
Thursday: 3.1/4,134,000
Friday: 2.8/3,660,000
————————
For the SEASON September 19, 2011 through October 2, 2011
Households
1. Y&R 3.2
2. B&B 2.2
3. OLTL 2.0
4. GH 1.9
5. DAYS 1.8
Women 18-49 Rating
1. Y&R 1.4
2. GH 1.1
3. DAYS 1.0
3. OLTL 1.0
5. B&B 0.9
(SoapOperaNetwork.com) — On Saturday, October 1, the National Board of Directors of the American Federation of Television and Radio Artists (AFTRA) met for the final time in 2011, as previously reported. One of the topics of discussion was Prospect Park and its transitioning of "All My Children" and "One Life to Live" to the web in January 2012. While exact details of the meeting are still unknown in that respect, a representative speaks to Soap Opera Network exclusively on where things stand at this time between the actors union and Prospect Park.
It has been nearly three months since Prospect Park announced that they had licensed the rights to "All My Children" and "One Life to Live" from the Disney/ABC Television Group with the intention of transitioning the soaps to the web beginning in January 2012. Since that time, AFTRA, better known as the American Federation of Television and Radio Artists union, has been relatively silent on how the transition would be possible, until now. Soap Opera Network has learned exclusively that despite a number of actors from both "AMC" and "OLTL" signing on for the 2.0 versions of the soaps, talks between Prospect Park and AFTRA are still ongoing and that a deal between the actors union and the production company has yet to be signed.
Although "One Life to Live's" Melissa Archer (Natalie Buchanan Banks), Kelley Missal (Danielle Rayburn), Sean Ringgold (Shaun Evans), Andrew Trischitta (Jack Manning) and Jerry VerDorn (Clint Buchanan), Ted King (Thomas Delgado), Michael Easton (John McBain), Kassie DePaiva (Blair Cramer) and Erika Slezak (Viki Banks) and "All My Children's" Cameron Mathison (Ryan Lavery) and Lindsay Hartley (Cara Castillo) have already signed on despite no official deal between AFTRA and Prospect Park, an AFTRA rep tells Soap Opera Network "we are still in negotiations with Prospect Park. There is no agreement as of yet, but we are in discussion and when there is something final to announce we will announce it."
Many of you have wondered why more cast members from "One Life to Live" have signed on to the web version of their show, pending a Prospect Park/AFTRA contract agreement, while not as many have signed on from the "All My Children" cast, but the AFTRA rep assures us that "we've been keeping the cast members of both shows advised as to the terms of the progress and the status of the discussions with Prospect Park."
Actors from "All My Children," which ended its television run on September 23, 2011, are left in limbo in the interim of a deal between AFTRA and Prospect Park, leaving many to seek new soap roles (Debbi Morgan, ex-Dr. Angie Hubbard now on "The Young and the Restless"), return to the soap that launched their careers (Jacob Young, ex-JR Chandler returned to "The Bold and the Beautiful"), or just deciding to take a much needed break (Michael E. Knight, ex-Tad Martin).