While Juan Pablo Galavis wasn't the lucky fella to win the final rose and the heart of Desiree Hartsock during last season's edition of "The Bachelorette," the former Venezuelan soccer player instead won the hearts of countless viewers across America and ultimately landed the coveted role as ABC's next bachelor. On Sunday, January 5 and Monday, January 6, 2014, the network has scheduled the two-night season eighteen premiere of "The Bachelor" with Galavis gearing up to take center stage while 27 women vie for his attention. Starting with Sundays edition titled "The Bachelor: Countdown to Juan Pablo," America will be introduced to all the bachelorette's looking to put a ring on their finger before the man of their dreams spots his potential cinderella. Previous "Bachelor" Sean Lowe will make an appearance as he offers some advice to Galavis on what he can expect from his upcoming adventure now that he's on the other side of the rose decision process. The countdown special episode will air beginning at 8:00 PM ET/PT. Meanwhile, in its regular timeslot on Monday nights (8:00 – 10:00 PM ET/PT), "The Bachelor" continues with just 18 women remaining.
As previously reported, "The Bachelor's" Jake Pavelka will be making a return visit to CBS' "The Bold and the Beautiful" as the Forrester Pilot. When we first reported the news on Soap Opera Network, a first airdate hadn't been revealed but we can now report that the sometimes actor is scheduled to appear on the Friday, August 9 episode of the daytime drama series. It's understood he shares scenes with Katherine Kelly Lang (Brooke Logan Forrester) and Jennifer Gareis (Donna Logan).
Real life pilot Jake Pavelka, best known as the star of ABC's 14th season of "The Bachelor" and season two of "Bachelor Pad," will reprise his role as the pilot of the Forrester private jet on CBS' "The Bold and the Beautiful." The actor taped his scenes on Friday, June 21, per a tweet in which the actor/reality star said, "Some quick touch ups before filming a scene. This stuff makes my face break out!" The tweet was accompanied by an image showing Pavelka getting ready in hair and makeup. In the background fans can spot Don Diamont's Bill Spencer and an unknown blonde either working through their scripts or their characters going over paperwork.
What do you get when you mix some of televisions hottest stars with instruments? Band From TV, of course! And the musical group, which includes former "All My Children" star Eddie Matos (ex-Ricky Torres; ex-Peter Marquez, "General Hospital"), is slated to rock at yet another charity fundraiser event.
Bandmates Greg Grunberg ("Heros," "Alias"), James Denton ("Desperate Housewives"), Bob Guiney ("The Bachelor"), Adrian Pasdar ("Heros," Ultimate Spider-Man"), Scott Grimes ("American Dad," "ER") and Stephen Collins ("7th Heaven," "Devious Maids") — along with Matos — are taking the stage at The Calabasas Tennis and Swim Center on Saturday, June 8, to help raise money for T.H.E Foundation for Las Virgenes Schools (which are located in Calabasas, Westlake Village, Agoura Hills, Bell Canyon, Hidden Hills and West Hills, California).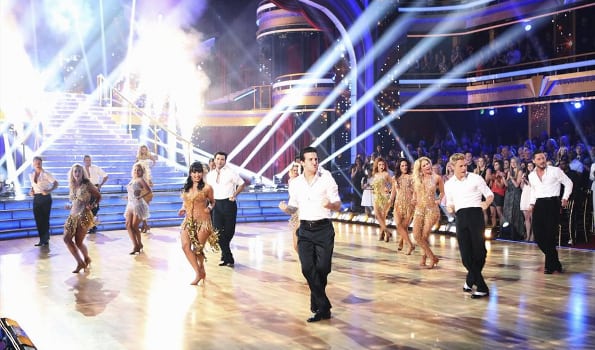 When ABC unveiled its new fall lineup this week, one thing fans couldn't help but notice was a drastic cut to "Dancing With the Stars," which will only be airing one night a week — on Mondays — come fall. The network has decided to build the results show into the new two-hour once-a-week format, and ABC Entertainment Group President Paul Lee has spilled the details on why that decision was made, as well as teased some other major changes in store for the popular reality series.
Sunday, September 23 marks ABC's turn to host the "The Primetime Emmy Awards" (now in its 64th year) and in honored tradition the network will also be airing the pre-show, "Emmys Red Carpet Live." This year the red carpet festivities will be hosted by the network's Josh Elliott and Lara Spencer ("Good Morning America" and "Good Afternoon America"), Chris Harrison ("The Bachelor" and "The Bachelorette") and Clinton Kelly ("The Chew").
The quad will chat live from the red carpet with some of the biggest primetime stars as they arrive at the Nokia Theatre L.A LIVE. Elliott and Harrison will interview the stars and discuss the nominees, while Kelly and Spencer will also conduct interviews with a touch of Emmy fashion.
"Emmys Red Carpet Live" airs Sunday, September 23 from 7:00-8:00 PM ET/4:00-5:00 PM PT on ABC. "The 64th Annual Primetime Emmy Awards," hosted by Jimmy Kimmel," airs immediately afterward from 8:00-11:00 PM ET/5:00-8:00 PM PT.
Deadline is reporting Olympic gold medalist Ryan Lochte is scheduled to make his series television debut when he makes a cameo appearance on the CW's "90210." 
Last week Lochte made it known that he'd like to take a stab at television by either competing in an upcoming season of ABC's "Dancing with the Stars" or possibly finding love on the networks "The Bachelor."
Lochte's "90210″ episode is scheduled to air on Monday, October 29.
(SoapOperaNetwork.com) — You can expect to see at least two reality show stars guest this fall on "The Bold and the Beautiful."
Real life pilot Jake Pavelka, best known as the star of ABC's 14th season of "The Bachelor" and season two of "Bachelor Pad," will reprise his role as the pilot of the Forrester private jet in the coming days. Pavelka announced his reprisal via Twitter in late August.
Pavelka taped his scenes on Tuesday, September 1 and Friday, September 2, which are set to air Thursday, October 6, and Tuesday, October 11. The last time he appeared on "B&B" was in November 2010 alongside Katherine Kelly Lang (Brooke Forrester) and Adam Gregory (Thomas Forrester). This time the former "Bachelor" will share scenes with Jacob Young (Rick Forrester) and Kim Matula (Hope Logan).
According to TV Guide, Texan model Cassi Colvin, best known for her short run on CBS' most recent season of "Big Brother," can be seen this fall on "B&B" when she plays a runway model named Cassi who is involved with Hope Logan's "Hope for the Future" fashion line. Colvin taped her scenes on September 15, 2011, the day after she appeared on the "Big Brother 13″ finale, and is set to air on Thursday, October 20.
Also look for "Big Brother 13″ winner Rachel Reilly and fiancé/sidekick Brendan Villegas to reprise their drink-serving roles on "B&B" this Halloween in scenes set to air October 28 and 31.