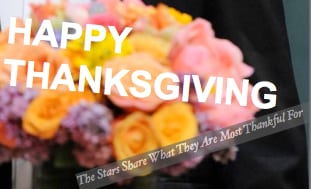 The rest of the country may have been preparing for Thanksgiving by sending out dinner invites, planning menus, buying turkeys, selecting table settings and betting on the day's big game, but Soap Opera Network has been getting ready for the celebratory day in a different way: Reaching out to several of your favorite "Days of our Lives" stars and getting the scoop on what they're most thankful for! Read on for their answers and then join in on the fun by leaving a comment below telling us what you're most grateful for this holiday season!
When Ted Corday and Betty Corday watched "Days of our Lives'" NBC debut on November 8, 1965, they couldn't have known that the soap opera they created would garner so much success. Now, 48 years later, the show not only is coming off of an Outstanding Drama Series win from the National Academy of Television Arts and Sciences, it's comprised of a talented and close-knit cast who all have very special memories regarding their time with the popular show. Soap Opera Network spoke with a few said castmembers, and in celebration of the show's 48th anniversary, they were all too happy to share some of their favorite moments from the early days and beyond!
Deidre Hall (Marlena Evans)
"Oh my god, Wayne Northrop [ex- Alex North, Roman Brady] and I [used to pull pranks on each other all of the time]. It was merciless! Merciless! Nothing was sacred. At one point, he was sleeping in my foster child's bed, so before my take, I said to my prop man, 'Give me a bucket of warm water.' And before he had to jump into bed, I poured it all over like the kid who wet the bed. He jumped into bed, and I had finished my part of the scene, and I began to run. He didn't even finish the take! He hit that bed, came off that bed and came after me. The race was on, and I got thrown in the shower! I mean, it was crazy, crazy, crazy. But it's a show filled with moments, and that's what you remember with daytime. It's been really wonderful, being a part of so many magical moments."
In a posting last week on its Facebook page, shortly after word that the Supreme Court of the United States had found the Defense of Marriage Act (DOMA) unconstitutional, the NOH8 campaign displayed a photo compilation of "Days of our Lives" cast members posing in support of the charitable organization whose mission is "to promote marriage, gender and human equality through education, advocacy, social media, and visual protest." The photo included actors Blake Berris, Eileen Davidson, Greg Vaughan, Kristian Alfonso, Bill Hayes, Lauren Koslow, Deidre Hall, Suzanne Rogers, Freddie Smith, Joseph Mascolo, Nathan Owens, Kate Mansi and Galen Gering, among others.
As noted in our recent interview with Greg Meng, co-executive producer, "Days of our Lives," the NBC Daytime soap opera is releasing "Days of our Lives Better Living: Cast Secrets for a Healthier, Balanced Life," a new book that delves into five better living topics – nutrition, exercise, style, inspiration and balance.
For the past couple of years NBC's "Days of our Lives" has been holding its "A Day of Days" fan event at Universal Studios CityWalk, where fans of the drama series could meet and great some of their favorite stars and get signed autographs. Unfortunately, this year the network has decided not to continue that event, and instead opted to branch it out a little bit (similar to how ABC canceled Super Soap Weekend, which turned into the Soap Nation Tour). Earlier this year, in a posting on the soaps operas Facebook page, the network said, "Ask and you shall receive! NBC has heard your requests and we are taking our yearly fan event on the road! Instead of holding our event at Universal City in California, members of the 'Days of our Lives' cast will be traveling to a few cities around the country. Dates and cities to be announced soon!" That "soon" is now.