Sometimes you can't be two places at once. Thankfully, there are people willing to lend a hand. Professional photographer and sometimes writer Thomas Montalto was on hand for the annual Absolute Eden Riegel fan event last month and helped Soap Opera Network cover the event with pictures (see below) and even an interview. Unfortunately, just after this interview took place we would learn that Riegel was being let go from her contract role as Heather Stevens on "The Young and the Restless" before the actress was even told! Twitter broke the story to the actress before she was told by her bosses. In light of the actress completing filming at the CBS soap on Thursday, September 29, Soap Opera Network presents to you one of Riegel's last interviews before she marks her grand exit from Genoa City in the coming weeks.
by Thomas Montalto
During my last trip out west I was able to cover the "Absolutely Eden" fan event for Eden Riegel held at Maggiano's at The Grove in Los Angeles. The setting was very intimate. It was like I was joining Eden, who was accompanied by her mother Lenore Riegel, at a family dinner where everyone sat around a big table and chatted. "It went very well, I think everyone had a really great time," Riegel said after the event. "Phyllis and Mary Beth always organize amazing events. We had a lot of very fun conversations and the food was amazing."
If you have been following Eden on Twitter (@edenriegel), you know she recently became a mom for the first time. "It's a huge adjustment. Life will never be the same again. It has been a lot of sleepless nights and stress. From the very second he was born, I was just so worried for him all the time, but he's doing so great. The joy is much bigger than I imagined."
It is so obvious from her tweets and after talking with her how much she loves experiencing motherhood and savoring every minute. "I am really loving it, I am really really loving it. I feel very lucky. My little guy is so special. I do feel very very lucky that I get to keep him. It's just so weird, they let you go home with him from the hospital and he is just mine for the rest of his life. I feel so fortunate and so blessed."
"I spent a couple of months being just a mommy and that was great and I loved it. It was a tough transition to go 'oh gosh I have to leave him and spend time away from him' and that made me very nervous," she said about her recent return to "The Young and the Restless," where she currently portrays Heather Stevens, a hard ass attorney. "It is nice to have a little time for myself and to do a job that makes me feel capable and to do work that I am proud of. Also to see other grown ups and talk about grown up things and get my hair done and things like that. Then when I go home to Jack, I feel all filled up and I have so much to give to him."
She also previewed upon her return Heather would be back at the District Attorney's office involved in the prosecution of a very high level case involving very important people in Genoa City. She'll also finds herself battling feelings for someone from her past and having to make a decision on how good of an idea it would be to go down that road again.
As you know, Heather was not Eden's first role on daytime. It has been over ten years since Eden was cast as Bianca on "All My Children", the on screen daughter of Susan Lucci. It was no small role either. Bianca would have to deal with being Erica Kane's daughter and coming out in the spotlight and facing her mothers issues. After Eden decided to move on to "Y&R," "All My Children" recast the role of Bianca. Christina Bennett Lind would have some mighty big shoes to fill as Eden's popularity was enormous as she brilliantly portrayed Bianca for the better part of ten years, which involved many groundbreaking storylines.
Although Bianca may no longer be hers to portray, she definitely has kept up with her and has kept a connection to the character and truly admires where Lind has taken the character. "I love her portrayal and I think she is extremely, extremely talented," said Riegel of Lind's portrayel of Bianca. "I'm very proud of her, I feel like the character is hers now and she's doing amazing work. I actually saw the episode where Bianca and Marissa finally make love and I thought it was so beautiful. It actually brought me to tears. I just felt so proud and happy for Bianca, I think they are doing a great job."
With "All My Children's" broadcast television run coming to an end soon, Eden did mention she was sad she could not be there to help celebrate the end. "I regret that I could not be part of this big farewell and a lot of my old friends have come back to the show again in the final period of time. I of course would love to be a part of it, but at the same time I'm watching it as a fan and enjoying it in that capacity. It is bittersweet."
"I am excited that the shows will continue and I think it would be the best for everyone because the fans keep wanting to see more and I think the shows are great and shouldn't die because there is so much life left in them," she said of "All My Children" and "One Life to Live" moving on to the internet after their runs on broadcast television comes to an end. "There is so much competition on TV now and as long as the shows can continue in any capacity, it is good for everyone. The actors will have work and the fans will get the stories that they love."
Eden shared some more exciting news about husband Andrew Miller when she talked about his new series "The Secret Circle," where he is the executive producer, which joins the The CW lineup this fall. Miller is pictured far left, with the "Secret" cast. "I really hope everybody watches it, it's a great show," she said of the series. The premiere date is September 15 and it will air at 9:00pm. So, be sure to tune in to help support Eden's husband out!
For more information about Eden's fan club, Absolute Eden, be sure to check out the website http://www.AbsoluteEden.com. You can also follow the fan club on twitter as well at, @AbsoluteEden.
Check out Mr. Montalto's new website aptly named StupidLittleBlog.com.
(SoapOperaNetwork.com) — Each week Entertainment Weekly puts together "The Bullseye," a gathering of images in which "pop culture news that was right on target" for the week comes together leading to the "events that missed the mark." For its October 7, 2011 issue, the magazine placed a "Bullseye" on "The Chew's" Mario Batali.
The caption read "You are no Susan Lucci."
In addition to the "Chew" piece, the star of primetime soap "Pan Am," Christina Ricci, received the largest notice from the magazine with the caption "No full-body scans, free food: Finally, flying is fun again."
"The Bullseye" appears on the last page of every issue of Weekly.
"The Chew" has experienced a ratings downward trend since debuting on Monday, September 26. "All My Children" aired its series finale on Friday, September 23 with some of its highest ratings in more than four years.
(SoapOperaNetwork.com) — This week has been full of well deserved tributes, accolades and goodbyes to a 41-year old television institution, "All My Children." Lost in the avalanche of interviews with the actors who have contributed their talents to the popular soap opera may have been several of the shows most popular actors sharing if they have been asked to follow it to the internet and if they're willing to. The production company that has licensed their soap opera, Prospect Park, has recently stepped up talks with "AMC's" cast members locking in deals with Cameron Mathison (Ryan) and Lindsay Hartley (Cara). Where do "AMC's" other popular stars, including their biggest star Susan Lucci (Erica), stand on moving to the net? Continue reading to find out.
Fans may have felt a renewed sense of doom when Deadline.com turned up with a scathing report about Lucci and Prospect Park failing to come to terms due to the superstar trying to "gouge" the production company thus endangering the daytime drama's future. Coincidentally, that report came out in the days following the paperback release of her memoir, "All My Life." The book contains a new chapter where the respected actress reveals her not so positive true feelings about ABC Daytime's top brass. This Friday, the stunning 64-year old actress talked to NPR about her career and her future with "AMC." Lucci revealed that she is still in negotiations with Prospect Park and is currently "waiting for a response" to terms she has put on the table. The popular actress shares that she'd love to continue with the soap that she help put on the map. She asserts that "[her] heart is there with Agnes Nixon, Erica Kane, [the] viewership, [the] fans."
Michael E. Knight, on the other hand, appears to be settling in for a long break from Pine Valley. Earlier this week, he revealed to Michael Fairman that the men behind Prospect Park reached out to him "hard and fast" early on in the game with a respectful and generous offer for a long-term contract. Knight turned that offer down. The Daytime Emmy Award winner reveals he certainly feels a responsibility to the soap opera he joined in 1982 and to its loyal fans, so he has told Prospect Park executives, Rich Frank and Jeff Kwatinetz, he'd be willing to "go forward on a recurring basis, or short-term, or whatever." The exhausted actor feels the character of Tad Martin has been put in a corner in terms of storyline and appears to be, respectfully, enjoying having a choice in term of his future after years of dealing with a demanding and demeaning ABC Daytime brass. Knight does not rule out a contract return to the soap at some point in the future.
Frustrated with the writing for her once spitfire character, Greenlee Smythe, Rebecca Budig initially appeared to be ready to jump ship before Prospect Park even imagined extending an offer. This week she revealed to TV Line that she has met with Prospect Park and they're "still talking."
As previously reported, one of Budig's best friends and her former co-star, Alicia Minshew found herself in a similar situation to both Knight and Budig; ready to move on and only willing to remain with the show within a limited capacity. After beginning talks with Prospect Park, though, the actress appears to feel more positive about ultimately being able to work something out.
Prospect Park is currently doing its best to get "AMC" back to viewers through the internet with new content by January 2012.  The production company still has to iron out deals with the actor's union, AFTRA, and work out tentative deals with enough actors to get "AMC" and "One Life to Live's" ships sailing.
Susan Lucci has portrayed Erica Kane for 41-years – debuting during the shows 10 episode in January 1970 according to her book "All My Life," and along with millions of viewers across the country she watched the soap that launched her career end its run on ABC earlier this afternoon. Ever the relevant personality (despite what ABC says), Lucci shares her thoughts with her Facebook friends and followers on the final episode of "AMC" and gives some minor hope as to what lies ahead for the soap opera in the coming months.
I just finished watching the last episode of All My Children – a very emotional time for me. I am so grateful to "The View" and ABC for their beautiful tribute show for 'All My Children' and Agnes Nixon. And to Agnes and to ABC for the incredible opportunity to play the amazing Erica Kane. At the center of all my gratitude is you, the fans. Thank you from the bottom of my heart for always being there for us, for spending all those days with us in Pine Valley and for bringing so much sunshine into my life.

Let's hope we all get to see more of Pine Valley and the beloved characters Agnes Nixon has created. Today's episode ended with quite a cliff hanger – and I really want to see what happens next!
(SoapOperaNetwork.com) — After 41 years on television (41 on ABC and 11 on ABC and SOAPnet), "All My Children" has closed its final chapter in broadcast television history with an ending that may please many or anger a lot, but its ending did one thing that was impossible for a soap to accomplish just a few short years ago – tracking the reactions of viewers as it came to a close.
Thanks to the power of social networking service Twitter, "All My Children" and Erica Kane (portrayed by Susan Lucci) found themselves both trending across the United States shortly after the last episode of the drama series aired today on the ABC Television Network for the final time. Also trending was the word "Erica" in some cities across the country.
For a soap opera that was deemed irrelevant by its network after research data found daytime viewers wanted more talk shows, the end of the drama series and its connection to relevant aspects of everyday life such as Twitter only shows that research can be miscalculated and misleading. All it takes is some time and effort and something old can become new again. A good example of this is Ford, which discontinued its flagship Taurus brand a few short years ago due to lack of sales only to re-design the product and find sales as good as ever.
What follows are just a few examples of the cities across the United States that were talking about the soap after its final scene aired: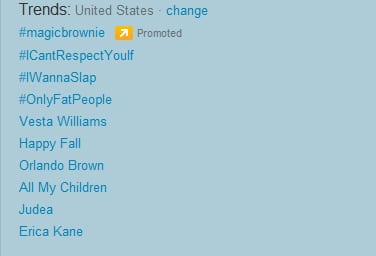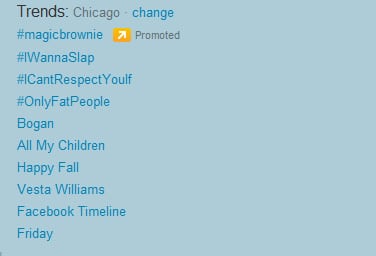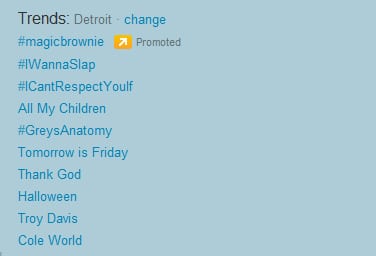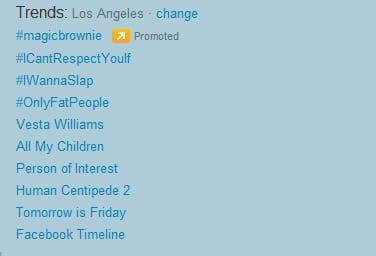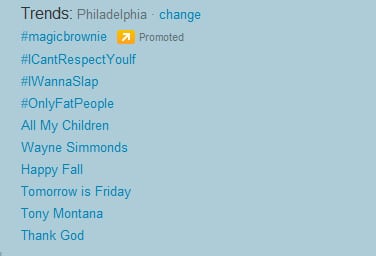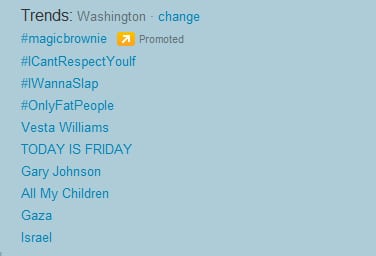 (SoapOperaNetwork.com) — This morning on "Good Morning America," commentator and long-time "All My Children" cast-member Cameron Mathison (Ryan) announced that production company Prospect Park has officially started approaching the actors on his show with offers to continue on the new version of the 41-year old daytime drama that ends its run on network television on Friday, September 23. Mathison made it apparent that he is eager to commit to the show in whatever format it takes, but are his co-stars on board?
On the same day, Alicia Minshew, who joined the cast of "AMC" in 2002 as Kendall Hart, reported to the The Hollywood Reporter that she would not be able to commit to a contract run to continue as Erica Kane's (played by daytime icon Susan Lucci) first-born if that was the only offer placed on the table from Prospect Park. The popular actress, who reportedly turned down an offer to star on one of the four remaining network daytime drama's as of 2012, is open to remaining with "AMC" on recurring status. Like co-star Chrishelle Stause (Amanda), Minshew wants to spend some time dabbling in the different genres of television.
In the same report, the actress reports that as far as she has heard, at this point, the reports of Lucci declining Prospect Park's offer to continue with "AMC" are accurate. Lucci, who has remained mum about her status with Prospect Park since the initial reports of negotiations falling out, may speak to the matter herself in the coming days. The superstar is scheduled to appear on "CBS Sunday Morning" on Sunday, September 18 to discuss "AMC" and she will co-host an "AMC" tribute on "The View" on Friday, September 23.
(SoapOperaNetwork.com) — With the Prospect Park era about to begin for "One Life to Live," the show appears to be in better shape than its sister soap "All My Children."
"OLTL" fans have reason to be optimistic about the show's future after it leaves the ABC Daytime line-up in January. Ratings for the show continue to be solid and holding steady above "AMC" and "General Hospital." Casting wise, the soap is an upswing. Hot on the heels of Roger Howarth's return to Llanview, comes word that several others, including Andrea Evans (Tina), John Loprieno (Cord), Kathy Brier (Marcie), Chris Stack (Michael), and possibly Tonja Walker (Alex) are on their way back as well. Rumors are flying that Prospect Park may be focusing more on "OLTL" than "AMC," something which "One Life" never really experienced under ABC. And four of the show's leading stars, including grand dame Erika Slezak (Viki), have already agreed to remain with the show when it transitions to the online distribution company in a few months (the others being Kassie DePaiva [Blair], Ted King [Tomas], and Michael Easton [John]).
Meanwhile, "All My Children's" future seems less certain. Aside from strained negotiations between Prospect Park and "AMC" leading lady Susan Lucci (Erica Kane), there have thus far been no confirmed reports of any members of the show's cast either being in serious talks with the company or signing on the dotted line to continue with the show. Furthermore, it appears increasingly more apparent that "AMC" may get the same treatment from Prospect Park that "OLTL" has gotten for years now from ABC.
Speculation on the matter was fueled last week by two separate incidents. First, Deadline Hollywood's Nellie Andreeva reported that "I hear that Prospect Park may reevaluate its short-term strategy for the two soaps and put its muscle behind the higher-rated 'OLTL,' while moving 'AMC' to the back burner." That was followed up by a Soaps.com interview with "All My Children's" Vincent Irizarry (David) who commented that "As far as I know, no, there hasn't been. I've spoken to numerous actors from the show over the last few days and nobody from our show has been in contact with them. Except for Susan [Lucci, Erica], which we all assumed that awhile ago. So, that's basically it. They're moving [forward] with 'One Life to Live' right now and that's certainly their right. That's what they're doing and for whatever reason that's how it happened."
Furthermore, unlike "One Life to Live," "All My Children" will have a nearly four month gap between the airing of its last episode on ABC and its first episode of Prospect Park. "One Life" on the other hand, is said to be debuting on Prospect Park the Monday after its airs its final ABC episode on Friday, January 13, therefore maintaining the status quo for "OLTL," while leaving "All My Children" fans in suspense and impatiently waiting for weeks for their show to return.
Personally, I find all of this extremely interesting, especially since there seems to have been a complete role reversal between the two shows. "One Life to Live" has always reminded me of "The Little Engine That Could," endlessly trying to make its way up the hill to the top of the mountain (i.e. ratings), while all the more powerful engines (or in this case, the better known soap operas) just keep passing them by until one day when the little engine finally made it to the top after years of chanting "I think I can." In a sense, it is uncharted waters for many "One Life" fans who aren't used to their show doing so well. It makes me proud of the soap I have grown up watching for more than two decades now.
However, its one thing to get to the top, but it is quite another thing to stay there. And with the show's writing, production, and directing crews under Prospect Park still up in the air, it leaves me feeling somewhat concerned, especially given the fact that current head writer Ron Carlivati still seems on track to join the writing staff of "General Hospital" once "OLTL" up production of its TV run in November. Granted, Carlivati isn't exactly daytime's best scribe considering "OLTL's" overabundance of useless characters in idiotic storylines (e.g. the Nate/Deanna/Rick porn plot), and treatment of women characters, but he must be doing something right for the show to be climbing in the ratings as it has been. But like him or not, he does bring stability to the show and often draws upon the soap's rather rich history (even if he usually twists it to fit his own agenda) when penning tales. Throwing in someone new, especially if they are not very familiar with the show could cause problems. The same can be said for Executive Producer Frank Valentini. For several years now, he has managed to keep "OLTL" under budget while running a tight ship. Finding a suitable replacement may prove difficult.
That being said, I think the show is in good hands with Prospect Park, and believe that it will continue to do rather well. Even so, I am well aware of the potential risks involved in moving an established 43-year-old soap opera from a television slot it has held for more than 30 years to the uncharted waters of online-only distribution. If it works, then wonderful, soaps will have found a new way to live on. If it fails, then at least soap fans can say they tried, and "OLTL" and "AMC" will be remembered for going where no other soaps have gone. Either way, it gives new hope for the daytime serial genre, proving that there may still be some life in the old "stories" yet.
Moving on, congratulations to "CBRVA83," who correctly guessed the answers to my trivia questions from last time. In case you missed the clues, here they are, along with the answers:  1. What current "OLTL" cast member was the youngest soap star ever placed on contract with a daytime drama back in 2001? Answer: Kristen Alderson. 2. In college, what subject did Ted King get his undergraduate degree in and from what school? Answer: Business from UC-Santa Barbara. 3. What foreign language did Erika Slezak grow up speaking before learning English at five-years-old? Answer: German.
Now it's time to shake things up a bit and do some more trivia. See if you know the answers to these questions about some of the current and former cast members of "One Life to Live." 1. Kassie DePaiva (Blair) appeared on what game show before joining "OLTL" and who was the daytime celebrity (and future co-star) was she paired up with? 2. What two wars did the late Phil Carey (Asa) serve in? 3. What is John-Paul Lavoisier's (Rex) real last name? I'll have the answers in the September 30 edition of My View of Llanview.
Now, before I wrap up this column, I'm going to look into my crystal ball and give you a quick sneak peek at a few things coming up a few weeks down the road. Someone turns up dead. One man risks his life to save others. An unlikely person is put in jail. And one sister makes a shocking discovery about her sibling.
Well that's concludes yet another column. Have a great week everyone! Stay safe!
Take care, and until next time remember, we only have "One Life to Live"…
(SoapOperaNetwork.com) — During the next week, ABC Daytime will take part in saying goodbye to "All My Children" which has been a part of their line-up since 1970. Following is details on the scheduled events which will include "Good Morning America" dedicating a special segment to the show and "The View" dedicating an entire airing to their former neighbors.
Weeks ago, on Twitter, "Dancing with the Stars" contestant J.R. Martinez (Brot) revealed to fans that Cameron Mathison was taping a special segment of ABC's "Good Morning America" due to air soon. Today on Twitter, Mathison announced the segment is due to air tomorrow, Thursday, September 15. Look for Mathison to interact with other "AMC" cast members and take fans on a tour through 41-years of Pine Valley history. "Good Morning America" airs on ABC Daytime from 7:00 AM EST to 9:00 AM EST.
On Friday, September 23, "The View" will be co-hosted by daytime drama's biggest star, "AMC's" Susan Lucci (Erica), alongside regular co-hosts Whoopi Goldberg, Joy Behar, Elisabeth Hasselbeck and Sherri Shepherd. Scheduled guests include "AMC" creator Agnes Nixon, and current stars Mathison, Debbie Morgan (Angie), Darnell Williams (Jesse) Vincent Irizarry (David), Rebecca Budig (Greenlee), Alicia Minshew (Kendall) and Thorsten Kaye (Zach). Expect some blasts from the Pine Valley past as well. It has been revealed that one of those blasts will be the on-screen reunion of one of the soaps premier supercouples: Kim Delaney and Laurence Lau's Greg and Jenny. The tribute episode will include never-before-seen footage, interviews with the cast members who returned to pay tribute to the show and a sneak peek at the finale. "The View" airs on ABC Daytime from 11:00 AM EST to 12:00 PM EST. (Update: 9/19/2011)
As previously reported, Disney which is ABC's parent company will also air a tribute to "AMC" on cable channel SOAPnet. The tribute consists of re-airings centered around Erica Kane and Pine Valley's most romantic couples.
"AMC" last airs on the ABC network on Friday, September 23. The daytime drama was licensed by production company Prospect Park earlier this summer and is slated to begin airing on the internet, with new content, in 2012.
(SoapOperaNetwork.com) — Susan Lucci's memoir "All My Life," a New York Times Bestseller, hit book stores on March 29, 2011. On September 13, 2011, the paperback edition of the book will be released with a new chapter where the actress, who is regarded as one of the biggest names on daytime television, tells fans what she really thinks about a multitude of events surrounding the ABC Daytime cancellation of "All My Children."
In the new thought-provoking chapter, written before "AMC" was given a new lease on life upon being licensed by production company Prospect Park, Lucci takes on ABC Daytime President Brian Frons and the detrimental influence she believes his decisions had on "AMC."  High-up on her list of management criticisms includes the 2008 hiring of former "AMC" head-writer Charles Pratt, Jr. who had fans and actors alike running for cover with his quick-shot character assassinations. The Emmy winner also gives a detailed description of the days surrounding the announcement that the soap she helped launch in 1970 had been given the axe.
(SoapOperaNetwork.com) — Moments before the announcement that production company Prospect Part had licensed "All My Children" and "One Life to Live" from ABC and saved it from imminent cancellation, it was announced that Debbi Morgan (Angie) had already signed on to "The Young and the Restless." She will debut on the popular CBS soap this fall. Not too long after that, Jacob Young (JR) announced that he was unable to ignore the call back to "The Bold and the Beautiful." He returns as Rick Forrester on Monday, September 26. At this moment, Prospect Park is still trying to work out a deal with the American Federation of Television and Radio Artists (AFTRA) that will allow them to begin negotiating with actors for a hopeful January 2012 relaunch of both ABC soaps. This leaves the actors of "AMC" with free time and a contract with ABC that dissolved earlier this week. In the September 13, 2011 issues of Soap Opera Digest and Soap Opera Weekly, it is revealed that Alicia Minshew and Chrishell Stause have also both been contacted to join another soap.
Both actresses declined. Minshew, who joined the cast of "AMC" in 2002 as Kendall Hart, apparently would like to remain with the show if it's feasible. The Emmy nominated actress does not want to make a commitment to another daytime drama without giving Prospect Park a fair chance to iron things out behind the scenes. Stause, who joined the cast of "AMC" in 2005 as Amanda Dillon, is planning to take advantage of being in the entertainment capital of the world, Los Angeles. The stunning young actress who was scheduled to split ways with the soap in 2010 to go to Los Angeles changed her mind when it was announced "AMC" would be joining her on the West Coast. Stause does not rule out a return to daytime television in the future, but wants to try out different formats of entertainment for the foreseeable future.
Various actor interviews also indicate that red-hot commodity Susan Lucci (Erica), as well as long-time "AMC" stars Walt Willey (Jack), Michael E. Knight (Tad), Vincent Irizarry (David) and expert schmoozer Cameron Mathison (Ryan) share Minshew's willingness to wait a while longer for Prospect Park to get everything aligned before making any major commitments that could impede the potential to join a relaunch of the soap. Mathison, in the meantime, has taken up one more part-time hosting job. Beginning on October 3, fans can see the "Good Morning America" correspondent hosting a new reality-series, "Ultimate Proposal," a web-series that will be produced by Yahoo! The star who joined "AMC" in 1997 is also slated to begin filming a Lifetime made-for-television movie, "The Wife He Met Online," opposite former "AMC" star Sydney Penny (ex-Julia). Lucci, meanwhile, has denounced rumors that she's going to ABC's prime-time series "Desperate Housewives" but has admitted to having had a good talk with its executive producer Marc Cherry. While waiting for things to take shape, the stunning 64-year old does plan on taking advantage of the time that has opened up and is pondering a return to the stage.
Production of "AMC" for ABC network airings ended earlier this week. The last episode of "AMC" on the ABC network is scheduled to air on Friday, September 23.