via Press Release
TWO'S COMPANY, BUT THREE'S A CROWD WHEN ONE'S A KILLER ON INVESTIGATION DISCOVERY'S NEW SERIES DEADLY AFFAIRS
– Hosted by Emmy Award-Winning Actress and Queen of Daytime Soap Susan Lucci –
(Beverly Hills, CA) – From love triangles that implode to office romances exposed, stories of passionate love affairs turned crimes of passion aren't just happening on daytime television. They happen in real life and, sometimes, are even stranger than fiction. No stranger to steamy scandals and deadly dalliances, Emmy Award-winning actress and queen of daytime soap Susan Lucci hosts DEADLY AFFAIRS, premiering Saturday, September 8 at 10 PM E/T on Investigation Discovery. Ahead of the premiere, fans that miss seeing the much-adored Lucci in her former "All My Children" timeslot can catch her in a 10-minute first look at DEADLY AFFAIRS, during ID's recently announced daytime block, DAYS OF OUR KNIVES, on Monday, September 3 at 1 PM E/P. The new block of themed programming will air weekdays from 1-3 PM with introductions by beloved soap stars of past and present.
"Investigation Discovery's explosive ratings growth reflects the fact that it has found the perfect recipe for expert storytelling and packaging of these real-life soap operas that leave our fans wanting more," said Henry Schleiff, president and general manager of Investigation Discovery. "The addition, today, of the incomparable Susan Lucci, who will now lend a voice to these tales of twisted love triangles, further underscores our efforts to make ID the leading destination for compelling stories of crimes of passion."
DEADLY AFFAIRS tells real-life tales of love gone terribly wrong – from wandering eyes at the workplace leading to adulterous romps in the supply closet to bible-study couples tempted by lust to commit the ultimate sin – proving affairs can be murder on the heart. Episodes contain two stories, each interlaced with expert commentary from local authorities and true-crime experts, as well as first-person accounts from friends and family of the victims.
The first four episodes of DEADLY AFFAIRS are:
In Too Deep Premieres Saturday, September 8 at 10 PM E/P
From the outside, Michael and Jan Roseboro seem to have it all, but of course things aren't always as they seem. When Michael meets Angie, a summertime fling quickly turns into a passionate romance. The affair becomes too hot to handle and, in the end, deadly. Location: Lancaster, PA
Melinda and David Harmon meet at church camp and are models of marital devotion. They hurry to start their lives together. Popular and fully immersed in church life, Melinda catches the eye of Mark Mangelsdorf, an impressive young senior at the local college. It isn't long before tongues begin to wag and sparks begin to fly. Soon, the fires of passion are ignited, but who will get burned? Location: Olathe, KS
Fatal Finale Premieres Saturday, September 15 at 10 PM E/P
Kristin Rossum is young, beautiful, and intelligent, but her girl-next-door exterior masks a dark side that includes a penchant for drugs. Her husband, Greg de Villers, is her Prince Charming but feels betrayed when he discovers she's been having an affair with her hot new boss. Now that Kristin's secret is out, who kills who? Location: San Diego
Widowed and nearing the age of 50, schoolteacher Nelda Mason never expects to fall in love again. But everything changes when Charles Chumbler, a new substitute, arrives. It looks like they'll live happily ever after, until a mysterious young man named Michael Kariakis shows up on their doorstep, claiming to be an illegitimate son. The marriage quickly spirals out of control, leading to a stunning, fatal climax in a remote Kentucky pasture. Location: Tampa, FL
Battle of the Sexes Premieres Saturday, September 22 at 10 PM E/P
Carolyn and Ken Stahl are the quintessential power couple, but behind their professional exterior is a fast-fading romance. A successful wife isn't enough to keep Ken from making the rounds with young hospital receptionist Adriana. When the cheating couple makes little attempt to conceal their affair, fate prescribes not one but two murders. Location: Huntington Beach, CA
After her three sons leave the nest, widowed teacher Janine Sutphen packs up to start a new chapter in a new town. It's clear from the moment she meets Rob Petrick that they share the same zest for life, but like most good fish in the sea, this one comes with a catch. Two years into their marriage, Rob reconnects with an old high school fling and soon, they are absorbed in a passionate, long-distance engagement. But the title of "Mrs. Petrick" is already taken. Someone has to go. Who will it be? Location: Durham, NC
Lust for the Job Premieres Saturday, September 29 at 10 PM E/P
Bill and Melanie McGuire are picture perfect with successful careers and a growing family. But when a hot and steamy workplace affair begins, their once idyllic marriage crashes down around them, ending with one saw, two bullets, and three suitcases. Location: Warren County, NJ
Robert Temple and Rosemary Christensen were both working toward a new life together, but while one is climbing their way up the corporate ladder, the other is climbing onto someone else. The flame Robert and Rosemary once shared is now raging out of control. Location: Clearwater, FL
DEADLY AFFAIRS is produced for Investigation Discovery by Sirens Media. For Sirens Media, Valerie Haselton Drescher, Rebecca Toth Diefenbach, and Chris Nusbaum are executive producers. For Investigation Discovery, Pamela Deutsch is executive producer, Sara Kozak is senior vice president of production, and Henry Schleiff is president and general manager.
About Investigation Discovery
Investigation Discovery (ID), America's leading investigation network and the fastest-growing network in television, is the source for fact-based investigative content about culture, history and the human condition. Providing the highest quality investigative programming focused on fascinating stories of human nature from the past to the present to nearly 79 million U.S. households, Investigation Discovery's in-depth documentaries and series challenge viewers on important issues shaping our culture and defining our world. For more information, please visit investigationdiscovery.com
(SoapOperaNetwork.com) – Finola Hughes, who has portrayed Anna Devane on "All My Children," "General Hospital" and its spin-off "General Hospital: Night Shift" over the course of nearly thirty years, has been bumped to contract status at "GH" according to executive producer Frank Valentini, who made the announcement via Twitter.
"I am so excited to announce the lovely @finolahughes is now on contract!" Valentini said. Hughes followed up the producers tweet shortly afterward when she said "@valentinifrank And I am so happy to be there xxxx."
Hughes returned to the ABC daytime soap in early 2012 and has appeared in numerous television programs in between her appearances as Ms. Devane including roles on such series as NBC's "Blossom," FOX' "Pacific Palisades," The WB's "Charmed," and NBC daytime's "Sunset Beach." In addition to television, Hughes has provided voice talents to the films "Pocahontas II: Journey to a New World" and "Scooby-Doo! Legend of the Phantosaur."
In 1991, Hughes appeared in a faux Daytime Emmy reel for the fictionalized soap opera "All My Trials" as part of the film "Soapdish" starring Sally Field as Celeste Talbert – a spoof character of Susan Lucci's Erica Kane from "All My Children." From 1999-2003, Hughes transplanted Anna Devane and her twin sister Alex Devane Marick to "All My Children" in one of ABC's first attempts to provide cross-over character appeal to its daytime soaps.
In 1984, the legendary star received two Razzie Awards nominations for her role in "Staying Alive, the sequel to John Travolta's "Saturday Night Fever." She won for Outstanding Lead Actress in a Drama Series at "The 18th Annual Daytime Emmy Awards" for her role on "GH."
(SoapOperaNetwork.com) — While she holds out great hope for the future of daytime television, the former first lady of the genre, Susan Lucci, is currently busy adding another notch to her full resume. Beginning this fall, fans can see the legend and former star of "All My Children" hosting and narrating a new series, titled "Deadly Affairs," for the cable network Investigation Discovery.
Along with updated encore presentations of some of prime-times most memorable investigation shows, like NBC's "Dateline" and CBS' "48 Hours," Investigation Discovery or ID is known for creating new programming documenting true-life stories of crime and punishment. Some of their more popular original series include "I (Almost) Got Away With It," "Who the (Bleep) Did I Marry?," "Wicked Attraction," and "Deadly Women." Following a similar formula to "Wicked Attraction," according to a press release from the network, "Deadly Affairs" will "explore true stories of romance gone wrong and the crimes of passion that resulted." Noting the often romantic and tragic heritage of daytime television serial storytelling, Lucci calls the seemingly natural partnership "a perfect match." In the past, Lucci has narrated on at least severel occasions in the past including for Lifetime's "Intimate Portrait," the prestigious Candlelight Processional at Epcot, and for her memoir "All My Life." 
"Deadly Affairs" will begin filming in March and is set to debut at the beginning of the 2012 – 2013 fall television season. Investigation Discovery has ordered ten episodes of the series. If you can't wait until fall to see Lucci again, there are no worries ahead for you. Along with airing regularly on the Home Shopping Network (HSN) and on multiple networks with infomercials selling her line of jewelry and products to enhance beauty and fitness, as previously reported, Lucci will guest-star on the new season of "Army Wives." The series' sixth season debuts this spring. Lucci will appear in at least two episodes of the high-rated Lifetime series.
(SoapOperaNetwork.com) — In a new Facebook posting that went up just a short time ago, actress Susan Lucci has taken to the social networking service to clear the air regarding the status of "All My Children" and its move to the internet and plans for her inclusion in the online version of the long running ABC soap.
"I want my fans to know the truth. There has been miscommunications as a result of statements in the press that I am one of the reasons that All My Children is not moving forward. This is simply untrue and not the case. We have been in discussions since Prospect Park first expressed interest in moving the series online, and in correspondence dated September 8th, I made it clear that I would be ecstatic to be a part of 'All My Children' in a prominent way if they committed to producing the series for another year. I have not heard back from Prospect Park since then, in fact, I learned of their decision not to proceed with 'All My Children' at the same time you did, through the media," said Lucci in her posting.
"It's been a privilege and honor to be involved with the 'All My Children' family for so many years, from working closely with Agnes Nixon to getting to know millions of devoted and wonderful fans."
Previously it had been reported that Lucci turned down Prospect Park's financial offer, which doesn't appear to be the case per Lucci's statement.
(SoapOperaNetwork.com) — On Monday afternoon, Vincent Irizarry received word of Jamey Giddens' (of Daytime Confidential) rather strong implication on Twitter that [Irizarry's] inability to reach an agreement with production company Prospect Park along with Agnes Nixon and Lorraine Broderick's "story projections" were a major reason Prospect Park decided to reportedly halt early production efforts to move "All My Children" to the internet. The none too pleased Daytime Emmy Award winner responded to the claim on Facebook on Monday evening.
Irizarry was provided with an unexpected birthday surprise on Saturday, November 12 when Giddens revealed that his sources had spilled that "Prospect Park's inability to make a deal [with] Irizarry is a factor in #AMC reboot stalling. Stories were to heavily involve David… [From a branding pt., Susan Lucci was their biggest casting factor, from story it was Irizzary]." When questioned on how that deduction was possible when neither an Executive Producer or Head Writer has been hired for the soap, as opposed to sister soap "One Life to Live," which has signed talent to the aforementioned positions for their 2.0 incarnation as well as thirteen actors, Giddens added "Agnes and Lorraine worked on story projections for the show."
On Monday evening, along with requesting the source of the claim that was stated to him in reduced form, Irizarry responded on his official fan page on Facebook  and emphatically stated that "the part re: me and Lorraine is absolute rubbish. We are certainly not the reason [Prospect Park] has put the show on hold." (Update: 11/16/11) This evening on Twitter, Vincent neither confirmed or denied the accuracy of Giddens sources but did state he felt Giddens comments were "terribly misquoted" to him by the original poster on his Facebook page. The posters original comment stated to Irizarry that it had been "reported that that the show was put on hold…because broderick and vincent cant decide if they want to sign."

It had been revealed as far back as October 6 that Irizarry had finally been contacted by Prospect Park to join "AMC" as it prepared to go online. This discussion had not led to a signing before the reported stall in early production; similar to the results of reported discussions with major "AMC" names including Lucci (ex-Erica Kane), Michael E. Knight (ex-Tad Martin), Rebecca Budig (ex-Greenlee Smythe), Alicia Minshew (ex-Kendall Hart) and Jacob Young (ex-JR Chandler). From the performers they reached out to, Prospect Park has only been able to secure Cameron Mathison (Ryan Lavery), Lindsay Hartley (Cara Castillo) and Darnell Williams (Jesse Hubbard).
Irizarry, who just turned a handsome 52-years old, has enjoyed a long and successful daytime carrer which began on CBS's Guiding Light in 1984 as anti-hero Brandon "Lujack" Luvanoczeck. He played the popular role until 1986. In 1987, the actor joined the cast of Santa Barbara for a two year run as Dr. Scott Clark. Irizarry returned to the soap that put him on the map in 1991 as Nick McHenry Spaulding. He remained on the soap for five more years. Irizarry landed the role of Dr. David Hayward in November 1997 and remained an integral part of the ABC soap through to the end outside of a two year break between his two stints in Pine Valley where he landed on CBS' "The Young and the Restless."
(SoapOperaNetwork.com) — With an amazing spirit that shines from the inside out and a very quick learning curve, Iraq war veteran and motivational speaker J.R. Martinez wasted little time winning over legions of "All My Children" fans after joining the cast of the popular daytime drama in November of 2008. The fearless 28-year old has gone on to win over the hearts of millions more since joining the cast of ABC's "Dancing With the Stars." Along with soaring to the top of the leaderboard on the popular dance show, the actor has emerged as arguably the most popular star of the 13th season and a role model to many who may have never heard of him before.
On November 1, Rick Jackson, the President of the Tournament of Roses announced the appointment of Martinez as Grand Marshal of the annual event that airs on January 2. The events theme for 2012 is "Just Imagine…" The theme celebrates the power of imagination, inspiration and determination to encourage people to reach higher and try harder. Jackson felt Martinez was the perfect embodiment of "Just Imagine…" Along with leading off the Rose Parade, Martinez will also toss the coin before the 98th Rose Bowl college football game. Former Grand Marshals of the event include Bob Hope, Richard Nixon, Walt Disney, Roy Rogers, Hank Aaron, Charles Schulz, Frank Sinatra, Gregory Peck and George Lucas to name just a few.
On Monday, November 7, Martinez earned a Tri-Union Diversity Award, along with the likes of television legend Bill Cosby. The Tri-Union Diversity Award is awarded by the three major unions covering actors – the Actors' Equity Association (AEA), the American Federation of Television and Radio Actors (AFTRA) and the Screen Actors Guild (SAG). The award celebrates performers and organizations that "have taken an active stand to make a difference toward a more representational, multicultural community by helping build a foundation for diversity within the industry." Martinez was chosen for the honor for providing a strong voice to both burn victims and disabled veterans in the industry as a performer on both "AMC" and "DWTS."
Just this past Friday, which happened to be Veterans Day, Martinez enjoyed his second visit to "The Tonight Show with Jay Leno." His first appearance was as a scheduled guest on October 12. The actor who within a month of his deployment to Iraq in 2003 suffered severe burns to nearly half of his body when his Humvee hit a land mine recently shared his personal story of triumph over tragedy with People Magazine for a cover story. He is on the cover of the November 7 issue. The aforementioned honors are not exactly everyday occurances for current or former daytime actors who have not made it in prime-time or films nor for war veterans. Along with being a fixture on entertainment shows such as EXTRA, Martinez also made a special guest appearance on "Extreme Makeover: Home Edition" for its Veterans Day episode.
On "DWTS," Martinez continues to show-off his quick learning curve and, in a first for the season, earned not just one but two consecutive perfect scores with partner Karina Smirnoff in the 8th week of competiton. On Monday, considered the favorite to take the top spot, Martinez joined soccer player Hope Solo, reality star Rob Kardashian, and probably his most fierce competition, talk show host Ricki Lake in the semifinals. Despite obvious discomfort from an ankle he injured in practice this past weekend, Martinez earned high marks for his efforts but landed in third place as Kardashian continued to show improvement. Tune in to "DWTS" tonite to see if Martinez makes it to the Finals scheduled to begin airing on Monday, November 21. Having made it to the semifinals in the current season of competition, Martinez has already out-danced former "AMC" co-stars and former "DWTS" competitors Cameron Mathison (finished in 5th place in season 5), Susan Lucci (finished in 6th place in season 7) and Aiden Turner (finished in 9th place in season 10).
(SoapOperaNetwork.com) — Prospect Park decides to move forward with plans for "One Life to Live," while delaying the launch of "All My Children" for the time being. But why the sudden change of plans?
As Soap Opera Network Editor-in-Chief Errol Lewis expressed over the weekend, recent actions by the upstart online production company have made their decision obvious. To date, pending final agreements with the various unions, 13 cast members have agreed to make the transition with the show from ABC to Prospect Park, compared with only three for "All My Children." Furthermore, "One Life" will keep its current head writer and executive producer and, at least for the short term, still tape episodes in the same New York City studio.
But what are the reasons for that? Some have argued that Prospect Park is giving "All My Children" some additional time off as a way to preserve it. In this argument, "One Life to Live" is turned into somewhat of a guinea pig, with its failure or success determining if and when Prospect Park would decide to debut a rebooted "AMC."
Despite being the biased "OLTL" fan that I am, I cannot accept that assumption as a valid argument. First, "OLTL" has been the stronger of the two shows in the months leading up to "AMC's" final episode on ABC in September. "One Life to Live" moved up in the ratings, routinely breaking even with or outperforming both "All My Children" and "General Hospital." Creatively, the show was on an upswing as well, luring back fan favorite Roger Howarth to step back into his signature role as Todd Manning.
Also, if "AMC" was supposedly the stronger of the two, why was it's final ABC airdate scheduled nearly four months ahead of "OLTL," therefore giving it a momentum-killing hiatus when only a weekend will separate "One Life to Live" from the ABC and Prospect Park eras? The days of "All My Children" being more of a household or brand name are long since gone. Outside of Susan Lucci, who has become somewhat of a caricature in recent years, the show is about recognizable as "OLTL." And speaking of Lucci, it worth noting that, while she was/is allegedly holding out for more money and fewer hours, "One Life" grand dame Erika Slezak was among the first four cast members to sign up with Prospect Park.
I sometimes wonder if maybe "One Life to Live" was the only soap that Prospect Park really wanted to license from ABC, and the network played hardball with them by forcing them into taking "All My Children" as well. Yeah, I know, probably just some wishful thinking on my part, but stranger things have happened. However, regardless of whatever went into Prospect Park's decision, as a "OLTL" fan I am excited and optimistic about what lies ahead for the fictional town of Llanview.
From the flood of returning cast members and familiar faces in the coming months, to the show's upcoming storyline involving the cancellation and fan campaign to 'save' "Fraternity Row," to awaiting the start of the Prospect Park era, I am anxious to see what the future may hold. "One Life to Live" is back in its groove again, and now is beginning to show some (keyword 'some') resemblances to the "OLTL" I grew up with back in the 80′s and 90′s.
Moving on, congratulations to "CBRVA83," who correctly guessed the answers to the trivia questions from the previous column. In case you missed the clues, here there are again with the answers: 1. What small role did Peter Bartlett (Nigel) play in the film "Meet the Parents?" Answer: An employee at an animal shelter. 2. To which magazine has Andrea Evans (Tina) served as a contributor? Answer: Healthy Cooking. 3. What former "Andy Griffith Show" actor did Barbara Rhoades (Irene) co-star with in a 1968 Western, and what was the name of the movie? Answer: Don Knotts, "The Shakiest Gun in the West."
Now it's time to shake things up a bit and do some more trivia. 1. What role on "OLTL" did Cameron Mathison (ex-Ryan, "AMC") once audition for? Before taking over the character of Cristian Vega, what small role did David Fumero play? 3. What did Jerry verDorn wear to his audition for the role of Clint Buchanan that disappeared before his first episode aired? I'll have the answers in the November 30 edition of My View of Llanview.
Now, before I wrap up this column, I'm going to look into my crystal ball and give you a quick sneak peek at a few things coming up a few weeks down the road. Unexpected couples lock lips. One family member probes into another's mindset. Someone learns that things aren't always what they seem. And an old flame has a few tricks up their sleeves while cozying up to the object of their affections.
Well that's concludes yet another column. Have a great week everyone! Have a safe and happy Thanksgiving and don't eat too much turkey!
Take care, and until next time remember, we only have "One Life to Live"…
(SoapOperaNetwork.com) — There has been much discussed about "All My Children" 2.0 following a report by Soaps in Depth in which the magazine reported on its website that "All My Children," as conceived by the minds behind the scenes at Prospect Park, has been placed on hold. This of course is after months of rumors and speculation stating that the company had planned to launch the show just days following its September 23 ABC finale and again in January 2012 following the network finale of sister soap "One Life to Live," which in addition to "AMC" was licensed to Prospect Park for its Online Network (TOLN) in a deal brokered with the Disney/ABC Television Group back in July of this year. But is this really news to the fans or were we all just hoping something else was going on behind the scenes that would suddenly pace the show on the same trek as "OLTL?"
When the deal with Prospect Park was announced many speculated that one of the reasons "One Life to Live" was allowed to continue on post ABC was due in large part to its association with "All My Children," both in cancellation and its creator Agnes Nixon. After weeks of silence following the big press release touting the renewed life for both series, which were canceled by ABC in April, "One Life to Live" signed deals with four actors in early September to continue on while "All My Children" only signed two. By the end of September "One Life" would not only sign five additional stars, but would also sign an executive producer and a head writer. Frank Valentini, who will continue as the soaps EP once production wraps at the end of this coming week, will also take on duties as VP, Serial Dramas, Prospect Park. In this new role Valentini will be responsible for all aspects of "One Life to Live" and "All My Children," along with any other serialized dramatic programming Prospect Park puts into production. His duties will include signing off on the hiring of actors, writers, producers, etc along with setting the budgetary tone for each serialized program under Prospect Park.
By the end of October, "One Life to Live" had signed a total of 13 actors in addition to their EP and HW, while "All My Children" signed Darnell Williams (ex-Jesse Hubbard) to round out the current "AMC" 2.0 cast that includes Cameron Mathison (ex-Ryan Lavery) and Lindsay Hartley (ex-Cara Castillo). Williams' signing was confirmed to Soap Opera Network by a Prospect Park representative, although other publications have yet to confirm the news through proper channels and used a tweet by Hartley as the basis for their initial reporting.  "All My Children" remains without a head writer or executive producer. Last week, Soap Opera Network reported via several sources that ABC had agreed to allow Prospect Park continued usage of "One Life's" current studio space, which just so happened to be "AMC's" studio prior to the soaps move to LA in 2010. "All My Children" was said to continue filming at its Andrita studio in LA under Prospect Park, but after nearly three months since production ceased for the ABC run it's anyone's guess as to what has since happened to the sets, wardrobe, props, etc.
With the signing of no more than three actors, no executive producer, and no head writer, there was absolutely no way "All My Children" could continue online or in any other form as planned. Meanwhile, Prospect Park continues to state that their new Online Network (TOLN) is launching in January 2012, and the company has signed a licensing deal with Universal Music Group in which contemporary music would be available in episodes of both soaps and available for purchase online after the end of each episode. Although there are reports that the company is in need of $65 million on hand to get their efforts off the ground and an additional $80 million per year to fund both series each year, the funding necessary doesn't seem to be stalling preparations for an online version of "One Life to Live" nor does the fact that there is no deal between the required unions such as the American Federation of Television and Radio Artists (AFTRA), the Writers Guild of America (WGA), the Directors Guild of America (DGA) or the Producers Guild of America (PGA), among others.
The issues currently plaguing "AMC" rests on the former cast and crew and their ability to now find jobs anywhere in Hollywood now that they are all living their lives comfortably in the Bear state and free from the clutches of ABC. Michael E. Knight (ex-Tad Martin) received an offer from Prospect Park, but turned it down because he wanted a break. Alicia Minshew (ex-Kendall Hart) and Rebecca Budig (Greenlee Smythe) were sure to be in demand by the company, but alas both wish to only return if they were able to remain on recurring status. Series star and soap opera legend, Susan Lucci (ex-Erica Kane), turned down the company's offer for the same salary she received while working on the ABC version of the soap. Jacob Young (ex-JR Chandler), who returned on screen at "The Bold and the Beautiful" just before "AMC" aired its final episode in September, admitted that he only signed a short-term deal with "B&B" and wants Prospect Park to be more forthcoming with information. "Let's see what these Prospect Park guys can bring to the table," he said on Tuesday, October 25 at New York's Town Hall for the first of several "A Tribute to Pine Valley" sessions with fans. Once Prospect Park gets its ducks in a row, including signing deals with the necessary unions and apparently finding the funding necessary, "All My Children" 2.0 is now said to be geared for a March 2012 launch, while "OLTL" remains on track to launch in January 2012.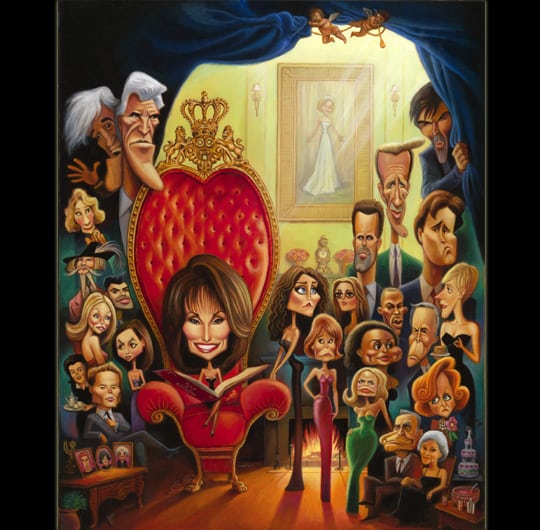 Photo: David O'Keefe Studios
(SoapOperaNetwork.com) — "All My Children" ended its television run on Friday, September 23, 2011, but pop-culture artist David O'Keefe has captured the essence of what made the soap opera special to millions of viewers for more than 41-years courtesy of his new painting "A Tribute to 'All My Children' – Pine Valley," which took two months from concept to fruition.
"'All My Children' has been a part of my family's life for so many years, I feel a real connection to all these people. I want to capture those precious memories by creating this tribute piece to honor the impact the show has had on our culture," said O'Keefe of the painting.
"This is a very historical and personal piece for David," said Wayne Curtiss, Managing Director of O'Keefe Studios. "We look forward to viewer feedback on the painting."
"David is one of the best kept secrets in the art world," said Craig A. Fleming CEO/President of Tired Walls Inc., based in Orlando Florida. "His transformative style not only brings new life to the images he paints but also reminds you of the pure genius in his work."
Ranging in price from $30 (plus $15 shipping) to $599 ($38 for shipping), "A Tribute to 'All My Children' – Pine Valley" details 41 elements for each of the soaps 41-years on television. Of course highlighted in the center of the painting is series star Susan Lucci, who portrayed icon Erica Kane for all 41-years of the ABC soap opera. Soap Opera Network has your exclusive breakdown of who's in it and what each point means.
41 ELEMENTS FOR 41 YEARS
1 Erica Kane
2 Agnes Nixon – the show's creator
3 Adam Chandler
4 Stuart Chandler
5 Marian Colby Chandler
6 Billy Clyde Tuggle
7 Mateo Santos
8 Hayley Chandler Santos
9 Bianca Montgomery
10 Naomi the maid (cameo by Rosie O'Donnell)
11 JR Chandler (reaching for the bottle)
12 Susan Lucci's illusive Daytime Emmy
13 Myrtle Fargate
14 Phoebe Tyler Wallingford
15 Mona Kane
16 gun (murders and shootings)
17 rope – symbolizing kidnapping
18 knife (stabbings)
19 AMC Photo Album
20 Kendall Hart
21 Brooke English
22 Liza Colby
23 Dr. Joe Martin
24 Ruth Martin
25 punch bowl and flask
26 wedding cake
27 Opal Gardner Cortlandt
28 Angie Baxter Hubbard
29 Greenlee Smythe
30 Jessie Hubbard
31 Palmer Cortland
32 poison pancakes that did Dixie in
33 Dixie Cooney Cortlandt Martin
34 1:00pm – Make sure the VCR is set
35 Ryan Lavery
36 Tad Martin
37Jack Montgomery
38 Dr. David Hayward
39 Cherubs- a staple of O'Keefe's paintings (inspired by Peter Paul Rubens)
40 "Janice" -O'Keefe has been hiding his wife's name in his works for 27 years. She also happens to be a longtime fan of AMC.
41 Queen's Throne – for Susan Lucci as Queen of the daytime soaps
Facts: Bianca Montgomery as portrayed in element #9 is Eden Riegel's version of the character. More element facts to come.
To purchase your very own copy of the painting, head on over to O'Keefe's website. If you have any questions or concerns about your order, you can call (813) 254-5056 Monday through Friday.
David O'Keffe Retrospect and Inspiration
David O'Keefe discusses his Tribute to Pine Valley and what it means to him.
A Tribute to Pine Valley: A Step by Step Detailing
David O'Keefe's creation, A Tribute to Pine Valley. This video not only takes you through David's inspiration, but also lets see the behind the scenes looks at the creation of this masterpiece. A must see for any fan of All My Children.
About David O'Keefe and David O'Keefe Studios
David O'Keefe was raised on Hollywood, sports and rock and roll music. David has an acute awareness for the images and personalities that have colored the lives of his generation. He just sees things differently – more intensely, edgier, somewhat more perspicuous than the average spectator. The pop culture icons that we idolize, glamorize and glorify, O'Keefe visualizes for us in all their humanness as well as their stardom.
His sardonic caricatures and humorous illustrations have appeared on the covers of Sports Illustrated, Sports Illustrated for Kids, Mad Magazine, The Village Voice and within the pages of TIME. His advertising clients include Coca-Cola, Waffle House, Fuji and SunCom Communications.
O'Keefe has won numerous awards from such organizations as The Society of Illustrators (NY and LA), American Illustration, Communication Arts, National Headliner Awards, Dimensional Illustrators and the Society of News Design.
Recent image releases include tribute to: Godfather I & II, Caddyshack, Animal House, Seinfeld, I Love Lucy and the Beatles.
(SoapOperaNetwork.com) – TV Line revealed today that  Susan Lucci has landed a gig on "Army Wives" which airs on the Lifetime cable network. The popular series stars Lucci's former "All My Children" co-star Kim Delaney. For at least two episodes of the sixth season of the series, which will begin airing in the spring of 2012, the daytime legend will be playing a former Army wife and a new confidante of sorts for Delaney's character, Claudia.
"Army Wives," which averaged 3.7 million viewers a week in its fifth season and has earned the distinction of being the number one scripted drama series on cable in the Female 18-49 demographic, debuted in June 2007 on Lifetime with Delaney as its headline star.
The beautiful Delaney played Jenny Gardner, one half of super couple Greg (Laurence Lau) and Jenny, on "AMC" from 1981 to 1984. Despite some ongoing personal issues that have recently put the actress on the news, Delaney has enjoyed a successful prime-time television career with starring roles on series including "NYPD Blue," "Philly" and "CSI: Miami." Lucci, of course, is an original cast member or "AMC" which debuted in 1970. Along with the prestigious honor of hosting "Saturday Night Live," during her career the popular actress has been the commercial spokesperson for brands including Ford automobiles, guest-starred on numerous series and starred on numerous television movies.
Last she touched on the topic, despite prior reports to the contrary, Lucci confided that she was still in ongoing negotiations with production company Prospect Park to bring Erica Kane back to Pine Valley. "AMC" is scheduled to debut online at some point in 2012.