As we've previously reported, "Days of our Lives" Shawn Christian (Daniel Jonas) and Freddie Smith (Sonny Kiriakis) teamed up with Jack Briggs and Nate Hartley to create "Addicts Anonymous," a single-camera mockumentary, and the comedy series is now available for viewing via the web!
Originally planned for primetime television, the series — which stars Molly Burnett (ex-Melanie Jonas, "DAYS"), Lori Loughlin ("Summerland," "Full House"), Matt Walsh ("Veep," "Ted"), Jerry Lambert ("Shameless," "Family Guy"), Christian, Smith and more — is now being offering via the show's official website. Episode one ("Admitting") and episode two ("Support Buddy") are available now. Subsequent episodes will be released as follows:
Tuesday, December 10: "Mistakes"
Tuesday, December 17: "Boot Camp"
Tuesday, December 24: "Pride"
Tuesday, December 31: "Choices"
"We've all written the scripts together, which is really fantastic," says Christian, who also serves as the executive producer for the series. "We all filmed it together, and it's so funny. It really is just fantastic."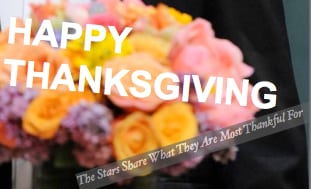 The rest of the country may have been preparing for Thanksgiving by sending out dinner invites, planning menus, buying turkeys, selecting table settings and betting on the day's big game, but Soap Opera Network has been getting ready for the celebratory day in a different way: Reaching out to several of your favorite "Days of our Lives" stars and getting the scoop on what they're most thankful for! Read on for their answers and then join in on the fun by leaving a comment below telling us what you're most grateful for this holiday season!
When Ted Corday and Betty Corday watched "Days of our Lives'" NBC debut on November 8, 1965, they couldn't have known that the soap opera they created would garner so much success. Now, 48 years later, the show not only is coming off of an Outstanding Drama Series win from the National Academy of Television Arts and Sciences, it's comprised of a talented and close-knit cast who all have very special memories regarding their time with the popular show. Soap Opera Network spoke with a few said castmembers, and in celebration of the show's 48th anniversary, they were all too happy to share some of their favorite moments from the early days and beyond!
Deidre Hall (Marlena Evans)
"Oh my god, Wayne Northrop [ex- Alex North, Roman Brady] and I [used to pull pranks on each other all of the time]. It was merciless! Merciless! Nothing was sacred. At one point, he was sleeping in my foster child's bed, so before my take, I said to my prop man, 'Give me a bucket of warm water.' And before he had to jump into bed, I poured it all over like the kid who wet the bed. He jumped into bed, and I had finished my part of the scene, and I began to run. He didn't even finish the take! He hit that bed, came off that bed and came after me. The race was on, and I got thrown in the shower! I mean, it was crazy, crazy, crazy. But it's a show filled with moments, and that's what you remember with daytime. It's been really wonderful, being a part of so many magical moments."

This week on "Days of our Lives," the heat between Daniel (Shawn Christian) and Nicole (Arianne Zucker) builds to an exciting kiss between the pair! But will the scintillating smooch be a game changer? Soap Opera Network caught up with both actors to find out!
Daniel and Nicole have been on the hunt to try and save Eric's (Greg Vaughan) reputation, and everyone knows that when a male and a female go on a perilous adventure together, sparks are bound to fly! "You've got two very tumultuous, passionate, intense characters, very unpredictable characters, who find themselves in the circumstance of trying to help Eric, and then, as they go on this crazy, wild adventure – we jokingly called it Gun and Needles at one point, because we have guns and needles –they're doing something with so much intensity, and they get caught up in the adrenaline of the moment," Christian shares of the kiss. "Not to mention, the history that they've always shared seems to bubble under the surface no matter what they're doing, whether it's having each other's backs or trying to save Eric or trying to figure out Daniel's life with Jennifer (Melissa Reeves). They've grown so close together as people who sincerely care a lot about one another, and they know the worst about each other, and they know the best about each other. So you mix into that melting pot some adrenaline, and the sky is the limit."
Hold onto your hats, because one hunky soap star is headed to "Days of our Lives'" Salem: former "As The World Turns" star Mark Collier!
A rep for the show confirms that the actor, who played "ATWT's" Mike from 2002-2007, has indeed joined the NBC sudser and will begin airing in late December. However, no additional details are being released at this time.
Funny enough, this casting tidbit has caused soap worlds to collide: "DAYS" star Shawn Christian (Daniel Jonas) originated the role of "ATWT's" Mike, the very role which Collier began playing when the now-defunct soap decided to bring the character back to the canvas in 2002!
Deep down in the basement of NBC's The Burbank Studios in Los Angeles, beneath the busy and hectic world of "Days of our Lives'" Salem, lies a cozy dressing room that offers a warm and comfortable respite from cameras, producers, directors, publicists, wardrobe and all of the other distractions of a daytime television set. The lighting is low, candles flicker, and there's a plush, body-hugging beanbag that just begs any visitor to sit back, sink in and possibly take one of the best naps of all time. We at Soap Opera Network could have fallen into the beckoning trap, but the dressing room's owner, Shawn Christian (Daniel Jonas), was way too excited to discuss his current storyline and his new television project, "Addicts Anonymous," to allow any snoozing to happen. And as soon as the passionate actor launched into conversation, there was no desire for napping on our part, either! Read on for the exciting details Christian shared. But be warned: You'll be on the edge of your seats (or, if you're lucky, your beanbags).
It seems everyone is hopping aboard the healthy living train these days, and the cast of "Days of our Lives" isn't excluded: Several of the sudser's stars have opened up and shared their secrets on how to live a healthier and more balanced life for the show's newest book, 'Days of our Lives' Better Living: Cast Secrets for a Healthier Balanced Life, which hits newsstands on Tuesday, September 24! And with just 19 more days to go until the big day, several of the stars featured are gearing up for a national tour to promote the book that they're hoping will change your lives forever!
"Days of our Lives" stars Eric Martsolf, Jen Lilley, Kate Mansi, Greg Vaughan, Shawn Christian and Arianne Zucker attended the grand opening celebration of Le Jolie Medi Spa in Studio City, CA on Thursday, July 18.
As noted in our recent interview with Greg Meng, co-executive producer, "Days of our Lives," the NBC Daytime soap opera is releasing "Days of our Lives Better Living: Cast Secrets for a Healthier, Balanced Life," a new book that delves into five better living topics – nutrition, exercise, style, inspiration and balance.

If you think picking out what to wear for work in the morning is stressful, imagine what it would be like if your work was going to the 40th Annual Daytime Entertainment Emmy Awards, where swarms of reporters and photographers were going to capture your every detail! Stressful, yes. But also ridiculously fun! Soap Opera Network caught up with some of daytime's hottest stars on the red touch red carpet during the exciting event, and they spilled details on who they were wearing and why they chose the specific looks they did. So sit back, relax and hear the stories on how these bold performers got so dang beautiful!