Sarah Drew

ALL THINGS RELATED
Thursday, May 15, 2014 9:55 PM EDT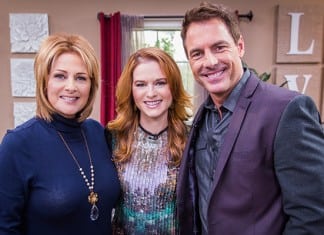 While the season finale of ABC's "Grey's Anatomy" airs tonight, series regular Sarah Drew (Dr. April Kepner) will be appearing on the Friday, May 16 edition of Hallmark Channel's "Home & Family." The actress will chat with co-hosts Cristina Ferrare and Mark Steines to discuss her starring role in the new TriStar Pictures release, "Moms' Night Out," which also features Trace Adkins and Patricia Heaton. The film is a bit of irony of sorts for Drew as her character on "Grey's" recently learned she was with child, while in the film she's the mother of three kids in desperate need of a girls' night out.[youtube https://www.youtube.com/watch?v=KiP7c06sgsY]In addition to Drew, Marilu Henner talks about her guest-starring role on the Hallmark Channel Original Series, "Signed, Sealed, Delivered," Candy Spelling talks about life in her famous family and her new memoir "Candy At Last" and Nancy Cartwright (voice of Bart Simpson on "The...
Tuesday, April 23, 2013 1:03 AM EDT
Thursday, April 25 marks the beginning of Jennifer Bassey's (ex-Marian Colby, "All My Children") multi-episode arc on ABC's "Grey's Anatomy." Word of Bassey's appearance on the popular primetime series first came to light on Sunday, March 17, when the actress tweeted, "Got a two episode role on Grey's Anatomy. Wonderful part and i'm very excited. Start mon. the 18th. what a great show. xx :)" She later revealed on Wednesday, March 27 that her appearance on the show had been bumped to three episodes. "Hey just got a 3rd episode on Grey's Anatomy. Yipeeee!!! What a great group of people. Kevin McKidd is directing and acting. Hes fab. :)"