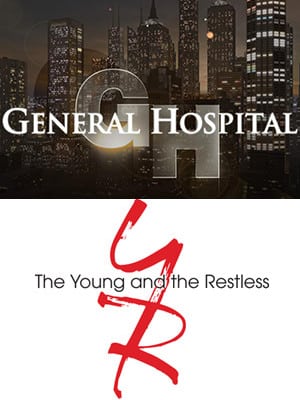 The Writers Guild of America, West (WGAW) and the Writers Guild of America, East (WGAE) announced today nominees for Outstanding Achievement in Television, New Media, News, Radio, Promotional Writing, and Graphic Animation during the 2013 season for its annual Writers Guild Awards. In the category of Daytime Drama, NBC's "Days of our Lives," ABC's "General Hospital" and CBS' "The Young and the Restless" are set to duke it out when the ceremony takes place on Saturday, February 1, 2014 at simultaneous ceremonies in Los Angeles and New York.
When we reported that Marlene McPherson (pictured right, with former "DAYS" co-head writer Darrell Ray Thomas) had been hired on as head writer of Prospect Park's version of "All My children" back on January 23, it was unclear at the time as to whether she would be joined by a co-head writer. Soap Opera Network has since learned that it'll be a "Days of our Lives" reunion of sorts for "AMC" as McPherson will be joined by Elizabeth Snyder, who was an Associate Head Writer at "DAYS" from 2011-2012.
The Writers Guild of America have announced the nominations for the 2013 Writers Guild Awards.  In the Daytime Drama category, "Days Of Our Lives," "One Life To Live," and "The Young and The Restless" were nominated.  Winners will be determined on February 17, 2013.
(SoapOperaNetwork.com) — On May 18, 2011, Robert Guza Jr. was fired as head writer of "General Hospital" and Garin Wolf was named the new head writer.  With Guza leaving, it's not surprising that his wife, breakdown writer Meg Bennett, was also let go from the show.  Breakdown writer David Goldschmid was also fired.  Replacing them on the breakdown team will be Shelly Altman, who's been writing breakdowns for "One Life to Live" for the past 11 years, and current "GH" script writer Tracey Thomson (though she may only be helping out with breakdowns temporarily).
Over at "Days of our Lives" the changes just keep on coming.   Ryan Quan who's been a script writer and writers' assistant gets promoted to breakdown writer, replacing Michelle Poteet Lisanti.  Joining the script writing team is Pete T. Rich.
More changes are expected at both soaps.
For discussion, join us in the Writers/Directors thread.