As previously reported, Tristan Rogers will soon be departing ABC's "General Hospital" after his most recent stint as Robert Scorpio comes to an end. With his pending return to CBS' "The Young and the Restless" in the new year, Rogers recently announced on Twitter his final film date at "GH" and his first film date back at "Y&R."
While announcing his plans to vacation in Australia during the Christmas holiday break, Rogers revealed that he films his last scenes at "GH" on Thursday, December 19 and will begin filming scenes as his "Y&R" character, Colin Atkins, beginning Wednesday, January 8. Viewers should expect to see the actor continue airing on "GH" through at least February, as noted by head writer Ron Carlivati. A first airdate on "Y&R" is not yet known. "I am passionate about daytime drama. Where ever I work. I want to do the best I can. So lets be bipartisan and support the genre," said Rogers on moving from one soap to another.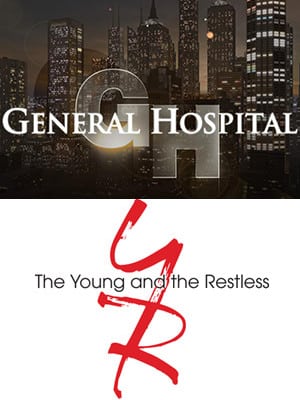 The Writers Guild of America, West (WGAW) and the Writers Guild of America, East (WGAE) announced today nominees for Outstanding Achievement in Television, New Media, News, Radio, Promotional Writing, and Graphic Animation during the 2013 season for its annual Writers Guild Awards. In the category of Daytime Drama, NBC's "Days of our Lives," ABC's "General Hospital" and CBS' "The Young and the Restless" are set to duke it out when the ceremony takes place on Saturday, February 1, 2014 at simultaneous ceremonies in Los Angeles and New York.


With word that Tristan Rogers would be departing ABC's "General Hospital" and returning to CBS' "The Young and the Restless," it was only a matter of time before fans heard from the actor himself on the abrupt change in status from one soap to the next. Said Rogers on Twitter of his "GH" experience, "I'd like to thank Frank [Valentini, executive producer] and Ron [Carlivati, head writer] for great storyline that kept Scorpio true to himself." On his "Y&R" return Rogers said, "I'm stoked on Colin's return to #YR in 2014 and delighted to once again be a part of the CBS Daytime family."
According to Carlivati, Rogers will exit the "GH" canvas in a big way sometime in February. "You will see a lot of Robert between now and February!" he tweeted.

The return of Tristan Rogers (Robert Scorpio) to "General Hospital" is short lived, it seems. According to head writer Ron Carlivati, the actor will be leaving the canvas in February. "I had no idea @tristanrogers was leaving. I found out last night. I now have 1 day to write him out of a big Feb Sweeps storyline," Carlivati tweeted earlier today. He added, "Meanwhile, you will see a lot of Robert between now and February! And please respect @tristanrogers and his decision. Thanks."
Rogers returned to "GH" in October in a storyline surrounding pappa Scorpio searching for his supposedly dead daughter, Robin Scorpio (Kimberly McCullough). Robert worked closely with Anna Devane (Finola Hughes) in the the search for Robin (Kimberly McCullough), who is currently hiding out at the home of friend Nikolas Cassadine (Tyler Christopher). Robin was presumed dead as a result of her kidnapping by Jerry Jacks (Sebastian Roche).
Get ready for your jaws to drop, because the battle over "All My Children" and "One Life to Live" just got a hell of a lot uglier! In addition to the lawsuit that Prospect Park launched against ABC this April for the alleged sabotage of the company's efforts to move the two sudsers online, the plaintiff filed a new amended complaint today with more details regarding the alphabet network's alleged fraud and a claim that ABC schemed to create a "mega soap." And guess what? It all comes with a demand for more than $95 million in damages!

UPDATE: Tweets asking Stamos if he would ever return to "GH" apparently began even earlier today, which looks to be where the previous story began. When asked about a return to "GH," Stamos said, "Never! I tried,they wanted me 2 play J.G. on drums with R.S. Legacy too important to me. In response, Carlivati said, "I'm sure I will be shouted down by 1.3M people, but this is a total mischaracterization of what occurred."
J.G. in the tweet refers to "Jessie's Girl," the song Rick Springfield (the R.S. in the tweet) sang at the Nurses Ball in celebration of "GH's" 50th anniversary. Springfield returned as his character Noah Drake for the episode.
PREVIOUS: Earlier today a fan tweeted, "@JohnStamos @carlivatiron @valentinifrank #BringBlackieBack #GH," which attracted the attention of the intended parties, but the responses themselves were the least expected of all.
Stamos, who portrayed Blackie Parrish on ABC's "General Hospital" in the 1980′s replied to the tweet and said, "Sociopathic! You don't remember [the] phone call in @valentinifrank office?" As confusing as the tweet appeared, it became less confusing when "GH" head writer Ron Carlivati responded to Stamos' tweet with, "Yes, I remember it well. But for some reason you seem determined to rewrite the narrative."

As previously reported, Ilene Kristen is returning to daytime television courtesy of ABC's "General Hospital" – the actress debuts today. While ABC wouldn't necessarily confirm which character Kristen would be playing – Delia Reid from "Ryan's Hope" or even Roxy Balsom on "One Life to Live" – when pressed for comment by Soap Opera Network on Friday, "GH" head writer, Ron Carlivati, spilled the beans over the weekend via Twitter.
Carlivati tweeted, "Don't miss @ilenekristen reprise her role as the one and only Delia Reid Ryan this Monday & Tuesday on @GeneralHospital! #GH #RyansHope." He added to his tweet a short time ago when he said, "Today on @GeneralHospital, Delia Reid Ryan returns to ABC Daytime! #GH @ilenekristen pic.twitter.com/gkpW9PWGRY." He linked to a cover from defunct magazine Afternoon TV, which had Kristen on the cover as her character from "Hope."

Last night on Twitter, Michael Saucedo thanked his fans for all their well wishes on word that he's set to reprise his role of Juan Santiago on ABC's "General Hospital" (see full message below). When we first reported the news a few days ago, we stated that Juan would show up on screen in the coming months. Per Saucedo, fans can expect to see the character return "sooner than later." According to sources, Juan may be arriving back in town just in time for November sweeps. What can viewers expect when Juan sees his adopted cousin Sabrina (Teresa Castillo) onscreen for the first time? One things for sure, you'll just have to tune in to find out!
As has been the case for the last several years, ABC will be airing a re-run of "General Hospital" on Independence Day (Thursday, July 4). The episode scheduled to air is the Wednesday, March 27, 2013 episode (#12,773), which found an injured Nikolas injected by Luke as he prepares to search for Lulu on the missing Haunted Star with Dante and Anna's help. Laura arrives in time to join Luke on the adventure. Meanwhile, Carly debuts the Metrocourt Ballroom to Lucy and Sabrina and Felix find themselves in a tiff as they prepare for the Nurses Ball. Alexis and Shawn get a sweet surprise from Sam, Molly and TJ.
Proving you can't believe everything you read or see tweeted, earlier this evening a Twitter posting said to be by John Reilly, who portrayed Sean Donely on ABC's "General Hospital" from 1984 through 1995 and again for a couple of episodes on "General Hospital: Night Shift" in 2008, stated the actor would be returning to the soap after nearly a 20 year absence. The tweet raised the hopes of many fans only to have those hopes get dashed not too longer afterward. A spokesperson for the soap confirms to Soap Opera Network that the tweet was not by Reilly and that the handle is in fact a fake. "Not the real John Reilly," the spokesperson said.