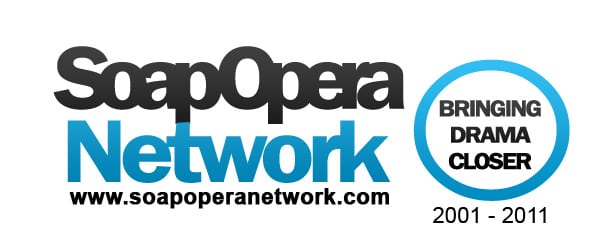 (SoapOperaNetwork.com) — October 8, 2011 marks the tenth anniversary of Soap Opera Network, an online magazine celebrating the world of soaps past, present and future.
Soap Opera Network began as an online message board on the then popular ezBoard (now called Yuki) platform by two individuals that wanted to start a more industry based discussion forum for fans of the soap opera genre with the idea that not only could one discuss the comings, the goings or the general news of the day, but have the opportunity to learn more about the names, the faces and the minds of the people that help make daily dramatic serials happen year in and year out. At launch, soap operas "All My Children, "As The World Turns," "The Bold and the Beautiful," "Days of our Lives," "General Hospital," "Guiding Light," "One Life to Live," "Passions," "Port Charles," and "The Young and the Restless" were on the schedules of television networks ABC, CBS and NBC.
In November 2002, Soap Opera Network left ezBoard and became its own .com service.
Thanks to elaborate databases such as a ratings archive (how soaps rated over the years), episode count archive (who appeared in episodes of a soap opera each and every month and year), its end credit archive (who wrote, directed or produced each episode), including a listing of episode writers and directors along with profile pieces on more than 80% of the writers, producers and directors, Soap Opera Network has cornered the market on information surrounding the inner workings of the soap opera format.
Over the course of its ten years, Soap Opera Network has interviewed a number of daytime's biggest stars and behind the scenes personnel including Susan Lucci, Erika Slezak, Melody Thomas Scott, Maurice Benard, Steve Burton, Sarah Brown, Hillary B. Smith, Robert S. Woods, Ilene Kristen, Ken Corday, Cameron Mathison, Cady McClain, Eden Riegel, Judith Light, Bradley P. Bell, Brian Frons, Maria Arena Bell, Sherri Shepherd, Daniel Goddard, Greg Meng, Marlene McPherson, Darrell Ray Thomas, Nancy Curlee, Melissa Archer, Kristen Alderson, Julie Pinson, Ron Carlivati, Frank Valentini, Linda Dano and many more.
Current Soap Opera Network staff is as follows:
Xavier Toups, Co-Founder
Errol Lewis, Editor in Chief; General Hospital Editor; Days of our Lives Editor
Angela Rosa, Managing Editor; All My Children Editor
Scotty Gore, Managing Editor; One Life to Live Editor
Venus Stone-Cutter, The Young and the Restless Editor
Gehrig Burnett Jr., The Bold and the Beautiful Editor
(SoapOperaNetwork.com) — With nine of her co-stars already signed on to continue with "One Life to Live" when it moves to online production with Prospect Park early next year, fans have been wondering if Hillary B. Smith (Nora) might follow suit. However, the "One Life" vet notes that "things are up in the air" regarding her future with the soap.
In a new interview with TheaterMania, Smith, who will be appearing on stage in Bruce Graham's "Any Given Monday" beginning Thursday, October 6, talks about the show and teases about what is coming up for Bo and Nora.
"I can say that Nora and Bo (played by Robert S. Woods) will be leaving together when we stop taping on ABC, and that makes me very happy. As for the online venture, I am very excited that the show's fans will have another venue, and I am sorry for ABC that they made this decision. But I don't know what's in store for me after Thanksgiving, when I stop shooting 'One Life.' Things are up in the air."
As for what is next for Smith, the actress laments that "I am continuing to work on this Internet series, 'Venice,' which shoots in Los Angeles. I would love to do more stage work. And I have to admit it's both liberating and scary not to know what's next. Like a lot of actors, I actually love change and love reinventing myself."
Click here to read the full interview, including Smith's thoughts on how the character of Nora has changed since she joined the show in 1992.
(SoapOperaNetwork.com) — It's official! Another fan favorite is on her way back to "One Life to Live." In a message on her Facebook page, Tonja Walker not only confirms that she will be reprising her role of Alex Olanov, but also reveals a few of the characters she will be mingling with when she returns later this fall.
After first breaking the news of her return on the social networking site earlier this month, Walker posted on Tuesday of this week that she was "Getting ready for workout! Power 90…Love it AND then off to 'One Life to Live.' What a great day. This is my last day, I think on the show. I am enjoying it very much! Josh Kelly [Cutter] is so terrific, and Farah Fath [Gigi] is as well. Great Times."
She soon followed up that message, adding "Hey wait! I hand a card to Cutter and say, call me if you need me! Maybe it's not my last day here? Hey, you never know! BTW it is going to be a snap to watch this on the web. DON'T SWEAT IT! I'm going to suggest today that they start letting viewers know how, so they won't miss a beat! LOVE YOU ALL!"
Alex was last seen in March when Bo (Robert S. Woods) and Rex (John-Paul Lavoisier) tracked her down on Asa's tropical island paradise, St. Blaze's, in their quest to locate David (Tuc Watkins). A first airdate has not been announced.
(SoapOperaNetwork.com) — Even though viewers have yet to learn the identity of Kim's (Amanda Setton) comatose friend, look for her doctor to make his first appearance at the Kentucky hospital next month as her conditions takes a sudden change. And it is a face that some soap fans may remember.
Kurt McKinney, best known for his roles as Matt on "Guiding Light," Ellis on "As the World Turns," and Ned on "General Hospital," will make his "One Life to Live" debut in what is believed to be the recurring role of Dr. Fascinella on Friday, October 14. While the show is keeping mum on the details surrounding his debut, we can tell you that the show released an audition script for the role recently. That script, however, was a recycled version of the one released earlier this year for the role of Dr. Pryor, who told Bo (Robert S. Woods) and Nora (Hillary B. Smith) that Matthew (Eddie Alderson) had suffered severe brain trauma, as the show worked to keep the true identity of Kim's friend a secret.
McKinney isn't the first employee of the unnamed Anchorage, Kentucky hospital to be cast. Adriane Lenox first aired as Nurse Judy, whom Rex (John-Paul Lavoisier) recently pumped for information, on Monday, September 19. The show also just released a casting call for a receptionist who will be tied to the storyline as well. And on Monday, October 17, Paul Hickert will play "Kentucky Cop #2."
In a interesting twist, McKinney himself is a Kentucky native, as is Farah Fath (Gigi), who is rumored to be tied to the storyline as well.
In other news…
Want to get a sneak peek at which sets and clothing will be used will be used in some upcoming scenes and episodes? If so, then check out these behind-the-scenes pictures of Jerry verDorn (Clint) giving two lucky fans a tour of the studios back in August.
(SoapOperaNetwork.com) — "One Life to Live" issues casting calls for a pair of new minor characters.
The first script is for the recurring role of Dr. Fascinella. The script is a recycled version of the script for Dr. Pryor, which was released back in March. As you may recall, that script revolved around Bo (Robert S. Woods) and Nora (Hillary B. Smith)Buchanan finding out that their son Matthew (Eddie Alderson) was suffering from severe brain trauma. So who do you think is in need of medical assistance this time around?
The second script is for the dayplayer role of a Receptionist. The scene opens with "Ted" tells a receptionist at an office in Brazil that he has been called in to take care of a bed bug infestation. Horrified and disgusted, the woman tells him that he must be mistaken. However Ted, who claims to be from Winnipeg, tells her that he received a complaint from a woman who encountered the pests while staying at the facility recently. When he asks to speak with the doctor in charge, she tells him that Dr. Fascinella is unavailable because he is with a patient. Ted says that is okay, because the bed bug infestation was confined mainly to the reception area. As the woman screams and runs off, Ted steals some files from his desk. As the scene ends, he states that the infestation must have been a false alarm. Remember that "OLTL" often tries to throw viewers off by changing character names in these scripts.
In other news…
David A. Gregory (Ford) responded to a fan on his Facebook page asking him when "OLTL's" last television tape date was, saying "we don't know yet." He also answers a question about why everyone in Llanview refers to his character only by his last name, commenting "When I first came on the show in 2009, the character was known only as Ford. When they brought the character back at the end of the year, they gave him a first name. Most people in Llandview know him as Ford. His family knows him as Robert/Bobby. My theory is he hates Bobby because it reminds him of his bad childhood and it sounds like a little kid's name. 'Ford' is more mysterious, adult, and masculine." And he previews Wednesday's (September 21) episode of "One Life," teasing that "Wed. on OLTL: All 3 Ford boys are back at one of their favorite places…"
Farah Fath (Gigi) tweeted Monday that it was "Back to OLTL tomorrow..cant wait for JP [John-Paul Lavoisier] to get here Wed."
And Kristen Alderson (Starr) tweeted on Monday "SO MUCH FUN at work today!!! Hahaha" And then later with, "Can't stop thinking about how fun my "job"was today.Thank u all for your support! I wouldn't be able to do what I LOVE if it weren't for u."
(SoapOperaNetwork.com) — Bo Buchanan on "Castle?" Say what? In a new interview with AOLtv.com, Nathan Fillion reveals he would like to see his former "One Life to Live" co-star Robert S. Woods play dad to his primetime character, author/police consultant Rick Castle.
Never one to forget his daytime roots, when asked if "Castle" was any closer to casting his character's father, Fillion suggested that Woods would be a perfect fit for the role saying, "Great question. There are tons of people I would love to see, but less than famous and more personal for me, I would like to see the guy who played my uncle on my first job, my first soap opera 'One Life to Live,' Bob Woods. He played my uncle Bo [Buchanan]. I'd love to see him come in and play my dad. For me, that's … personal. That man actually means something to me. He's the fellow that said, 'Hey man, you've got to wrap up this soap and move to L.A. You're gonna do well out there.' He's the one who sat me down and gave me the courage to pick up and leave New York when they offered me an extended contract."
Fillion played Joey Buchanan on "One Life to Live" from 1994-97, and again briefly in 2007 in honor of the soap's 10,000th episode.
To read the complete interview, which includes a few spoilers for the upcoming season of "Castle," click here.
And be to watch the season premiere of "Castle" on Monday, September 19, at 10:01 pm ET on ABC.
(SoapOperaNetwork.com) — "One Life to Live" fans hoping to catch another glimpse of some of their favorite recurring characters before the show wraps production on its TV run in November, can now breath a collective sigh of relief. In the coming weeks, several of Llanview's "seen, but not heard" characters will be appearing in upcoming episodes.
Ilene Kristen returns as everyone's favorite drunken hairdresser, Roxy Balsom, on Wednesday, August 17, when she asks Madame Delphina (Lea DeLaria) to help her make contact with Gigi's (Farah Fath) spirit. But will the ladies succeed in their efforts, or will their actions do more harm than good?
The following week, on Tuesday, August 23, Peter Bartlett is back as Nigel, despite the fact that he was recently relieved of his duties as the Buchanan's longtime manservant by the family patriarch's illegitimate son Rex Balsom (John-Paul Lavoisier). This time around, he is tending to a recovering Clint (Jerry verDorn) at Llanfair. Look for Clint to ask a huge favor of his trusty confident on the anniversary of Asa's death.
Speaking of Asa, look for Clint's little brother Bo (Robert S. Woods) to pay his respects at his Pa's grave site that same day, where he runs into Asa's grieving widow Renee (Patricia Elliott). Check out pictures of Asa and Gigi's tombstones, along with a few other spoiler images here (the pictures are from two lucky fans' studio tour with verDorn).
Also next week, Dorian (Robin Strasser) prepares to leave town to launch her Senate campaign, and the Cramers throw a huge farewell party for her. Among those in attendance will be Dorian's oft mentioned, now mentally stable sister Addie (Pamela Payton-Wright).  Look for Addie to also interact with her ex-husband and brother-in-law David Vickers-Buchanan (Tuc Watkins).
And Saundra Santigo will be returning soon as Buenos Dias Café owner Carlotta Vega. The actress posted on Facebook on July 14 that she "Ran into Whoopi @ the ABC Studios today while shooting some scenes on 'One Life.' Like, I literally almost ran into her, and she was so cool. I love people from the Bronx!"
On "One Life to Live" Shenell Edmonds plays Destiny Evans, a teenager who is seventeen and pregnant. That alone would be enough to scare the average teenager. But it is even worse for Destiny, considering she is estranged from her grandparents, her father is in jail, and her boyfriend recovering from severe brain injuries in a special treatment center hours away. Next month, the frightened young mother-to-be weighs her options, and has her world turned upside down yet again, thanks to forces (and people) beyond her control.
On Monday, August 8, Tonye Patano reprises her role as Destiny's grandmother Phylicia Evans when the troubled teen confides in her and asks for her help with the matter after receiving some important information from Dr. Vivian Wright (Kearran Giovanni). Meanwhile, Matthew (Eddie Alderson) receives a special visit from his big brother David (Tuc Watkins), and the two share a little bonding time. (In June, both Patano and her onscreen husband Frankie Faison, who plays Richard Evans, were spotted leaving the studio after taping scenes).
For a time all seems well, however, what will happen when Bo (Robert S. Woods) and Nora (Hillary B. Smith) learn about their their son's girlfriend's little bundle of joy and how will their reaction to the news affect the relationship between their two families? And just how will big brother (er, uncle) Shaun (Sean Ringgold) handle the news of little Destiny's pregnancy? Be sure to tune in next month to find out! It's an event you won't want to miss…
In other news…
Check out these photos of Andrew Trischitta (Jack) with some of his co-stars from Trevor St. John's (Todd) last day on the set last Friday. The shots include one of Trischitta and St. John, as well as this one of his onscreen sister Kelley Missal (Dani), and another one of them in a different pose.
(SoapOperaNetwork.com) — "One Life to Live" goes behind-the-scenes to ask some of Llanview's leading residents their thoughts on one of the town's most infamous characters — Todd Manning, only to learn that "he's a bit misunderstood." But will they spill on just who is really playing Todd — Trevor St. John or Roger Howarth? You'll have to watch to find out!
Watch as Joey (Tom Degnan), Cutter (Josh Kelly), Clint (Jerry verDorn), Rex (John-Paul Lavoisier), Bo (Robert S. Woods), Kelly (Gina Tognoni), Blair (Kassie DePaiva), Nate (Lenny Platt), Dani (Kelley Missal), Jack (Andrew Trischitta), and Starr (Kristen Alderson) all talk about the man is Todd Manning and what he has become…with a little surprise at the end.