Rob Magnotti

ALL THINGS RELATED
Sunday, June 1, 2014 4:36 PM EDT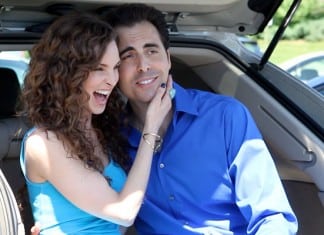 TVtibi, a new TV everywhere internet based network currently in beta test, announced today that they have given a series order to "Surviving Sam," a dramedy starring former "All My Children" actress Alicia Minshew (ex-Kendall Hart) and comedian Rob Magnotti.
Friday, March 8, 2013 10:13 AM EDT
Viewers keeping up with the latest "All My Children" comings and goings news know that Daytime Emmy nominated actress Alicia Minshew has been in discussions to return the internet revival of the soap opera she starred in from 2002 to 2011. TV Line broke the news on Thursday afternoon that the return of the eldest child of Erica Kane (Susan Lucci), Kendall Hart, as portrayed by Minshew is now a done deal. Minshew will make her return sooner than expected; she tapes scenes opposite Eden Riegel, who plays Kendall's little sister Bianca Montgomery, later today as "AMC" wraps up its first round of taping. Seconds before TV Line put up the news bulletin, Minshew took to Twitter to exclaim to fans her impending plans: "Guess who is popping into Pine Valley for the day?...um me! Excited to see the gang tomorrow! Gonna wear Kendall's sassy shoes!!"