On Monday afternoon, TV Guide Magazine revealed news that "General Hospital" actor Jonathan Jackson has decided to exit the role of Lucky Spencer on the ABC daytime drama. Sources indicate to the magazine that Jackson was denied a lighter schedule following two years of non-stop drama for his beleaguered character and that ultimately played into his decision to get out of Port Charles. Jackson was also apparently disappointed that his character never got the opportunity to properly reunite with his former love interest Elizabeth Webber played by Rebecca Herbst. The four-time Daytime Emmy Award winner will last tape on November 17.
Jackson debuted on "GH" as the first-born child of daytime's most famous couple, Luke and Laura played by Anthony Geary and Genie Francis, on October 29, 1993 at the tender age of eleven. In 1999, while still filming "GH," Jackson landed a starring role opposite Michelle Pfeiffer in the film "Deep End of the Ocean." Jackson excited his role on the popular ABC daytime drama later that year. Other notable film endeavors for the talented actor included starring roles on "Tuck Everlasting" and "Dirty Dancing: Havana Nights." Jackson returned to "GH" in October 2009, controversially replacing Greg Vaughan who played the role from 2003 to 2009. When not acting, the 29-year old actor performs with the band Enation. Their music has been featured on the television series "One Tree Hill."
Jackson's last scenes on "GH" will likely air before the close of 2011. TV Guide reports that the actor has already taped his last scenes with his on-screen father. Jackson may see this move as not postponing the inevitable. ABC affiliates are currently lining up new programming to take over the 48-year old soap operas long-standing 3 o'clock time slot across the country for the 2012-2013 season.
UPDATE: Wednesday, October 5, 2011 at 2:33 PM ET
Since we originally went to press early this morning, a "General Hospital" representative has since stated that Butler's first appearance on the soap will be "sometime later this fall…," although not necessarily contradicting our earlier report of October 24.
Stay tuned to Soap Opera Network as more  information on Butler's "GH" role comes in.
PREVIOUS: Wednesday, October 5, 2011 at 2:58 AM ET
(SoapOperaNetwork.com) — On Wednesday, September 21, daytime newcomer Nathin Art Butler tweeted to his followers (@nathinbutler) "I was welcomed into the family of 'GH' today. 1st day on set felt like 1st day of high school. Feel so blessed." For those wondering what exactly he was talking about, on that day the actor revealed to the soap world that he had been hired to portray the contract role of Dr. Ewen Keenan, also known as "the mad Aussie therapist" on ABC's "General Hospital. Soap Opera Network has since learned when you can expect to first see the actor, musician and digital photographer on screen.
According to sources, beginning with the Monday, October 24 episode of "GH," look for Butler to begin interacting with Rebecca Herbst's Elizabeth Webber when the character finds herself encountering a mystery man (Butler's Dr. Keenan). After describing his first day on set, the actor followed up that tweet with information on what his second week was like when pressed by a fan of the ABC drama series. "Started last week. Felt pretty special! Moonlit beach scenes this week. Dreamy character intro."
Tweets to Stardom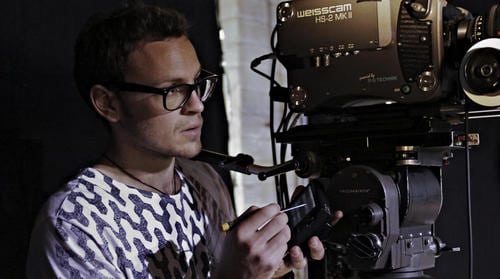 Butler began his professional acting career in 2007 courtesy of the TV movie "Rain Shadow," a mini-series in which he portrayed the role of Shane Maguire. The actor subsequently appeared in the 2010 HBO mini-series "The Pacific" as a Young Private. In addition to acting in a number of films since then, Butler is also an avid film buff as he's performed a number of behind the scenes jobs including performing duties as a Camera Operator, Cinematographer, and as an Associate Producer. On the beat.productions website, you can view a number of projects that Butler had some role in helping develop (both in front of and behind the camera) via video trailers and/or B-Roll.
(SoapOperaNetwork.com) – Lucky Spencer (Jonathan Jackson) may have found himself involved in more baby daddy drama courtesy of long-time love Elizabeth Webber (Rebecca Herbst), but ABC's "General Hospital" has cast actress Erin Chambers in the recurring role of Siobhan, who plays a part in the upcoming early fall Lucky storyline, according to an ABC representative.
In addition to her upcoming work on "General Hospital," Chambers had a recurring role on NBC's "Days of our Lives," where she portrayed the role of Lacey Hansen. In addition to her apeparances in episodes of SciFi Channel's "Stargate: Atlantis" and CBS' "Medium." More recently, she appeared in CBS' "Ghost Whisperer" and "MIami Medical."
Chambers' first airdate is scheduled for Wednesday, September 15.
"General Hospital" airs Weekdays on ABC. Anytime on ABC.com.